Alkaline Trio
Saves the Day, Nightmare of You
House of Blues, Orlando, Fl • May 9, 2009
Jen Cray
Alkaline Trio has not changed much over their thirteen-year existence, and neither has their live show. Such is part of their charm. Their outfits may change, and they may juggle the set list around a bit, but in the end a fan who's seen the Chicago band before pretty much knows what to expect when heading out to one of their concerts. Some may call that predictable, while others find it strangely comforting. Their most recent Orlando show was the third time I'd seen them in less than nine months so, I suppose, you could put me into the latter category.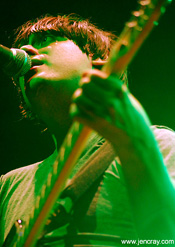 Bringing a decidedly emo-friendly pair of bands with them this time around, the Trio gave opening rites to Long Island band Nightmare of You. Not unlistenable, but not remarkable, the mid-tempo indie pop band merely filled the time until the bill's more popular opener (and headliners all their own) was due to appear. One fan the band did win over was the adorable toddler daughter of Saves the Day's front man Chris Conley, who danced along the side of the stage – wearing an oversized pair of protective ear muffs. Once her daddy's band began to play she was a wildly smiling, whirling dervish.
Sharing the love with the little girl, Saves the Day's fans fawn over the easy melodies and melodramatic lyrical musings of Conley and company, and yet here they were – a support act once more. This band has got a huge following within the young and sensitive emo club and yet they have been sitting on the sidelines of success for years. They've been putting out music, consistently, for almost as long as the night's respected headliners yet their fans seem to be getting younger and younger. Doomed to be always the bridesmaid, it would seem. Still their fans love 'em.
Their set was generously longer than Nightmare of You, and yet a large faction of the packed House of Blues crowd still didn't want to let the Jersey band take their leave. When they pulled out an old song at the close of their set, "Shoulder to the Wheel" from 1999's Through Being Cool, they really had the fans in the palm of their young hands.
Love them though most did, for every fan that had come to pay their love and respects to Saves the Day, there were ten more who had signed on for Alkaline Trio alone. Hopefully those fans were hot for the band's 2003 album Good Mourning because most of the set list came straight from that release. A couple of older songs were tossed in to appease the long haul fans, and they were much appreciated. "Cringe," "My Friend Peter," "Cooking Wine," and the obligatory encore of "Radio" parted the seas and caused beer to rain from the heavens for those old enough to remember when those songs were brand new, but those few choice moments of "classic" Alkaline Trio were tucked into the Good Mourning marathon and songs off of last year's Agony and Irony.
There was some sporadic crowd surfing, guitarist Matt Skiba and bassist Dan Adriano bounced back and forth between lead vocal duties, and Skiba made his frequent trips to the stage's edge to tease the front row fans by being just out of their reach. All in all it was a typical night for the pop punk veterans.
A cover of The Ramones' "The KKK Took My Baby Away" was an inspired touch to break up the set, and gave the evening a different flavor.
To see more photos of this show, and others, go to [www.jencray.com](http://www.jencray.com/bands_live.htm).
Alkaline Trio: http://www.alkalinetrio.com • Saves the Day: http://www.savestheday.com • Nightmare of You: http://www.myspace.com/nightmareofyou ◼
---