Miniature Tigers
Something to Roar About
Lynn Wallace

Based in Phoenix, AZ, whimsical, indie pop band Miniature Tigers may just be the new cat's meow. Despite forming only a year ago, the band has garnered admirable success, from getting signed to indie label Modern Art Records to packing concert venues across the country. In March 2008, the group released a pair of EPs, White Magic and Black Magic, and in August, the band digitally released its first full-length album, Tell It to the Volcano.
In October the band celebrated its first national tour, which included a stop at the 2008 College Media Journal Music Marathon in New York City, and was even listed as one of "The 9 Hottest New Bands Playing CMJ 2008" by Spin magazine. Miniature Tigers also completed a national tour stint opening for Ben Folds from February to March of 2009. But that's not the only national exposure the band is getting. Miniature Tigers recently received airplay on MTV2's Subterranean and is also up for voting on MTV's The Freshman.
This February the band re-released Tell It to the Volcano, this time, in retail stores. The band is currently on tour with Kevin Devine in promotion of the album. Ink 19 recently caught up with Miniature Tigers front man Charlie Brand to talk about Tell It to the Volcano, touring, and the band's rise to national fame.
• •
The band's first full-length album, Tell It to the Volcano, hit retail stores this February. Are you proud of the way the album turned out?
Yeah, I'm really happy with how it turned out. We've been working on this album for so long, it's almost like I can't even listen to it now just because I've had to hear it so many times. And there's all these little things that I'm sure for someone else wouldn't be a big deal, but for me they kind of tweak me out a little bit. And I hear a lot of stuff I would have done differently or changed about it. But I think that's just kind of how it goes no matter what you do.
What would you have changed about the album if you could do it over again?
Nothing major. I feel really good about that album. Right now, I'm more focused on what the next album will be like. And my thoughts about the first one and what I would have done differently, I would probably put that into the next album.
This record showcases some amazing harmonies (especially on "Hot Venom" and "Tchaikovsky & Solitude"). Was creating harmonies something that came easy to you and the band?
Yeah, I think we've always been really interested in harmonies. I grew up on The Beach Boys and The Beatles and stuff and so did [drummer/vocalist] Rick [Schaier], as well. So we're both really into music with harmonies and good melodies. I'm sure growing up with that stuff probably was a factor in it, and just an appreciation for harmony-based music.
You use a lot of animal metaphors on this album ("Giraffe," "Dino Damage," etc.) to create very interesting, non-conventional interpretations of the songs' subjects. Was that a conscious effort?
I don't know. I think I just get interested in certain things. Like I was really into Africa and jungles and all that kind of stuff. I was really fascinated by all that for a while and then I equated it with what was going on with my life at the time, almost using it as a metaphor or something.
Do you feel that the band itself is non-conventional in nature?
I don't know if we're the types to [think] our whole purpose is just to be different or do something unconventional. I don't know if we really think like that. We just like making music and like to write and like to make albums. But I think we're probably always going to be pushing ourselves and doing something different with each thing.
Did you take any intentional approach to this record, or did it simply evolve on its own?
It kind of evolved on its own. We kind of knew what songs we wanted to record for it and we basically approached each song on its own. I think that gave each song its own sound or personality. So I think that's how we approached it. We just sort of invented it while we were making it. And I think the next time around it will be more thought out. We'll have more ideas going into it than we did before.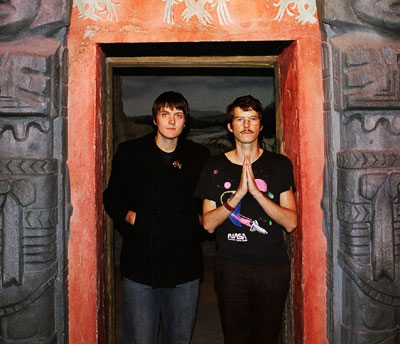 What are you most proud of on this album?
I really like the song "Tchaikovsky & Solitude." That was the first song we recorded for [the album]. That was a demo I had that I wasn't really that crazy about, but our producer wanted to try it. I thought maybe we'd do it as a first song, just to kind of work out the kinks and get warmed up for the rest of the album. But it turned out to be one of my favorite songs on the album and that was a really fun one to make.
The band's steadily growing on a national level. What it's been like getting that kind of exposure?
I don't know. I can't really tell. I'm always surprised when people show up to see us. Not being humble, I just really don't have a grasp on if people actually know who we are or not.
I guess it's kind of hard to grasp when it's happening so fast.
Is it happening? I don't know.
It seems to be. You've gotten attention from several national music magazines and have gotten exposure on MTV and MTV2. I guess you'd have to notice it when it reaches that kind of level.
Yeah, our video was just on MTV2 the other day. That was really exciting. It's kind of just surreal to see it. It was on that show Subterranean – it was the last video on the show – and then right after that it went into Jackass. So it was just kind of weird, seeing like, "Wow, we're on MTV2." It's kind of strange.
But, aside from that … I mean, yeah, there's people coming to our shows, but I don't feel like we're blowing up or like some huge band or anything.
Miniature Tigers toured with Ben Folds from February to March of this year. What was it like being on the road with him?
It was really fun. He plays a lot bigger venues than we're used to. So we were playing to a couple thousand people a night, which is just really crazy 'cause we usually play little clubs. And that was one of our first tours, too. So it was just kind of a completely different experience to what's going on now and the reality of what it's like to tour at this level of the band.
The band's now on tour with Kevin Devine. How's that tour been going?
It's been awesome. He and his whole band are such great people. We're having a lot of fun together. Pretty much from the first day we were all friends, and we've just gotten really tight with those guys.
What's next for Miniature Tigers?
I think we're going to tour for the rest of the year pretty much, and then we're going to start recording the next album.
Do you have any ideas for the new album yet?
Yeah, there's already a bunch of songs written for it and I think we're going to still continue to write [new songs]. But, I think this time around, it's going to be more collaborative with me and Rick. We're going to share a lot of songwriting duties on it.
Miniature Tigers: http://www.myspace.com/miniaturetigers ◼
---