Gitane Demone: Life After Death
Cult Epics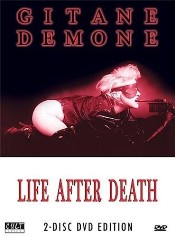 One of the more fascinating career tracks in Gothic music is the long and winding road traveled by Gitane Demone. The two decades covered in this fucking stellar video retrospective (80s, 90s) see our heroine morph from deathrock dolly, to torch jazz diva, to hardcore punk, to fetish icon, to dark house seductress, and back again. This shapeshifting versatility led to the regrettable "Gothic Madonna" tag, which, besides the bleach-blonde coif, just misses the mark. Gitane says early on – in this very DVD – that she doesn't do this to be famous, rather out of an insatiable need for self-expression and self-discovery. And if these rapid-fire transformations at times lead to jarring juxtapositions, like Gitane clad in a full-body PVC bodysuit belting out a jazz standard in front of a bunch of harnessed-and-masked Europeans… well, who said art was easy?
What I'm most interested in is how after Gitane stormed out of Valor's Christian Death mk 2 in 1989, she decided to go off to Europe to study jazz. She eventually re-emerged as a full-fledged torch singer with a haunting emotive range. Did people see that coming at the time? I didn't. Unfortunately the motivations behind that epiphanic shift will remain a mystery, as the European interviews included here don't shed much light on this matter, although she does hold forth on life, art, and sex – discussing matters of creativity freely. Interestingly, in the midst of one interview, there is a short performance snippet of her slurring the Chet Baker chestnut "You Don't Know What Love Is," over a hypnotic no-wave groove, dressed like an LA delinquent and smashing TV sets with a hammer. Why couldn't we get that whole performance? It's probably gauche to quibble about such things, especially when there is such a fucking wealth of primo rare performances herein.
The whole thing kicks off bleak like film noir with a woozy performance from Amsterdam in 1989 shot in grainy black and white. A disco ball turns as Gitane Demone, clad in a cocktail dress with militaristic short hair, performs three numbers with a cello player. One is a dirgey take on James Brown's "It's a Man's Man's Man's World." Ace. Next up is Gitane looking every inch the diva, singing a lush arrangement of "Sounds of War" for Dutch television in 1992. A live session for Radio Holland in 1993 is even better. Gitane and her band, casually dressed, perform three songs. "Love For Sale," "Golden Age," and "Little Birds" – fucking powerhouse. Then comes the set in Switzerland from 1993 that later became the basis for the live Love For Sale album. She does her Billie Holiday thing with a full jazz quartet. Very theatrical. She dons a shroud and brandishes a candelabra for a desolate version of "Gloomy Sunday." It's beyond beautiful. Outdoor festival footage from Germany in 1995 is unbelievable. In the middle of the day, Gitane saunters out in a floor-length red gown, elbow-length black gloves, nose rings, white hair almost as translucent as her skin. And she performs a set of cabaret style, bluer-than-blue note jazz. Her vocals are in top form. Twin highlights come with a raw, guitarless take on Hendrix's "Manic Despression," and a hitherto unheard cover of "My Death," (holy shit!) with the tempo slowed for maximum beauty.
The centerpiece of this collection is the first commercial release of performances from the "Dream Home Heartache" tour, based on the Rozz Williams/Gitane Demone torchsong album that is one of my ten favorite albums of all time. And they fucking nail it. The vocals are immaculate. And the visuals? Rozz, with short hair and dressed in a suit, and Gitane dressed like one of the secretaries in Mad Men (though she later wears an old-fashioned bustier) are sitting at a table onstage, smoking cigarettes and drinking wine, with the band positioned cleverly offstage, while the songs seem to take the form of an extended conversation between two loveless souls tired of themselves, tired of each other, tired of the world. They take turns at the main mic, eyes closed, makeup running, and support one another with backing vocals, before sitting back down at the table. It's a highly theatrical and emotional performance – Rozz, reading his lyrics from a book, does his best Brian Ferry, Gitane, wearing sunglasses, looks chocked up with emotion. Rozz does a cover of Bowie's "Time" not included on the album (dammit!), his liquid voice flowing over the lyrics, then it's on to highlight after highlight from the Dream Home Heartache album – "World Apart," "Moon Without A Tear," and "Pope Egg's Hat." If nothing else, fast forward to Williams's dramatic reading of Bryan Ferry's nouveau riche lament, "In Every Dream Home A Heartache."
There is a "Christian Death" show from about a year later, consisting of Rozz, Gitane and the members of her backing band. An exceptionally frail and tiny Rozz nevertheless throws himself into the songs he wrote as a teenager with hair-whipping, Bowie-esque aplomb, clad in a banker's shirt and tie and shoulder-length hair. The band (obviously versatile from their jazz workouts) takes a particular glee in bashing out the primitive Christian Death deathpunk. Gitane provides backing vocals ably and looks on with motherly concern as Rozz crumples into an exhausted heap, chain-smoking fervently between songs. It's potent voodoo here.
The video quality on this collection is way sharper and crisper than it has any right to be, given that this is mostly bootleg and homemade footage. The content is absolutely unmissable to anyone interested in torch songs, punk, Gothic or deathrock, experimental music, or strong women in rock. Gothic music often gets a bum rap from Hot Topic homogenization and newer bands that just don't cut the mustard. As if all this wasn't enough, there's a bonus CD of Gitane Demone performing an eclectic array of covers and detailed liner notes where Demone fills in the blanks regarding her history with jazz. Life After Death is a vivid reminder of a time when goth – or at the very least, Rozz Williams and his clique – was at the forefront of boundary-pushing and genre-splicing in alternative music.
Cult Epics: http://www.cultepics.com
---