Starlight Mints
with The Pauses and Evangelicals
The Social, Orlando • July 2, 2009
brYan Tilford
The Social looks a lot smaller when it's empty and early. Then came the people and The Pauses. I've heard that silence is the glass that holds the wine of music, so a band named The Pauses brought me hope to hear some wise use of space. They didn't disappoint and delivered with no loss of momentum and plenty wise use of non-silence (aka music). They played an engaging set, and there was no reason to resist the urge to move or groove along. Some danced to their melodies of simple yet multi-layered music in sort of a neo-retro post-modern style, but very creative and cleverly orchestrated through their Nord, keys, guitars, keys, drums, electronica… did I say keys? Was that a glockenspiel?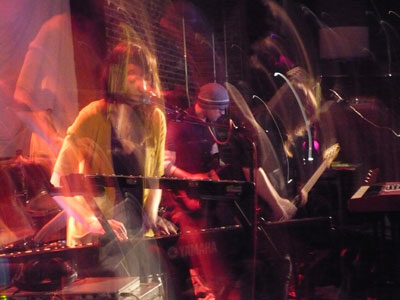 Evangelicals provided a stark contrast between The Pauses and the forthcoming headliners, building what seemed like a solid wall of sound. Maybe it's just because they were considerably louder, or their amps went to 11 that night, but the more intricate production of their recorded music didn't come through. Still, they appeared to have fun as we all witnessed their frontman's trusty guitar amp near its demise. At least that's what it sounded like he was saying, between a strong and steady stream of what occurred to me as Echo and the Cure Cultmen (though none of those influences are listed at their MySpace page).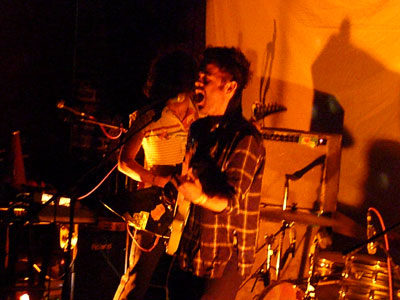 Then The Social did not look small anymore – it was big with people and felt full with anticipation as Starlight Mints came out. The stage was again fully loaded with keys, guitars, computers, and now strategically placed rainbow lights. They took immediate command with "Zoomba," a pounding riff and rhythms all wound up in a grabber melody with an impressive belting unison falsetto filling.
Each song uniquely threaded together one compelling, catchy hook after another. Their sound was solid pop with a healthy dose of quirk, uplifting beats, and a colorful palette. I wasn't sure if it was inspiring or silly or just weird, but I was sure it was a wonderful combination of all those things and more. While the band is driving down the same road together, occasionally there's that one part in the other lane and crossing through and just trying to pull you over. Yet, they mastered keeping the deviant in check and certainly seemed to enjoy watching it slip out of bounds. I know I did, absorbing the full impact of a dissonant guitar yank, or a tilt-a-whirl timeshift. But the Starlight Mints avoided all detectable derailments; they kept control as their deceptively complex but simple-sounding dynamics and delicacies were overdriven a bit through the sound system.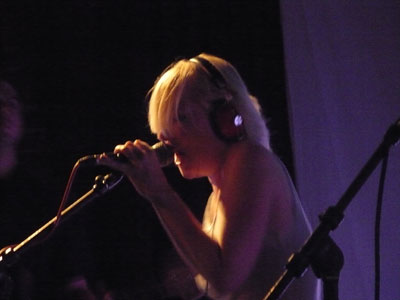 A minor consideration I suppose, because when it was over we just wanted more.
Starlight Mints: http://www.starlightmints.com • Evangelicals: http://www.myspace.com/evangelicals • The Pauses: http://www.myspace.com/thepauses ◼
---