Down
with The Melvins, Weedeater
House of Blues, Orlando, Fl • Sept. 2, 2009
Jen Cray
For those who like their music meaty enough to stink up the whole room, the Down/Melvins tour serves up just the sort of medium rare juiciness that makes the Jack and Coke wash down smooth. Orlando, always to be counted upon to give a hearty greeting to a metal tour, packed the two floors of the House of Blues when the hefty bill came through Disney town.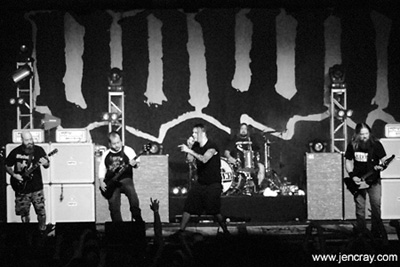 Stirring up all sorts of unsettling vibes, and testing the tolerance of the human ear, was opening band Weedeater. As their name would imply, the trio appeared to be trudging along through a haze of greenery, but rather than take the scenic route through the fragrant air they stomped right through – making a riotous cacophony all the way. The deep, death metal style scratchy croak of vocalist Dave "Dixie" Collins was further freaked out by his tendency to let the low groan feedback of his bass carry on at the end of a song. At what frequency can a tone induce a heart attack, I wondered, before the saving pounding grace of drummer Keko Kirkum brought my heartbeat back on pace.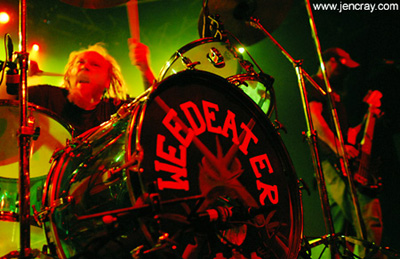 Though slow and low, Weedeater emoted a darkness like few other metal acts I've seen, but it wasn't darkness I was in search of on this late summer night. The kind of metal I was craving came courtesy of The Melvins.
Well into their second decade, the Washington state group are a better band than ever. Bringing Big Business drummer Coady Willis and bassist Jared Warren on board in 2006 has proven to have been a fortuitous move on the part of founding member Buzz "King Buzzo" Osborne and may-as-well-be co-founder Dale Crover (whose been a Melvin since 1984). Willis and Crover play their dueling drums perfectly in sync, providing a solid, and hypnotic, backbone to the bass attack of Warren and the onslaught brought on by the man beneath the trademark curly mop top, King Buzzo and his silver stainless steel guitar.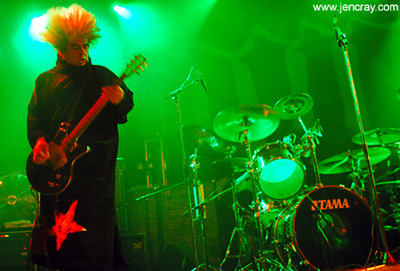 The most surprising element of this 21st-century version of The Melvins is how much melody has creeped its way inside of the noise, the sludgy rock, the murky metal that these guys have always been known for. Their current work, like "Kicking Machine" off of last year's Nude With Boots, embodies the band's musical marriage between RUSH-like vocals, dark Sabbath-esque melodies and Buzzo's incendiary guitar play with less of the excess noise that arguably blanketed their older material.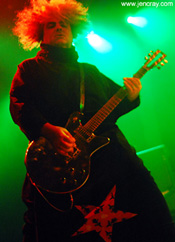 "We've stopped drinking whiskey … and started doing a lot more ACID!" Osborne says in the middle of their lengthy set. Maybe that's their secret to success. It sure gives them an extra strength dose of boldness in their live show. What other band would dare to close out their set with an ambiguous cover of Merle Haggard's "Okie From Muskogee?" Brilliant and ballsy!
The various veteran metal players that make up Down create an intimidating force onstage, one that grants them leeway to call Florida crowds boring ("we're talking about Tampa," front man Phil Anselmo says). When your band is made up of former members of Pantera, Corrosion of Conformity, Crowbar, and Eyehategod I suppose you're allowed, and even expected, to be a tad on the rude and rough side. It's what the audience wants. Surely it was stimulating for this not-boring Florida crowd.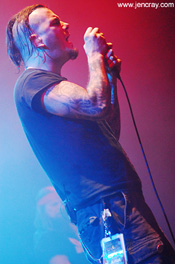 Even before the band settled into their opening song ("Eyes of the South"), the fans were pushing the limits of the barricade and making it known that heavy metal was alive and well appreciated in certain parts of the Sunshine State. The band stormed through a baker's dozen collection of songs, picking bits from each of their three albums and a few unknowns – presumably off of their upcoming release, titled simply IV. Aside from Anselmo's moody pout and arms raised posturing, the attention is largely held by guitarist Kirk Windstein who spends much of the show at the stage's edge leaning his bearded mug over the security guards' heads and into the faces of ecstatic fans.
Like the New Orleans bayous from which they were spawned, Down's brand of hard rock may be soiled and muddy, but it's got a colorful heritage brewing beneath its surface – enough so that it can hardly be dismissed as merely heavy metal.
To see more photos from this show, and others, go to [www.jencray.com](http://www.jencray.com/bands_live.htm).
Down: http://www.down-nola.com ; The Melvins: http://www.themelvins.net ◼
---