Miike Snow
Chicago, IL • Sept 25th
Chris Catania
It was horrifying at first. Not the intro I expected at all. It was like a slasher film, or an early Halloween treat that was playing tricks on my expectations. Strobe lights flickered and camera flashes popped as all the members of Miike Snow came onstage wearing Michael Myers masks adding more terror and intensity to the opening song "Burial," a track with lyrics that poetically use a "serial killer" metaphor to explore the disappointment of love and relationships. "Misery is all we know lately/Saturday's are all the same/Sympathy is overrated/Like a snapshot when you've lost the game/Now it's the funeral I become the serial killer of us all."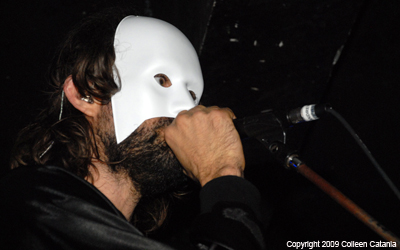 The song's shimmering dance-pop sonic covers up the lyrical sadness and dreary subtext – just like the masks covered up the faces of the band members before they removed them and forged onward into the rest of the set.
The crescendo of "Burial" cranked up the crowd's intensity. And more invisible (but felt) resounding ripples of bliss and ecstasy rushed over a crop of outstretched arms and flickering camera phones held high in the air. With a shifting but lock-step mix of drums, beat machines, bass, piano and guitar, the Scandinavian sextet filled up the Empty Bottle with an electronic pulsing current. Then like resounding waves, fans let out a roar and began to throb in deeper sync with Miike Snow's onslaught of dance anthems one after another.
As the show continued, it was terror vs. ecstasy. The creepy Michael Myers image stuck in my mind for much of the set. But the trance and rave rhythms reigned supreme and poured more joy and ecstasy that washed away the frightening images.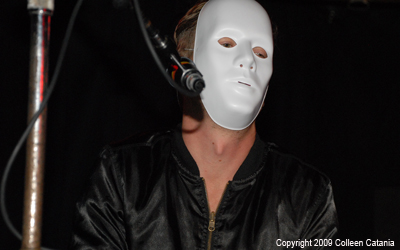 But those Michael Myers masks were more than just a live show costume gimmick. Those masks deftly represented a side of Miike Snow's songs that you don't necessarily get when you just listen to the song and the sadness and fear lurking in the lyrics slides by you because lead singer/songwriter Andrew Wyatt sings in a happy, upbeat and gleeful falsetto. And you can thank (and blame) the rest of the band, too. Because the near perfect percussion of the rhythm section puts the focus on your hips and not your mind, or what the lyrics are actually saying. In total trust, we followed and they led us like an army of happy "Animals," with one fan even waving a Miike Snow mascot – a bunny/antelope creature with antlers – high in the air at the foot of the stage.
From the mysteriously self-disclosing hit single "Animal" to the serial killer motif of "Burial," songs from Miike Snow's self-titled debut are double-sided: cathartic and catchy. And as I joyfully danced and scribbled notes during the concert, I looked around me at the glowing faces and swaying bodies of fellow fans and wondered what it was about these songs that everyone was so inspired by? What was it about Miike Snow singing about such sad and depressing topics that was so fun to dance to? I watched inches from the stage, as Andrew Wyatt moved from guitar to piano and sang from a deeply emotional place and shared what he might consider intimate parts of his life, sharing his darkest moments with complete strangers. Maybe it's easier to sing about what troubles you most when you're in front of strangers? Maybe it's more freeing because we don't know him and won't judge him? After all we've come to dance and celebrate and escape, not cast judgment or look for a deeper meaning. But surely the subtext was there.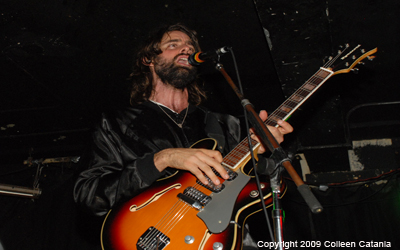 Miike Snow's received comparisons to electro-psychedelic jammers Animal Collective. I've seen Animal Collective live before and felt detached and lost each time. Though the bands have similar electro-pop elements, Miike Snow has much more muscle, depth and charisma during their live show. And if you come to their show looking to feel, embrace and discover something deeper than just a catchy pop song, Miike Snow delivers the goods. And that's what made the show strong and powerful.
I came with an urge to dance that was satisfied but left with much more. This band of Swedes put on a barrier-free show and beautifully transformed perfect strangers into close friends for 60 minutes on a Friday night.
Miike Snow: http://www.myspace.com/miikesnow ◼
---