Leonard Cohen
Tampa Bay Performing Arts Center • October 19, 2009
Matthew Moyer
Tonight Leonard Cohen danced, no, skipped onstage and offstage in-between curtain calls and encores. Six or seven times in all. Boyishly, mischievously, spryly, belying his seventy-five years of age with a twirl, a bounce. Yes, that Leonard Cohen, the so-called poet of doom. Would Frank Sinatra do that? Does Bob Dylan do that? You should be so lucky.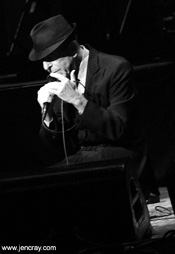 In an age when the shelf life of a performer, a singer, a pop star, has subdivided itself down to maybe five years at the most, you don't often find yourself in the same concert hall as a true legend, someone who has been performing careful, deliberate, beautiful soundpoems for upwards of thirty years with a unassuming disregard for the meatgrinder realities of the marketplace. Much less a legend who, at seventy-five, is entering into a late career renaissance as a touring songman, bringing out the hits, the not-so-hits, and the bedroom weepers for one last valedictory round of road-tested wonderment. And thus it is that Leonard Cohen is onstage in Tampa goddamn Florida thanking the audience for a gracious welcome and intoning in that gravelly, prophetic voice that though he may not make it through these parts again, he'll certainly give you his all tonight. From the sounds of the swoons in the audience, that's all anyone could ask for.
A note on the audience – this is a graying, older audience tonight, there's no other way to put it. I hear snippets of conversation like, "saw him in '72," "bought the DVD on PBS," "went because my husband has loved him for 20 years," and I see mother-son pairings in the audience. But this is the farthest thing from the nostalgia offered by Motown bands on the PBS circuit or the Rolling Stones on the self-denial circuit. His gloriously sad songs still live and breathe and change, the man behind them is still vibrant, deadpan funny, and just a little sexy and dangerous. Wha?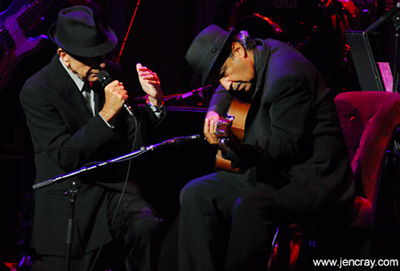 Oh, it's true. Leonard Cohen skips onstage clad in an immaculately tailored, dark suit and tie (and, yeah, over the course of three hours of performance, there is not even a hint of a bead of sweat) with a matching fedora pulled low over gleaming eyes. Cohen's features are chiseled in granite, deep lines and crags mark his face, his hair grey, cropped, and angular – the perfect counterpoint to a sepulchre-deep, gravitas-laden voice. He is the very picture of self-possession and noir-glamor, but that doesn't deter him from busting out the stage moves of a man one-third his age. He dashes around the stage, straps on a guitar, gets on one knee over and over to profess his loverman desires for approximately half of the audience. And, yeah, he's got every woman (and to be fair, most of the men) in the palm of his hand tonight. Just deal with it, love it. On my right side is a twenty-something and on my left side is a fifty-something and both of them are leaning way forward in their seats, hands prayerfully clasped in front of their mouths, identically. All for the affections of a holy clown, dour prophet, borscht belt crooner, great lover, and heartbreaker. THIS is what it's all about.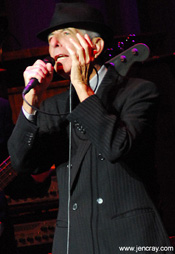 Actually, what it's all about is hit after fucking hit after fucking hit. Cohen's canon is evergreen, speaking plainly and carefully about beauty, pain, and truth and even then it's all in the delivery, Cohen's magnificent baritone rumble. The show begins with "Dance Me To The End of Love," with Cohen entreating the audience on one knee like Marvin Gaye crossed with Robert Lowell, the sly old devil. In short order he steamrolls through a manic, tightrope "Everybody Knows," lush anthemic versions of "Bird on a Wire" and "Chelsea Hotel" (the audience titters like children during the line about giving head on an unmade bed), with Cohen seeming surprised and amused at some of his own lyrics, like the way you are when you're flipping through old photo albums. And goddamn if I'm not knocked out of my comfy theater seat by "Waiting for the Miracle" – great lyrics, great performance, the band nails a smoldering groove and when Cohen growls "I haven't been this happy/ Since the end of World War II," I need a cigarette.
My complaint, and I had the same complaint about the Live in London release, is Leonard Cohen's crack, perhaps too crack, phalanx of touring musicians. They're all good hands, I can't take that away from them, and they clearly have a reverence for the master's material, adding hints of world music to his oeuvre, but goddamn if sometimes the arrangements that they cloak Cohen's stark wordplay in is just on the wrong side of pillowy soft MOR. And man, bass and drum solos at a Leonard Cohen show; something about that just ain't right. I want to hear Cohen's sublimely shitty guitar playing (that same scraped, circular riff over and over again), I want to hear the brittle silence between the words. But those days are long gone, Cohen is a generous performer, more than willing to share the spotlight with his onstage comrades. There is a brief solo sojourn after the intermission that addresses this issue. Cohen pulls out a synthesizer and whips through an urgently new wave reading of chestnut "Tower of Song," somehow turning the Hank Williams lyric into a laugh line. That's good stuff. Following that, he straps on a guitar and darkly intones "Suzanne" like some sort of prayer, swathed in dark blue lighting.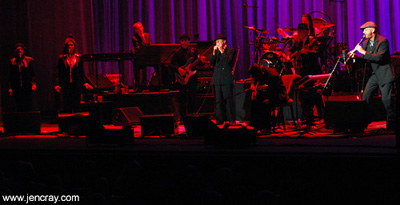 The second half of the show features deep-catalog material like a rousing "Gypsy's Wife" and "The Partisan." He lets longtime collaborator and singing foil Sharon Robinson take the spotlight for her smoldering "Boogie Street." And then delves headfirst into the BIG hits. "Hallelujah" is performed in a straight up gospel style, with blinding white stage lighting and deeply reverent choruses – the band knows its stuff. The verses of "I'm Your Man" are punctuated by Cohen dryly chuckling (which sounds like the rustling of autumn leaves) at his own black-humor punchlines and the wondrous inappropriateness of singing a young man's pleas for carnal satisfaction. "Take This Waltz" becomes a delirious, kitschy whirl before Cohen glides offstage, and that… should have been that.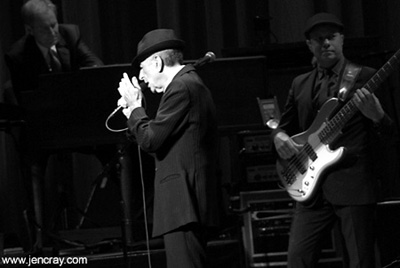 But we wouldn't let him leave. Cohen ended up playing encore after encore, skipping off the stage energetically, followed by his faithful and winded musicians, only to bound back on a moment later, bowing deeply and ripping into another song. There's an emotional "So Long Marianne" where, leading into the choruses, the years fall away from Cohen's voice and he reverts back to the high lonesome sound of his, the words "laugh and cry and cry and laugh" sounding every inch the naif on Songs of Leonard Cohen. Then a hard-charging run-through of "First We Take Manhattan." Is that all? Would it be a Cohen show without "Famous Blue Raincoat?" That song still can tear you to bits. Still not finished! A standing ovation is enough to bring Cohen out again for a raucous reading of "Closing Time" with the lyrics taking on a loving, teasing tone – you wouldn't let me leave the stage – and the music seesawing like a drunken roadhouse band. After that, it's over – group bows and a snippet of "Whither Thou Goest." Let the tears fall where they may – it was meant to be this way.
To see more photos from this show go to [www.jencray.com](http://www.jencray.com/LeonardCohen.htm).
Leonard Cohen: http://www.leonard-cohen.com ◼
---