Jet
with Plain Jane Automobile
House of Blues, Orlando, Fl • November 17, 2009
Jen Cray
The Strokes are indefinitely on hold, The White Stripes seem to have gotten tucked way into the back of Jack White's busy mind, and The Hives must be about one step away from giving up on getting their due respect from music fans in the United States. With the state of the modern revival of garage rock in such uncertainty, it's great to see that underdog Jet has not only survived the shifts in trend, but has thrived… if not in terms of ticket sales, at least in the quality of their music.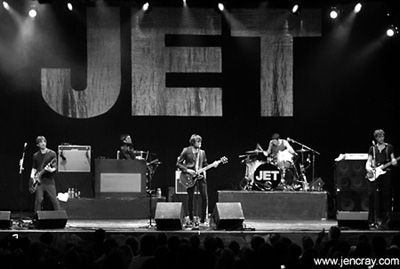 Their current tour, in support of their third full length album Shaka Rock, found them playing to a strangely small crowd at Orlando's House of Blues.
Show openers Plain Jane Automobile, a local band that has been pounding the pavement for over eight years, made no apologies for their love of U2, going so far as to cover "Sunday Bloody Sunday" at the end of their room-rousing set. Having seen this group several years ago and not been impressed, the performance I witnessed felt like an entirely different band. Aiming high and shooting from swaggering hips, they used the power of Duke Crider's impressive vocal range to give the kind of opening set that sends new listeners flocking to the merch table. If this is the new sound of Plain Jane Automobile, I can finally get on board.

While PJA pulled some tricks from the Irish rockers' catalog, Australia's Jet was swinging with music that sounded like The Stooges and leading with a voice that could easily front AC/DC. This inspired blending of garage and classic rock shouldn't work, but does. Vocalist/guitarist Nic Cester roamed the stage with just enough bravado to pull off lyrics like "Cold hard bitch/ Just a kiss on the lips/ And I was on my knees" (from "Cold Hard Bitch") without sinking into cock rock skankiness.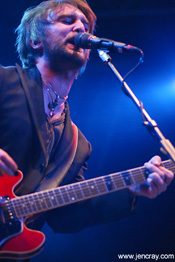 Nic Cester, who spent much of his guitar moments at the lip of the stage, occasionally handed vocal reigns over to his brother Chris, the drummer and co-founder of the band, whose voice had a decidedly less arena-ready tone. Though he didn't quite have the same power as the man in front, it's always an admirable skill to watch a drummer sing lead. These moments should result in guaranteed applause, especially when all you're doing as a fan is maybe juggling a beer in one hand and an upraised cell phone in the other. Give the musicians some credit, I'm just saying!
Even with only the bottom floor of the venue open and plenty of elbow room, those fans who had secured their precious spots at the foot of the stage hung anxiously on every riff. The remaining gaggle of listeners seemed to be there more out of curiosity than anything else, and provided about as much energy for the boys on stage to feed off of as a cell phone in a basement in the middle of a blackout. To the band's credit, they didn't seem to notice or care that the audience was of the entertain me variety. They pushed through hits and brand new songs alike with equal vigor, and made the taste-testers wait for their biggest song – "Are You Gonna Be My Girl?" – until nearly the end of the night.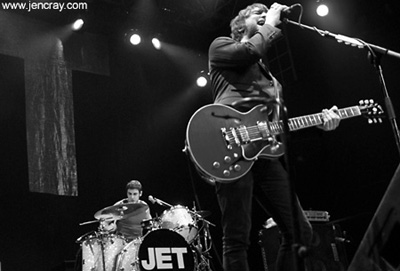 What's impressive is that six years after plowing their way into our consciousness with that undeniably catchy song, they're still putting out music that packs an equal amount of hip-shakin' punch. "She's a Genius" and "Black Hearts (On Fire)" were just as deserving of spilled beers and uproarious hoots and hollers as those early hits off of Get Born, their well received debut. Concert attendees, don't be afraid to show the new songs some love!
To see more photos from this show, and others, go to [www.jencray.com](http://www.jencray.com/bands_live.htm).
Jet: http://www.jettheband.com ◼
---