The Thermals
with Past Lives, Father Figure
The Social, Orlando, FL • April 7, 2010
Jen Cray
Like an old xeroxed fanzine sprung to life, The Thermals are keeping the vitality of the Kill Rock Stars label alive almost 20 years after it introduced us to the spunky d.i.y. scene out of the Pacific Northwest. Their trek down to the southeastern half of the U.S. landed them in front of a crowded room at The Social in Orlando.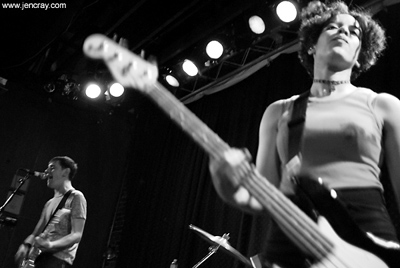 'Course it wasn't The Thermals alone that put asses on those bar stools. The bill gave fans of Summerbirds in the Cellar the debut performance of singer/multi-instrumentalist Curtis Brown and drummer Tyson Bodiford's brand new project, Father Figure. Though the name may conjure up memories of George Michael in his tight jeans and leather jacket days, the quartet sounds more like Echo & the Bunnymen and New Order with Mute Math styled modernity. The last song of their exhilarating set, a song so fresh it doesn't even have a name yet, cradled all three of those influences – what started as a moody lullaby slowly crescendoed into a melodic noise fest that echoed the elements of Summerbirds that were always the most exciting.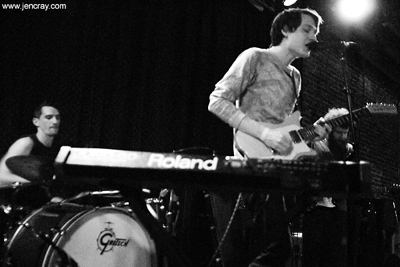 A rousing debut, it was made even more memorable after a too long follow-up set by Seattle's Past Lives. Comprised of members of Blood Brothers, the well-intentioned band made too much noise with too little melody. I'm by no means a pop music snob, and I can get behind noise rock if done well, but when I'm watching a band I don't want to have to search for the thread that holds the song together.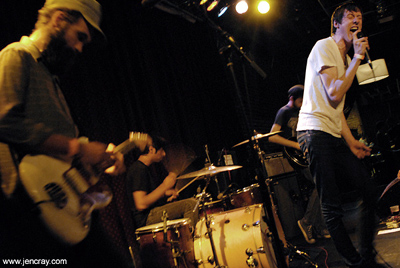 With The Thermals, that thread is laid bare and it is glorious. Wrestling up an armload of good ol' fashioned indie rock, the mid '90s brand that could best be heard on late night college rock radio stations, the boy-girl-boy trio is bubbling over with smart pop music. Pop music that makes your ears ring and your nodding head ache – pop music with a punch!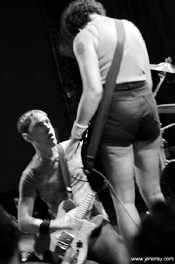 Preferring to let his maniacally comical faces do the communicating, vocalist/guitarist Hutch Harris interacts more with his drummer Westin Glass and bassist Kathy Foster than with the audience, and that's perfectly all right. Their playful connection onstage, especially the flirtatious one between Harris and former girlfriend Foster, is more than enough to make the room feel all warm and cozy. Her sweetly lush backing vocals coat his frantic, brattier delivery like sugar on a lemon drop – quite Pixies-ish in its complementary opposition – and we all sucked joyously on that lovely confection.
Channel surfing their way through their four album catalog, songs from 2003's Sub Pop debut More Parts per Million ("No Culture Icons," "It's Trivia") rubbed right up against those from their most recent Kill Rock Stars release Now We Can See ("Now We Can See," "We Were Sick"). Plenty of choice cuts off of the releases in between gave every fan in the room a reason to rejoice, as proven by the clap-happy responses to "How We Know" off of Fuckin' A and "Pillar of Salt" from The Body, The Blood, The Machine.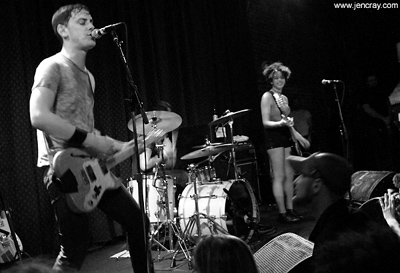 The whole set was an applause-fest, with pauses only to tip back glasses in order to soothe parched throats. There just aren't enough bands that can inspire a crowd to shed their "I'm too cool to care" veils and readily enjoy themselves, even if it means swaying about and smiling wide like a little kid. Thanks and praise to The Thermals for achieving such a feat!
To see more photos from this show, and others, go to [www.jencray.com](http://www.jencray.com/bands_live.htm).
The Thermals: http://www.thethermals.com ◼
---