The Dead Weather
with The Ettes
House of Blues, Orlando, FL • April 26, 2010
Jen Cray
Few artists can spur the sort of unbridled anticipation for everything they do as Jack White has done with not one, not two, but with three bands. The man has proven himself to be a genius of the guitar, of songwriting, of producing, of media manipulation – everything he touches, it seems, turns to gold. It's enough to make many almost wish for him to fail at something, if only to see his ego kept in check.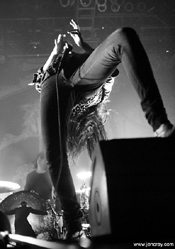 So, when a year ago he began work with The Dead Weather and sat himself in the back behind the drums, those skeptics thought they'd get to see just that. What they didn't know is that the guitar is not Mr. White's first instrument – the drums are.
Unleashing his inner gorilla on the skins behind bassist (and Raconteurs band mate) Jack Lawrence and guitarist Dean Fertita (also in Queens of the Stone Age), White manages to remain the center of everyone's attention… that is until frontwoman Alison Mosshart (of The Kills) does the unthinkable. She steals the spotlight right out from under Jack White.
The Dead Weather will make you redefine your expectations for how a live band should be. Openers The Ettes should have been taking notes from the wings.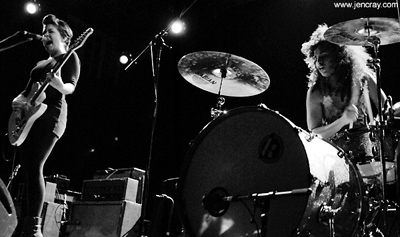 When broken down, The Ettes have all the right ingredients: a cute and classic vocalist who sounds like Nancy Sinatra with an attitude, a coolly quiet bassist, a long-haired classic rocker on lead guitar, and a sexy, hard-hitting drummer with a 'fro reminiscent of Lenny Kravitz's Cindy Blackman. Yet somehow these spicy elements don't quite settle in together onstage. Is it a case of too many ingredients, or just plain laziness? With the exception of drummer Poni Silver, whose energy and style is mesmerizing to witness, the band has yet to tap into the fire that they've got burning beneath the surface. Scoring an opening spot on such a high-profile tour should have set that fire ablaze, but not until the final couple songs of their set did they begin to tap into the sugar-coated garage rock fury that they're capable of delivering. At least they left us with a taste of their potential.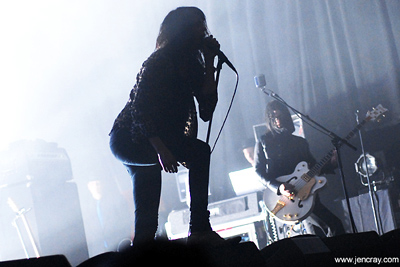 The headliners, on the other hand, blow even the highest expectations out of the water within seconds. From the opening macabre moodiness of "60 Feet Tall," Mosshart stalks the stage like a hot and bothered lioness. When she's not staring through her mane of hair into the souls of front row fans, she's straddling the speaker stacks staying teasingly just out of touching range from said fans' outstretched hands. Everything about the enigmatic singer and sometimes guitarist oozes sex and danger, and the tension that she brings to the mix collides electrically with the similar sentiments brought by White – who is incapable of remaining in the background for very long.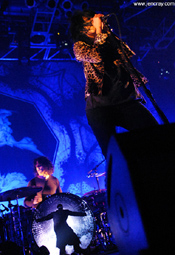 No drum seat is heavy enough to ground the natural frontman. In between songs he would often arise to towel off his face and haunt the back parts of the stage – further intensifying the audience's unspoken anticipation for him to pick up a guitar. After all, no matter how capable he proves to be on any other instrument, it's his relationship with the guitar that is a primal wonder and remarkable to be seen. Aside from a moment early on when he came to the front to sing a scorching cover of Them's "You Just Can't Win," he picks up a six-string twice in the course of the 80-minute set, leaving the drums either unattended or at the mercy of Lawrence, and 2,000 fans nearly wet themselves. For many in attendance this is the first time they've seen any of White's bands ("I can't even remember when the last time was that I played Florida," he admitted) since the last time he stepped out onto a Central Florida stage was with The Raconteurs in 2006, and the noise he invoked with his every move was nearly enough to rattle the artwork off the walls.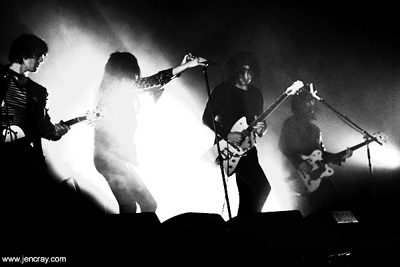 Before leaving us all panting for more, White joined Mosshart at the mic for a steamy, voltaic duet of "Will There Be Enough Water?" that culminated with her thrashing about and him plucking his guitar strings into an audio orgy so intense it deserved an R-rating. A three-song encore followed, ending with a bluesy extended jam of "Treat Me Like Your Mother."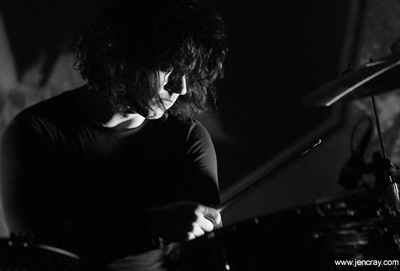 Those waiting for Jack White to drop the ball will just have to wait a little longer because The Dead Weather are even more exciting in reality than they are on record. As much as I have been itching for both The White Stripes and The Kills to get back together and hit the touring field, the prospect of seeing this band play out this love affair a little bit longer is quite enticing.
To see more photos from this show, and others, go to [www.jencray.com](http://www.jencray.com/bands_live.htm).
The Dead Weather: http://www.thedeadweather.com/ ◼
---