Coheed & Cambria
with Circa Survive, Torche
House of Blues, Orlando, Fl • April 24, 2010
Paul Lucas
The line that stretched around Orlando's House of Blues was filled with over 2,000 fans – some who had been camped out since nine that morning – all waiting to see Circa Survive and Coheed & Cambria.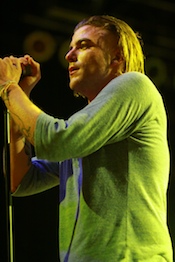 Much of these devout fans, who then camped out for hours at the front of the stage, started feeling fatigued by the time the show kicked off with a blistering set by Torche and had just barely begun to get some adrenaline once Circa Survive took over the stage. Anthony Green, the band's crazy-eyed front man, seemed to sense this dwindling spirit down front and took matters into his own hands. Flying over the barricade and into the crowd, Green woke up not just that sleepy pack but all that surrounded them. Circa Survive played a breathless set that focused much on their just released third album, Blue Sky Noise. The concept of "taking it easy" seems to not even be in their vocabulary because they were storming through at high voltage right up until their last song of the night – by which time Green was happily drenched in his own sweat.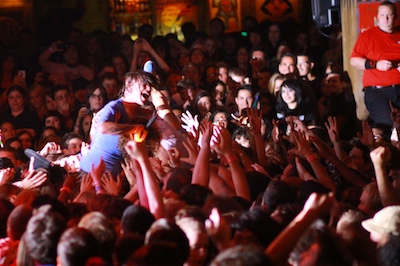 It was time for Coheed & Cambria and the monster that lives on top of Claudio Sanchez's head, obscuring his eyes for about 95% of the show. The epic NY band wasted no time in dishing out the heavy metal goodness. You know it's good when security start pulling out bodies from the massive circle pit in the middle of the audience! Their music is often hard to describe – progressive leaning, comic-book-colored heavy metal with a hardcore underbelly? – but at its core, it's just brain rattling, guitar-drenched brutality… and the kids love it!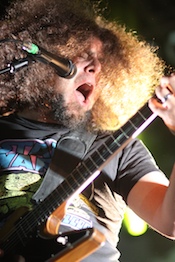 Cooling things out for a spell, Claudio led the band into "Blood Red Summer," a powerful yet decidedly non-metal song. With Coheed & Cambria, it's not just about the moshpit, there's something for just about every music taste.
Riding high atop a sea of Coheed & Cambria t-shirts, girls floated on the hands of others to the front of the stage, making desperate attempts to touch Claudio before security swiped them away. One girl was so sure she was going to get that ankle grab that when security laid hands on her she gave a nice little bite to the grabbing security guard. Not too smart on her part, but you've gotta admire her determination!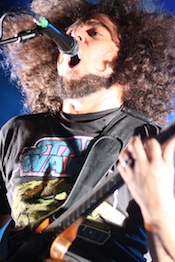 The band surely had to have been escorted out with Disney's police to their bus, because these fans were hungry – quite literally in the case of that one fan – even after their last song played. After the chanting for "one more song, one more song," Coheed & Cambria came back out to grant that wish. Crisp guitars and vocals rung out and, at the end, left 2,000 people happy.
Coheed & Cambria: http://www.coheedandcambria.com • Circa Survive: http://www.circasurvive.com/ ◼
---