Tammy Wynette: Tragic Country Queen
by Jimmy McDonough
Penguin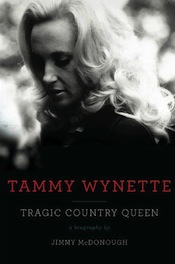 There's this one part in new journalist/Rolling Stone writer Chet Flippo's gonzo history of Hank Williams, Sr. where it's towards the end of his life and he's drugged up and passed out in the back of a convertible, just out of prison (remember that iconic shot of him shirtless and grimacing in pain – it was that night), wracked with pain but on the way to yet another show. In the car with him is his grim-faced manager and in the other seat is his wife who hates him; and you're just like, god, how much pain can one person bear? And how shitty a person am I for reading this? Three-fourths of Tammy Wynette: Tragic Country Queen revels in that same sort of pain.
Author Jimmy McDonough is no stranger to tortured artists, difficult personalities, and musicians in hopeless thrall to their muses. He made his name with an exhaustive, sprawling, and authoritative tome on Neil Young, Shakey. With or without the cooperation of Young (hint: halfway through, without), McDonough nailed Young the artist and much like Paul Trynka's Iggy Pop bio Open Up and Bleed, helped himself to a generous portion of myth: the Tonight's the Night sessions, jerking around the CSN in CSNY, ahh read the fucking book. But whereas Shakey seemed like a quest, a mission, Tammy Wynette: Tragic Country Queen feels altogether more personal. You can tell that it's going to take McDonough a long time to shake "living" with Wynette as he wrote the book. It's in the oddly affecting letters to Wynette that McDonough opens many of the chapters with, it's in his rhapsodizing over the near-Gothic grandeur of her late '60s/early '70s stage outfits, it's in his copious footnotes going over the minutiae of treasured Wynette songs, or even where he casually mentions all the time and money he's blown on eBay gathering research material. Obsession is the mark of a great biography. And sure, Wynette was long dead by the time that McDonough even pondered starting this book, but maybe the distance from his subject makes the writing of this book even more special and sacred.
So, yeah, this surely ain't an objective tome. And like Shakey, it's a physically imposing tome. McDonough has sought out everyone – family, friends, lovers, collaborators – and the only one who demurred was controversial final husband George Richey. Getting the "Possum" George Jones and reclusive, brilliant country music producer Billy Sherril to hold forth at length about Wynette is a coup any day of the week.
Before starting this book, I had hoped that it would begin to redress the reputation of Wynette the artist, Wynette the singer, Wynette the icon, putting her back alongside heavyweights like Dolly Parton and Loretta Lynn. I realize now that this was a simplistic, naive hope. It's impossible to separate Tammy Wynette's personal pain from her recorded output – like George Jones, like Kurt Cobain and Billie Holliday and maybe even Ian Curtis. She was from the school of singers – a school that included idol-turned-husband George Jones – that believed that you HAD to be sad to sing great songs, beautiful, great, sad songs. You know going in that this one is going to end badly. And oh my god, it does. Don't let it break your heart. The music will always be there.
Penguin: http://us.penguingroup.com
---