For My Father
directed by Dror Zahavi
starring Shredi Jabarin, Hili Yalon
Film Movement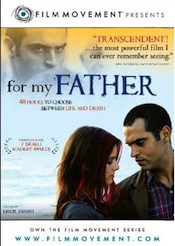 We never really consider suicide bombers' point of view, but deep down they are deeply conflicted people that might be redeemed. That's the premise of this nicely-shot yet wobbly view of Palestinians fighting against their artichoke vendors. Tarek (Jabarain) gave up a promising career as a soccer player in Nazareth, mostly because the border crossings from the West Bank were too much hassle. He's wandered from job to job and now finds himself strapped into a bombing vest that he can't remove and wired to a cell phone that allows his handlers to set him off at will. When his detonator switch fails, he seeks a replacement from handyman Katz (Shlomo Vishinsky), but it's a special order and won't be available until Sunday. Tarek agrees to wait and fix the roof in exchange. While he hangs out and awaits his destiny, he meets beautiful Keren (Yalon). A disgrace to her Orthodox parents, she wears tight clothing, dyes her hair, and refuses to bend to the wishes of the yarmulke-wearing thugs who want her to spend more time in the synagogue.
I admit I liked Jabarin's Tarek; he was well-acted, but the direction given him was heavy-handed. When about to blow himself to martyrdom, he grimaces like a man about to get a tax audit, but when he finds a connection with Keren, he lights up like a child on his birthday. Yalon's young woman seems like a typical modern babe – she's not particularly flirtatious, but is fed up with the traditional life of being locked away from the world. Supporting actors in this modern view of a dusty brown Tel Aviv are much better. Vishinsky's Katz is mad at the world for the inadvertent death of his son, and he adopts Tarek and defends him from the local constable while his wife Zipora (Rosina Kambus) cheers up immensely when Tarek saves her from suicide.
Structurally, this film is a typical "Outsider Finds Acceptance in a Hostile Land" story. Yet it jars in many places – the whole of Tel Aviv is on alert, yet no one seriously considers this stranger in a heavy coat might be a danger. The bomb vest and Tarek's handlers put him in an odd time lock/ option lock position. The whole idea that he has to order a part to complete his mission feels silly, and if he wanted out of the vest, he could have asked Katz, the electrical repairman, to help cut him loose. And if he was desperate to die, simply unbuckling it would have done the job. Finally, his attraction to Keren causes him to halfway pull back from his mission – he removes the shrapnel before he goes to work. It's a job half-done, and none the better for anyone involved. This view into modern Israeli society is interesting, but somehow feels contrived and forced. Once we pass the tension of the failed explosions, only the acting and cinematography save For My Father.
Film Movement: http://www.filmmovement.com
---