Rooney
with Black Gold and The Young Veins
The Social, Orlando, FL • July 7, 2010
Christopher Long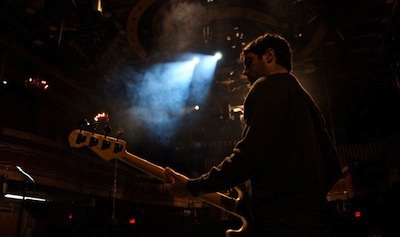 Boldly taking their musical cues from the Brian Wilson Songsmith 101 handbook, California pop/rock combo Rooney exploded onto the international music scene with the release of their well-crafted, high energy, self-titled major label debut record in 2003. This summer the band is once again on the road, in support of (full length) record #3, Eureka.
A longtime Mecca for the hippest, cutting edge national music acts, downtown Orlando's hot spot The Social hosted Rooney's 2010 Central Florida return. Approximately 250 enthusiastic (primarily late teen, early twenty-something, female) fans attended the show, which also featured two semi-forgettable opening acts.
Consisting of Eric Ronick (Panic at the Disco, Ambulance Ltd.) and Than Luu (M. Ward, Rachel Yamagata, shushshush), Black Gold was common, as warm-up acts go. Although their record is rather engaging, live, the duo simply didn't connect with The Social audience. The Young Veins got it right – almost. With their button-down shirts and random neck ties, California's young, fresh-faced rockers actually looked like a band. Frontman Ryan Ross, another Panic at the Disco alum, even sported a fabulous Robbie Roberston-like circa '76 brown corduroy suit jacket. For the most part, their snappy, retro-inspired, pop/rock tunes were well received; there just wasn't enough "A" list material to merit 45 minutes. They'd perhaps have been better off whittling their set down to a tight 30 minutes. At one point during the evening, a group of teenage females could be heard outside of the venue discussing the show. "I've never seen such sucky opening bands," one girl commented.
Had it just simply been about the music (and being cute), Rooney would have scored at least a 9.5 in Orlando. They performed a near flawless set which included such signature crowd pleasers as "Blueside," "If It Were Up to Me," and "Don't Come Around Again," as well as choice cuts from Eureka like "Holdin' On," "The Hunch," and the band's current video hit "I Can't Get Enough." But the band was distracted by technical glitches throughout the show. After a song or two of intermittent dropout, a resourceful stage tech had to literally duct tape bassist Brandon Schwartzel's chord to the amp to shore up a loose connection. And perhaps frontman Robert Schwartzman should start bringing a back-up guitar or two to future gigs as his numerous and prolonged in-between-song tunings disrupted the flow of an otherwise top-notch performance.
Another disappointing aspect of the show was the band's frumpy appearance. Given their penchant for being a rather fashion-forward band, keyboardist Louie Stephens' Kings of Leon-like beard and Schwartzman's T-shirt/trucker hat combo created an onstage look that was more "backwoods" than "So-Cal," which is fine for a Skynyrd tribute band, but not for a truly fabulous band like Rooney. However, guitar ace Taylor Locke and drum powerhouse Ned Brower both shined onstage like bona fide pop stars.
All in all, Rooney did deliver an impressive set, proving that even when they're not running on all twelve cylinders, they're still more powerful than most current contenders racing at full-throttle.
Rooney: http://rooney-band.com ◼
---