Superchunk
with Let's Wrestle
Bowery Ballroom, New York, NY • September 18, 2010
Jeff Schweers
Superchunk. It's a noun. It's an adjective. The noun stands for the great North Carolina indie rock stalwarts who pretty much took DIY to a new level with the formation of their own record label, Merge Records – home of Arcade Fire, whose Number # 1 ranking the first week The Suburbs came out may have been one of Superchunk's crowning achievements.
The adjective describes their sound: super loud and chunky. Saturday night at the Bowery Ballroom was a prime example of both noun and verb melding into a sonic assault of sound and vision that set the twilight downtown hipsters reeling. And I was glad to be a part of that scene.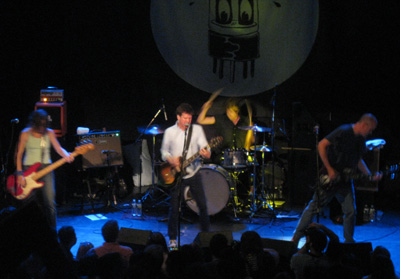 Their 21-song, two-encore set was one of the best shows I've seen in ages, as far as a full-on sound attack that sets your feet on fire. At one point, the balcony of the Bowery was shaking from the thunderous drum-and-bass assault. No wonder drummer Jon Wurster had to comment on his own blog of the Majesty Shredding Tour (in support of the album of the same name released just days ago) that he's played with a lot of loud bands, but nothing as loud as the Chunk.
Amazing album, and amazing it took all these years to get around to releasing another studio album, their ninth. Opening with "Learned to Surf," the Chunk played about six songs off the new album, all of them fast, loud, hard, and high on energy. Mac McCaughan bounced around the stage like a geeky white Chuck Berry squeezing out terrific leads on his Gibson Melody Maker when he wasn't singing into the mic. He duck-walked and pogoed in the space between drummer Wurster and bass player Laura Ballance, fetching as ever in her nerdy glasses, spaghetti strap T-shirt, and lipstick-red bass. And Jim Wilbur just held his ground, tall and imposing on his red Gibson Les Paul, providing some of the funniest between-song lines of the night.
"Did somebody just go 'yow?' I thought I heard that," he said early on. "That is rad!"
The band deftly mixed old with new, shredding majestically and showing how consistent their sound has been all these years, no radical changes, just some tweaking and polishing. They tore up songs from the back catalog like "Burn Last Sunday" and "Detroit Has a Skyline Too," alternating with the newer songs like "My Gap Feels Weird" and "Rosemarie" and then back to classics like "Punch Me Harder."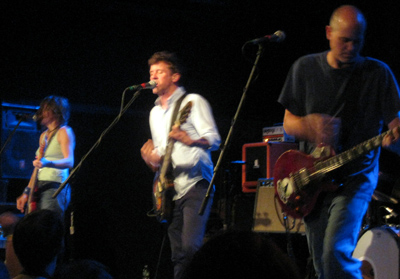 At some point, I think it was after "Digging for Something," Wilbur blurt-muttered one of the more interesting non sequiturs of the night: "In my heart I'm a millionaire."
That was followed by "Cast Iron," and "Everything at Once" closed out the official set at maybe the loudest volume of the evening. They opened the first encore with "Driveway to Driveway" and followed up with The Magnetic Fields' cover "100,000 Fireflies" – which had one guy holding the balcony rail and swaying in ecstasy. And then, of course, they launched into "Slack Motherfucker."
That song was followed by a brief tuning break that gave Wilbur occasion to quip, "I wish there was a tuning app on iPhone."
After closing out the first encore with "Hyper Tension," the band came out for one last song, "Throwing Things." The song was just as loud and hard as the first song of the evening, an amazing testament to the staying power of this indie icon that reminds us that they never broke up or went on hiatus, unlike so many other '90s bands that are back on tour.
The spirit of the evening was summed up best by McCaughan when he said, "People of the Bowery Ballroom, you've been special," he panted. "This is one of our homes away from home."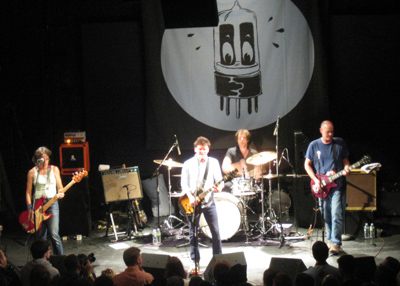 It was just as nostalgic an evening for Mike Sulio and David Reess, childhood friends who remember the days when Superchunk was starting out. Last time they saw the Chunk live was Cat's Cradle in Chapel Hill, N.C.
Opening for the Chunk was their label mate, the British three-piece band Let's Wrestle. They proved how loud one guitar bass and drums could sound. Wesley Patrick Gonzalez, the nerdy lead guitar singer with glasses and a sweater that could only have come from an elderly auntie. Mike Lightning, a scruffy bass player with a battered Epiphone Firebird bass. Darkus Bishop, their lean and energetic drummer.
They put on a great show even though most of the young scruffians who'd come to hear Superchunk lounged around the bar below the theater during their set. Too bad. They would have seen a great up-and-coming band with shades of The Jam and Teenage Fanclub, with smart, witty lyrics.
Superchunk: http://www.superchunk.com • Merge Records: http://www.mergerecords.com ◼
---