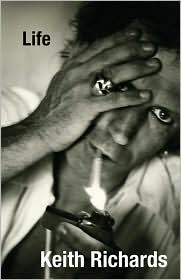 Life
Keith Richards with James Fox
Little, Brown and Company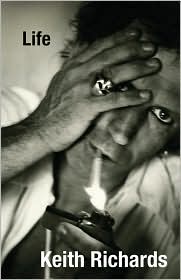 Archetype: a prototype upon which others are copied, patterned, or emulated; a symbol universally recognized by all.
In fifty years, will anyone pattern himself on Kid Rock? John Mayer? Will we even HAVE musicians in fifty years? Or will music be solely arrangements of beats on a laptop, live performance being rave sticks and nerds in hoodies shouting "yo"? I feel sadness for the future generations who won't respond with a chill when they hear the opening to Get Yer Ya-Ya's Out! – Sam Cutler's "The greatest rock and roll band in the world… The Rolling Stones!" and that unmistakably Keith riff opening to "Jumpin' Jack Flash," like an impatient bull in the chute, stomping to escape its confines.
No, the world would be a far different place without Keith Richards, and his autobiography, Life, gives us a glimpse as to why. With unashamed honesty, Richards takes us from a small town in England to the largest stages in the world, from loving son to sheltering (if extremely unorthodox) father and husband. Along the way he battles heroin, cops and Mick Jagger, never wavering from his initial distrust of society's conventions, never backing down from challenging authority simply because it exists. He remains as much a fan as he was in 1962 when he, Mick, and Brian Jones simply wanted to be "the best blues band in London." Keith's ear drives his soul, it seems, and he gets as much of a flash from jamming with unknown reggae musicians near his home in Jamaica as he does playing the Super Bowl.
This book is unexpectedly brilliant. It reads as if you were sharing a drink with the man in some skeezy bar, a jukebox blaring out classic country tracks behind your ear, and the smoky haze of weed drifting over your head, guitar at the ready. We will never see the likes of Keith Richards again, a free man unburdened by society's pettiness, living life according to his rules. A creative genius, cultural icon, guitar hero – all of that and more.
What a Life.
Keith Richards: http://www.keithrichards.com
---