Gallagher
The Plaza Theatre, Orlando, FL • November 21, 2010
Carl F Gauze
When you get a comic formula right, there is no reason to change. This guy Gallagher (Stage Name only, if you please) has been hammering watermelons since the '70s and tonight he pulled a full house into Orlando's partially remodeled Plaza Theatre.
They've removed all the old reclining 1960s movie chairs and temporarily replaced them with padded Holiday Inn chairs. The first six rows were covered in plastic, and ushers handed out plastic trash bags to protect the audience. The plastic continued on stage and up about 15 feet along the backstage walls. The curtains had been sent out for dry cleaning and all the lights wore their oldest gels. The space was ready and waiting for the deluge.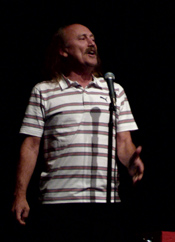 Hiding under my flimsy trash bag I snapped some pictures early on; I wasn't about to risk my new camera to this alternative comedy. Mr. G began by telling some rather ordinary stand up material – men vs. women jokes, old guy bowel and testicle issue, idiosyncrasies of English spelling – occasionally wandering into the topical events of the day. His prop gags were limited, and his best a demonstration of horizontal hula hooping. As he disclaimed: "Yes, I do spend all day thinking this stuff up."
As he worked through the jokes, he began bringing out various food products intended for audience consumption – pickled cactus with honey, cottage cheese, cream of mushroom soup, various canned vegetables and condiments, and birthday cake. There were few opening salvos of canned pumpkin pie and raspberry syrup but the heavy artillery was held until he gave the warning required by the Geneva Convention.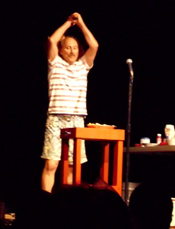 About two hours into the show he delivered what his loyal crowd wanted – an "1812 Overture" of goo. I was in the sixth row and caught a fair amount of splatter, but there was ejecta as far back as the eighth or ninth row. After 30 years, this man still has a powerful forearm. Eventually audience members were invited on the slippery stage to kneel and worship in front of the exploding birthday cake.
About a dozen came up, including a woman in red pumps, smart slacks and a ruffled designer blouse. After the cake smash, she fled to a chorus of boos, although no-one got up there to replace here. The reward for a slice of face cake was the honor of smashing something on stage, and some of the fans could operate the Sledge-O-Matic like a baseball slugger. Occasionally Gallagher would rinse someone off with root beer, including a woman who was a short four-hour drive from home.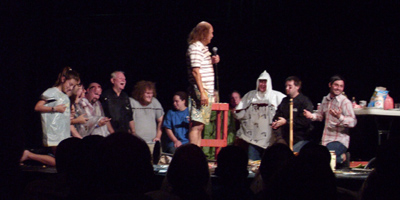 There's a mix of outrageous pushing social boundaries and sophomoric humor in this show, but it's presented with good humor to an audience that's loyal, enthusiastic, and drip dry. I imagined Gallagher cruising the aisles of the Publix on Shine Avenue, carefully considering the splatter and adhesive qualities of products you might easily cook up for lunch or a tasty snack. He's a pro, he knows when to choke up on the Sledge-O-Matic and when to swing for the fence, and he's the only guy out there doing just exactly whatever is he does so very well.
Gallagher: http://gallaghersmash.com • The Plaza Theatre: http://www.theplazatheatre.com ◼
---