Andy Hull & Kevin Devine
with Gobotron
The Social, Orlando, FL • December 4, 2010
Jen Cray
The spontaneous collaboration between Kevin Devine and Manchester Orchestra (mostly with vocalist Andy Hull) resulted in a gorgeously poetic acoustic record that slipped underneath most listeners' radars this fall. Bad Books, as they're called, formed through tour-bus jam sessions while both Devine and Manchester Orchestra were touring as openers for Brand New, and the resulting self-titled release soars like Elliott Smith on a happy day.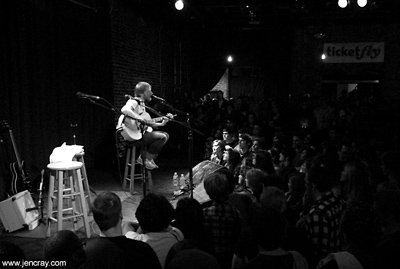 A week long December tour found Devine and Hull sweeping into Orlando for an evening that promised songs from Kevin Devine, Manchester Orchestra, and Bad Books. The ticket demand for such a quiet event, staged at The Social, was a surprise – otherwise I wouldn't have arrived fashionably late and gotten stuck in a sweaty hot corner.
The earnest college-kid-at-an-open-mic soul pourings of Gobotron (Robert McDowell, guitarist from Manchester Orchestra) made me regret my tardiness a little less. None of the crackity pop goodness from Gobotron's debut On Your Mark, Get Set was present in McDowell's acoustic bellowings. Gone were the lo-fi indie rock vibes – the sort that point to years spent spinning The Lemonheads and Pavement – and present, instead, was a whole lot of achy, often-times ear-splitting proclamations of whine. I wasn't the only one counting down the minutes to sets' end; after giving the seated singer/guitarist a 20-minute benefit of the doubt, a large portion of the crowd began to fall into ever-increasing chatter, much to the chagrin of McDowell who was noticeably bummed out by the lack of appreciation on the part of the crowd.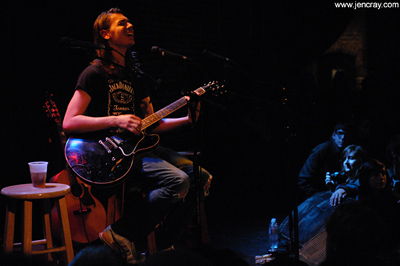 Dude, bring a band next time. Don't play solo acoustic versions of songs that sound much fuller and vibrant on record and expect an audience to sink right in to the mellowness. You've gotta build a bigger fanbase before you can pull that kind of switch-a-roo.
The absence of a band didn't feel as important once Kevin Devine and Andy Hull hit the stage. Sure, they still sat on stools (mostly) while a few hundred of us stood, cramped and toasty, but the pair brought a necessary energy to their sets – both individually and together – if only through the emotive power of their vocals. The problem came in the marathon length of the individual sets that, when combined with the duo coming together to play the Bad Books songs – which, let's face it, is why many of us came (hearing "Baby Shoes" was reason enough to be there) – was just too damn long. Watching quiet, pensive gentlemen playing guitars should not be an all night event, at least not unless you're 17 and stoned. Progressively throughout the night, the chatter that began at the bar spread through the venue until the subtleties of the vocals and hushed guitars onstage could hardly be enjoyed above the din.
Still, gorgeous moments were to be had as when Devine and McDowell joined Hull on the Manchester Orchestra tune "Shake It Out," and the suddenly attentive audience shouted along, or when the trio took on the Devine song "Cotton Crush," whose melody is as heart-wrenching as its lyrics about the passage of time. Actually, just about any time Kevin Devine was onstage, the air shifted and a moment was had.
Ninja-like in his silent domination of the room, Devine was also surprisingly quick-witted and charismatic in his handling of both rude, drunken interrupters and overzealous audience members. When a mistaken fan called out for the mis-titled "Baseball," the red haired singer answered, "'Baseball?'… You mean 'Ballgame'?" Laughter turned the fan's face as red as Devine's hair, so he smoothed out the moment by inviting the fan to a game of baseball after the show. "Seriously. If you can dig up some bases and gloves, I will totally play baseball with you. I'd love to!"
Musically, the introspective wordsmith weaves together stories like Ani DiFranco and layers them deep with both political observation and autobiographical confession. No song better demonstrates this than the wonderfully wordy "Another Bag of Bones." When it's played, the fans around me run out of breath trying to keep up with the mouthful of lyrics. Most soon give up and just achingly sing along to the melancholy chorus of It's another bag of bones for the gods to sort.
The night is flush with these rays of beauty, but the event would have better been staged in a seated, cozy coffee house – or a small theater, at least.
To see more photos from this show, and others, go to [www.jencray.com](http://www.jencray.com/bands_live.htm).
Bad Books: http://ww.badbooksmusic.com • Kevin Devine: http://www.myspace.com/kevindevine • Manchester Orchestra: http://www.themanchesterorchestra.com ◼
---