Social Distortion
with Lucero, Frank Turner
House of Blues, Orlando, FL • November 14, 2010
Jen Cray
"I still believe in the need for guitars and drums and desperate poetry… I still believe that after all, something as simple as rock 'n' roll will save us all," Frank Turner sings in a brand new song ("I Still Believe") that becomes an immediate sing-along and highlight of his already stirring opening set.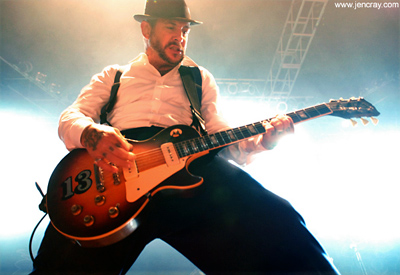 Few things are more rock 'n' roll than Social Distortion, and iconic frontman Mike Ness, in particular. A sold-out crowd for the band's recent Orlando date at the House of Blues would surely agree.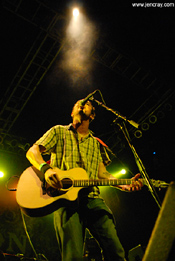 Though booked for a Sunday, the fans were treating the night like it was a Friday. Never-ending lines at every bar in the place may mean good things for the House of Blues' bottom line, but it also means a huge increase in the obnoxious-and-too-damn-drunk factor within the audience, which is never a good thing.
Drunken distractions aside, the night's bill of music packed a huge promise with a pair of strong openers supporting a major chapter in the history of punk rock 'n' roll.
Frank Turner, the Winchester, England road warrior who first began garnering buzz last year as part of Chuck Ragan's Revival Tour, was playing his 21st show in 18 days, but didn't show an ounce of wear. Backed by a full band, including an adorably shameless dancing guitarist, Turner's acoustic punk storybook songs exploded with 3D effects onstage. His music is good on record – "The Road" and "Photosynthesize" in particular – but inspired rooms full of new listeners to flock to his merch table for souvenirs, like autographs scrawled on body parts, after just one 30-minute set.
His time onstage was soaked in sweat and smiles, and offstage he greeted and chatted with lines of fans who decided that meeting the man who turned a 7pm Sunday night audience into a party was more important than watching Lucero's set. The dude is a natural entertainer, and a damn nice guy, to boot!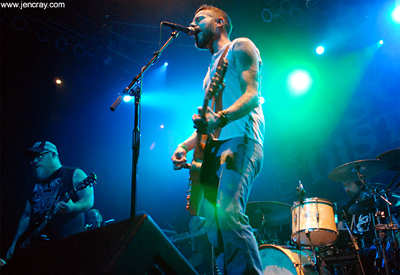 Lucero's got a big Orlando fanbase, so you'd think they'd have taken advantage of performing in front of a crowd four times the usual size and would have really tried to nail down a solid performance. Instead, it was an uneven night for the whiskey rockers – one that found frontman Ben Nichols messing up earlier than usual, at the start of the second song. Stopping abruptly, he poked fun at his own misstep before beginning again, but their set never fully got on track.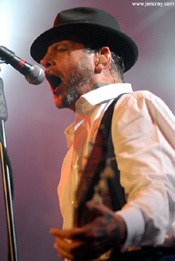 They had their own fan faction, who sand along and didn't seem to notice how uneventful their performance was, but for those not completely hammered – it was a kink in the night and the headliners' set couldn't come quick enough.
Like fellow Epitaph label mates Bad Religion, Social Distortion are heading into their third decade as a band and have a multi-generation arsenal of songs to pull from. Reaching deep into their pockets for some that date back to before a good portion of the night's audience was even born, a trio of classics blast past as an intro to the night's program. "The Creeps," "Another State of Mind," and "Mommy's Little Monster" – all off of their 1983 debut Mommy's Little Monster – have, like Ness' voice, only gained momentum with age.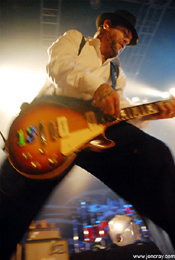 After this early tease, the set was piled up with brand new material off of the upcoming Hard Times and Nursery Rhymes – material that it was hard to make any sort of judgment on due to the ever increasing levels of drunken chatter. They didn't jump out at me the way songs from 2004's Sex, Love and Rock 'n' Roll did when I heard those performed live prior to the album's release, I can say that. Oddly enough not one song was played from that underrated record. Also missing was the Social D staple and chart topper on my personal all time Top 20, "Story of My Life."
It's hard to complain about these minor omissions, however, when so much of the superb Somewhere Between Heaven and Hell album was included. Much of the music was slowed down a bit – like "Cold Feelings" which was dialed down to a bluesy pub tempo, giving the blue collar punk a mature feel – but not a thing was lost in the translation.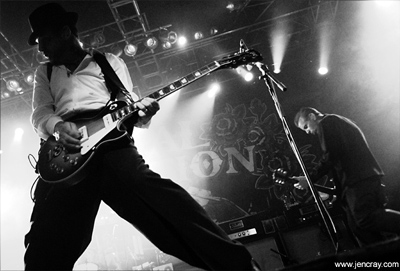 The SoCal band, whose sole original member is songwriter/ singer/ guitarist Ness (though guitarist Jonny "2 Bags" Wickersham should be grandfathered in as a solid member for his 10 years of service), has always been able to cradle punk rock, old country, and good ol' fashioned '50s rockabilly with incredible ease. Ness can name check Joe Strummer and Johnny Thunders next to Hank Williams and Johnny Cash and they all live in harmony like hot rods & tattoos. It's this ability to churn it all together into a beautiful musical butter that spits out bits of perfection like "Ball and Chain."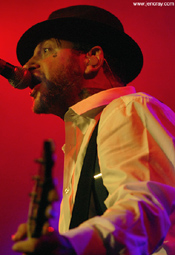 The future rock 'n' roll hall of famers (I'm calling it. It'll happen one day, you'll see!) said "goodnight" with a roaring rendition of Johnny Cash's "Ring of Fire" that got the whole house stumbling through a gloriously drunken sing-along. The old country classic has very much become a Social D song in the same way that Nine Inch Nails' "Hurt" became a Johnny Cash song after the man in black owned it with his haunting cover. Purists may disagree, but any listener who has heard those bittersweet words of love and longing spewed forth from the likes of Mr. Mike Ness will attest to the sanctity of the Social Distortion version. On that note, we called it a night.
To see more photos from this show, and others, go to [www.jencray.com](http://www.jencray.com/bands_live.htm).
Social Distortion: http://www.socialdistortion.com • Lucero: http://www.luceromusic.com • Frank Turner: http://www.frank-turner.com ◼
---