No Age
with Rene Hell, Diet Cokeheads, Fever
Backbooth, Orlando, FL • January 19, 2011
Jen Cray
Kicking off a week-long anniversary celebration for local promoters Parafora Presents – the folks responsible for many of the killer shows that have put Orlando's Backbooth on the map – Sub Pop melodic noisemakers No Age topped off an eclectic weekday bill, starting the festivities off with a fuzz drenched bang.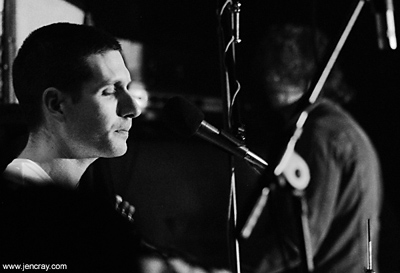 The opening drone of local trio Fever, who were playing their debut performance, showed promise. The pulsating drum beats, the hypnotic groove of the bass, and the fuzzed out breathy vocals of guitarist Kelly MacDonald all swam together beautifully in the dark and smoky room… but then the song never seemed to end. The three players came up for air a few times only to plunge back into another looonnnng song that sounded remarkably like the one before. They reminded me of a spaced out lo-fi version of Totimoshi, a sleepy Totimoshi that decided to play one song for 20 minutes. What this new group needs is to show some variety in their songs, loosen up a bit onstage, and turn the vocals way up.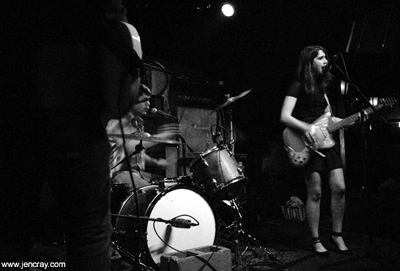 Nixing the stage in favor of setting up in the middle of the crowd, Gainesville's Diet Cokeheads recall the vicious shrieks of riot grrrl and the chaotic explosion of The Jesus Lizard all in one icy cold glass. Splitting vocals between the girlish howl of the drummer and the guitarist's deeper grating screams, and doing so mere inches from the circling faces, was as raw as it was sexy. This was pure, punk-infused noise rock that felt young, vibrant, and just plain snotty. Choosing to put the crowd into the thick of things was genius, for it gave their blink-and-you'd-miss-it set an intimate warehouse vibe that fit them like a dirty undershirt.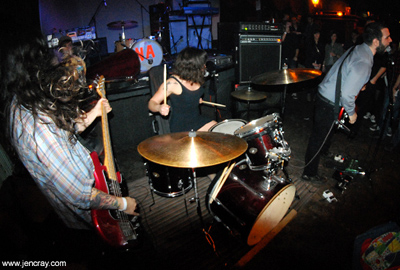 Oh, and the band name? Love it! Is it a reference to Heathers (as in "Betty Finn was a true friend and I sold her out for a bunch of Swatch dogs and Diet Coke heads" –Winona Ryder's character, Veronica)? I don't know, but I'd like to hope so!
With Diet Cokeheads packed up and out, and the mood appropriately amped, we edged closer to the actual stage in anticipation of Rene Hell. What sorts of delicious and crusty rock would get sandwiched between the North Florida punks and Los Angeles' No Age?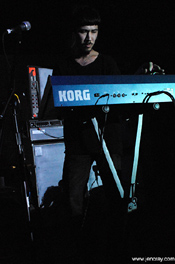 When a chromatic slide show crept up on the backdrop, my mind stumbled but didn't fall. When one lone dude (Jeff Witscher) got behind a synthesizer and started bustin' out some trancey, psychedelic sounds, I thought to myself, so this is a trippy intro… the rest of the band will show up any second now.
…but the band never came. The room imploded into a black hole where no actual music could escape. I'd like to apologize to my poor ears, which were subject to random keystrokes that triggered soundbites and robotic voices better suited for use as sound effects for a cheesy alien invasion movie. This kind of audio entertainment may go over well in some kind of pretentious art college campus cafe, but it's got no place opening up a rock show – even if the headliner does fall under the heading of "noise" rock.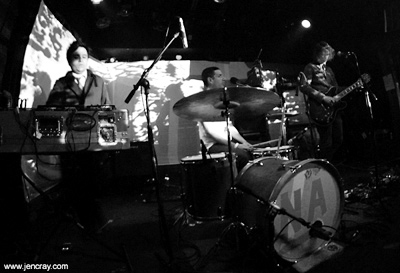 By the time No Age (who brought on a third member for the touring edition of the band) erupted onstage, I was aching for some more Rock. Embodying the crunchy guitars and noise effects spread over a cracker of melody in the manner of Sonic Youth or Sebadoh, No Age are Noise Rock gone Pop for modern times – they're sweet and crunchy.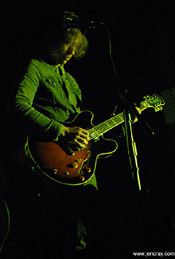 For every noisy bomb like "Shed and Transcend" there's a David Letterman-ready "Fever Dreaming," or an R.E.M. meets Nirvana "Valley Hump Crash." "Glitter" rolls out over the crowd like a sonic smooch designed to kiss your cheek while knocking your ass on the ground.
Dean Spunt and Randy Randall, the masterminds behind this wickedly beautiful sound, pile drive their way through the set, playing largely with eyes closed, or, in Randall's case, hidden behind a curtain of hair.
Minor pits ebbed and flowed throughout the night, but mostly those in attendance came to nod their heads and see what all the fuss was about in regards to this two-piece band that managed to get its little known record Everything in Between on most major media outlets' "end of year best of" lists.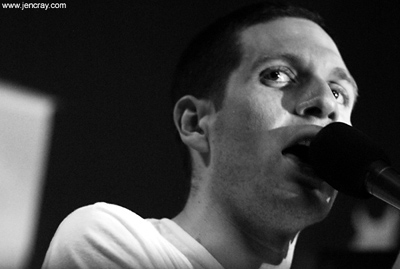 To all those still sulking in their flannels, wishing it was still 1992, wake up and smell the resurgence of Sub Pop in the mainstream. No Age is on the upswing.
To see more photos of this show, and others, go to [www.jencray.com](http://www.jencray.com/bands_live.htm).
No Age: http://www.subpop.com/artists/no\_age ◼
---