Zinester's Guide to NYC
by Ayun Halliday
Microcosm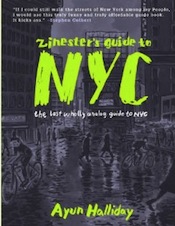 If you're in the market for a no-bullshit guide to New York City, Ayun Halliday's got your number, kitten. Nevermind Fodor's, with its slippery, skinny pages and cliché vacation photos that you might just as well take yourself while enjoying a poser breakfast at Veselka. Zinester's Guide to NYC: The last wholly analog guide to NYC packs a crapload of inside information into its 256 pages, and for your nine bucks you even get artsy illustrations (we call them comics) from DIY folks like Becky Hawkins (French Toast Comix), Carrie McNinch (You Don't Get There From Here), and The Queen Heiner herself, Ayun Halliday (East Village Inky).
But don't get the idea that because it's not slippery, it's not slick. The guide lists the addresses, websites, and drawing points of all of the best places – and damn, this scoop is useful. Halliday's description of The Sock Man, for instance, contains this little tip: "You can get the striped socks favored by Trixie the Deadwood hooker and myself at cheap chains like Strawberry and Forever 21, but there's a certain Zen symmetry to buying socks from a vendor who sells nothing but." Who doesn't love that sadsack whore and want to dress like her?! Now where am I going to get my next pair of hooker socks? Yeah. The Sock Man. All of my favorite places are here – every H&M and Ricky's in the city, Pearl River Market, the aforementioned Veselka, Beacon's Closet, where I once purchased the best tank top ever made while listening to three pretty clerks discuss their GRE scores, and Otto's Shrunken Head, which I'm not even going to tell you about because you just need to go there. Don't take my word for it, though – Zinester's Guide to NYC is written by the folks who live in "New York Fuckin' City" – take theirs.
The library section is five pages long, and if that isn't the clincher, there's advice on where to find a bathroom and where to go in a heat wave ("Any public library… The Tenement Museum") and what your hostess really wants you to bring her in return for a night on her sofa ("Metromint bottled water… a bag of weed").
The whole shebang is indexed for easy finding, and you get a bonus running commentary of zinesters' favorite books, songs, and films about NYC on each page's bottom. This is a damned fine read whether you just love the doo out of zines and the bunch of zinesters who contributed or you really are headed to NYC. I recommend it for New Yorkers, too; if you don't learn something new, I'm pretty sure you'll at least lay a smile upon the findings in the Grossest Things in New York section.
Microcosm: http://microcosmpublishing.com • Ayun Halliday: http://www.ayunhalliday.com • http://www.facebook.com/pages/The-Zinesters-Guide-to-NYC
---