An Evening at Trasimeno Lake: Ana Popovic Band Live from the Heart of Italy
starring Ana Popovic
ArtisteXclusive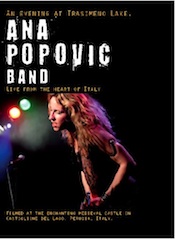 When things get really bad, there's always the blues. Whether your woman left you or the American bombs are falling on Yugoslavia, that 12-bar shuffle can always take your mind off things. Ana Popovic is an amazing guitarist specializing in the blues. Her roots are in Belgrade, but her music is as American as any electric band of the '60s. When she sings, she sounds like a sober Janis Joplin, and in her interviews a cute and hard to place Eastern European accent tinges her words.
This live concert comes from a quaint castle in Trasimeno Lake, Italy (somewhere between Rome and Florence), and it features Ana playing smoking blues in a cloud of insects during an after dark show. Her leather pants protect her from the onslaught, and behind her are some outstanding musicians. The songs appear to be her own compositions. "Wrong Woman," which opens the show, and "Is This Everything There Is" are both blazing blues numbers, but the message isn't loss and abandonment but rather that she's in charge of the men around her, and they screw up at their own mortal risk. There are some short breaks between some of the songs where she gives a tour of the concert site in tight white low-riders. Back in the show, she occasionally drops into some slower songs like "U Complete Me" and "Doubt Everyone But Me," done with an acoustic guitar and a clubby jazz feel. "Blind For Love" is nearly an Eagles ballad, but her heart is clearly in the blisters-on-your-fingertips electric blues."Get Back To You" adds a burning brass riff and "Love Fever" makes you think, "She could be the reincarnation of Ted Nugent, except he's still alive and I'm not Buddhist." In the special features are two unplugged cuts shot in the daylight/white pants part of the production, and a moderately interesting interview.
Ms. Popovic is big in Holland and Germany, and it looks like her sights are set on either America or Japan. Rock and roll doesn't push boundaries, but it sure beats the ones we're used to senseless.
Ana Popovic: http://www.anapopovic.com
---