Live, Loud and Proud
starring Cactus
MVD Visual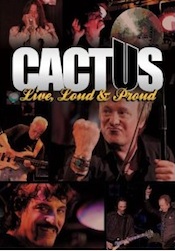 You psyched for the Cactus revival tour? Didn't think so. This is one of the supergroups of the '70s that never caught the rock revival circuit's attention. Cactus began as a Carmine Appice, Tim Bogart, Jeff Beck, and Rod Stewart project, but fell apart after Beck wrecked a car. Other musicians filled in, the world kept on spinning, and while they released four albums between 1969 and 1972 they remain a footnote in Rock History. I don't recall seeing any of their albums in my forays into the used record world, and I feel I've missed something – these guys nail that straight-ahead rock sound, and while Stewart and Beck are nowhere to be found, these guys are genius.
Fronting the band is ex-Savoy Brown singer Jimmy Kunes, Tim Bogert forges ahead on bass, and best of all there's the maniacal Carmine Appice on skins. Cactus pulled itself together in 2006 and played a few gigs and gave the world this exciting concert film. They blast on stage with "Let Me Swim" and then drop into "Long Tall Sally," one of those classic electric blues songs that ties the rural south to the working classes of Manchester. The guitar sparks fly from Jim McCarty (ex-Mitch Ryder and The Detroit Wheels) and a guy named Randy Pratt blows the blues harp. The potential hit here is "The Groover," which comes as a live track and a bonus video. Appice does a drum solo. It's a rock cliché, but if you must have one, he's the guy to do it.
Stylistically, the concert was shot with several nearly static cameras and shown with little more than the occasional multiframe display. It's not terribly innovative, but it suits the music and this isn't a band that relies on stage theatrics – their playing delivers the goods. Some bonus features lurk, there are extensive and coherent interviews with the band members and testimonials from Anvil and UFO and Megadeth plugging the band's influence, and they do a jam with Pat Travers and Joe Bonnamassa at a NAMM show. If you missed the late '60s and early '70s, here's a great way to replace some of those critical rocking brain cells.
---