Hinder
with Saving Abel, My Darkest Days, and Kopek
Hard Rock Live / Orlando, FL • January 25, 2011
Christopher Long
It was a colossal cavalcade of contemporary kingpins – a mighty union of some of the hottest names on today's rock scene. Oklahoma bad boys Hinder headlined the all-star affair – joining forces with Saving Abel, My Darkest Days, and newcomers Kopek to shower fans with non-stop modern day anthems about sex, strippers and sex with strippers. Yet despite the show's impressive line-up and the rather affordable $30 ticket price, Orlando's 3,000 capacity Hard Rock was little more than half-full on an evening that unleashed torrential downpours and tornadoes throughout Central Florida.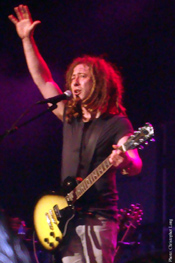 Supporting their soon-to-be released debut record, White Collar Lies, Ireland's award-winning trio Kopek kicked off the show at 7pm, delivering a concise, high-energy, thirty-minute opening set featuring such numbers as "Cocaine Chest Pains" and "Love is Dead."
My Darkest Days threw down an amazing, action-packed performance. The Canadian powerhouse carved out several selections from their self-titled major label debut, including "Heartless," "Every Time," and the über popular, crowd-pleasing "Porn Star Dancing." Matt Walst proved to be a charismatic frontman – easily connecting with the crowd while the shirtless guitar ace Sal Costa (sporting a fabulous blond Mohawk) was a compelling, fashion-forward presence. Simply put, My Darkest Days proved to be the most impressive, if not the hungriest act of the evening.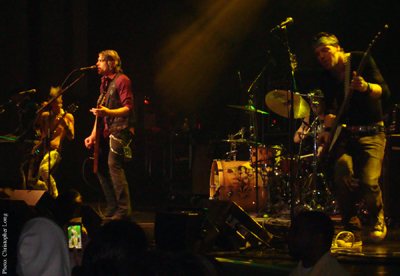 With two chartbusting records now to their credit, Saving Abel knocked out such fan favorites as "The Sex Is Good" and "Addicted." The pride of Corinth, Mississippi exuded a pure, yet updated southern rock sensibility – prompting one member of the audience to comment, "Hey, these guys are kind of a biker band!"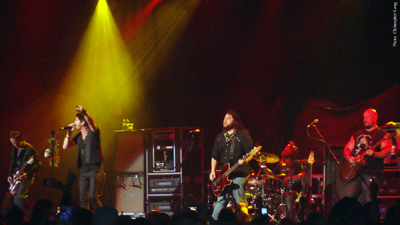 Known for their old school arena rock qualities, the between-set music switched to a noticeably '80s theme as the sounds of Skid Row, BulletBoys, Warrant, and Journey blasted from the front-of-house sound system while Hinder prepared to take the stage. In fact, from commandeering the entire stage to accessing full use of lighting, the night belonged to Hinder.
Promoting their third record and boasting an array of new millennium album-oriented rock hits, Hinder's well-received set featured many longtime must plays, yet leaned heavily on new material from their current release, All American Nightmare. Frontman Austin Winkler boldly led his crew through their classics like "Lips on an Angel" as well as such recent tunes as "Hey Ho," "Striptease," "What Ya Gonna Do?," and "Everybody's Wrong."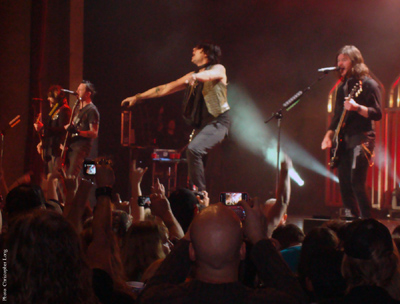 One refreshing aspect of this multi-band bonanza was that there were no dopey, obligatory encores – and the between-band changeover times were minimal. In short, there was very little fat on this bona fide, big rock production.
Hinder: http://www.hindermusic.com • My Darkest Days: http://www.mydarkestdays.com/ ◼
---