Lady Gaga
with Semi Precious Weapons
Amway Center, Orlando, FL • April 15, 2011
Jen Cray
The Little Monsters, as they're affectionately called by Lady Gaga, started lining up outside of the doors to the Amway Center at 5am. Dressed up – or dressed down as was the case for many nearly-nudes – in their most daring ensembles, the hordes of fans with general admission floor tickets braved the Florida heat for up to 14 hours to increase their chances of getting within Barbie doll-tossing distance of the stage.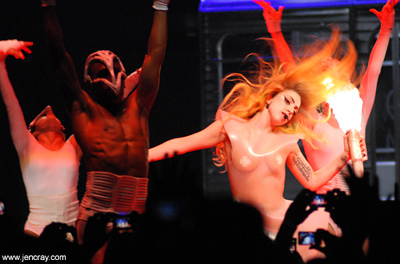 Few artists these days have fans as fanatical as Lady Gaga, and even fewer go to such lengths to entertain and connect with those fans. Say what you will about her music, or her meat dress, or her controversial photo contracts – the woman knows how to create art upon art upon art. She lives and breathes it.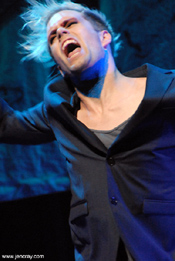 Along for yet another leg of the two-years-and-running Monster Ball Tour, Semi Precious Weapons are perfect opening band casting for a tour as bright and flamboyant as this one. Led by a six-foot-tall picture of androgyny in the form of Justin Tranter, Semi Precious Weapons – from "New York Fuckin' City" – splash the stage with enough silk stockinged glam to waterlog David Johansen's boots. Strutting in fishnets with his blonde head of hair defying gravity, Tranter and his kaleidoscope crew celebrated gender-bending, indulgence, and "Free Booze." The latter is a new song, and, if the crowd's reaction is any indication, sure to be a dancefloor hit.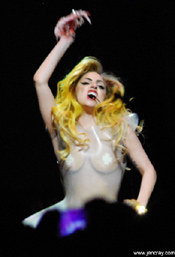 Speaking of dancefloors, on a larger-than-life cityscape set complete with stairwells, neon signs, and various modes of transport, the Crayola-orange-yellow-haired Gaga lit up the sold-out sports arena with "Just Dance" within the first ten minutes of the two-hour-plus show. No, not "show," Event. I haven't seen a concert this over-the-top since U2's PopMart Tour, and that show didn't come with the added bonus of half-naked dancers and risqué choreography! It's the closest you can get to time traveling back to catch Madonna's Blonde Ambition Tour.
With four major set changes, three short art videos shown on a stage-encompassing screen, a dozen dancers, a massive animatronic angler fish, and so many costume changes that I lost count, it takes 42 trucks to bring this tour from city to city. Under all of the props and circumstance are the songs we all love to pretend that we don't love.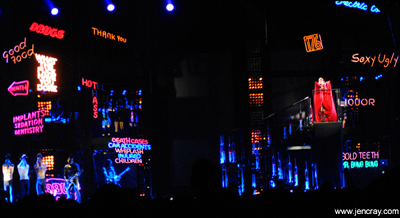 "Lovegame" was performed inside and around a subway car with a slutty nun theme. "Born this Way" was performed twice, first as a piano ballad and later as a show-closing encore. "Boys Boys Boys" and "Telephone" were near orgies of dance on the catwalk, with Gaga bikini-clad. "Poker Face" was a fog-drenched blur of excitement that left thousands of throats sore from uncontrollable shrieks. "Alejandro" was very "Like a Prayer," complete with the statue of an angel and Gaga rolling around on the floor. Last and, perhaps the most anticipated, "Bad Romance" had a crazed outer space theme.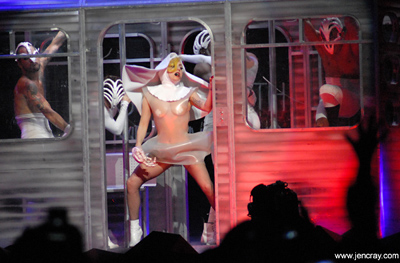 There was no shortage of dance opportunities on this tour, but the moment that most captivated was when, after confessing her trepidation of releasing the cover art for her upcoming third album ("you guys want it like a band-aid – 'WHY NOT GIVE IT TO ME?!'"), she played a gorgeous Elton John-like ballad called "You and I." The piano she played it on was lit on fire, and she herself ended up on top of it at one point, but all of this excess was secondary to the power of the actual song. She ended the song by leaving the piano, belting out some Janis Joplin-worthy blues notes and falling to her back on the floor in a manner that sent chills running up every appendage. It's songs like this that remind us that under all the crazy, Lady Gaga is actually quite an amazing songwriter.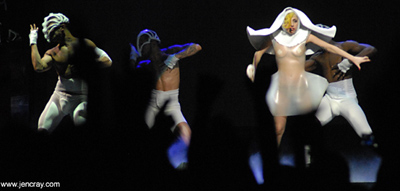 …later she debuted the album cover to the world by flashing it up on the massive screen above almost 20,000 screaming Orlando fans. A stark black and white image of Lady Gaga morphing into a motorcycle. Ah, yes, there's some more of that crazy!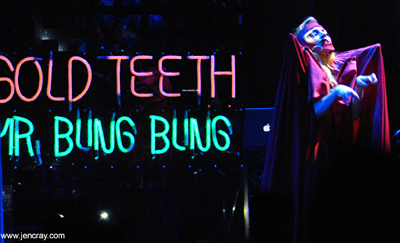 She may be a little crazy, but you'd be hard pressed to find a celebrity more connected to her fans – to her "little monsters." Each night she pulls out her cell phone, onstage, and calls one of her fans in the audience. If they answer, she and Virgin Mobile donate $20,000 to a charity that helps GLBT kids that have been kicked out of their parents' homes. In Orlando a teary eyed, redheaded boy answered – just a few rows behind where I was sitting. He could hardly catch his breath long enough to accept her invitation to join her for a drink after the show – such was the degree of the poor superfan's shock at finding himself to be "the Ambassador of tonight's Monster Ball."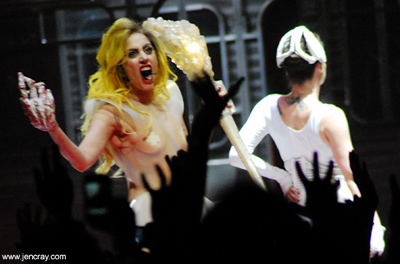 Like all good entertainers, Lady Gaga has a charismatic presence that inexplicably pulls you in. Her live show is a Venus fly trap that kills any doubts you had of her as an artist or as a performer. You may enter the venue only mildly curious, but you will leave the place a solid fan.
Gallery of photos: Lady Gaga live at the Amway Center • Semi Precious Weapons live at the Amway Center.
Lady Gaga: http://www.ladygaga.com ◼
---