Nashville Pussy
with Six Time Losers, Hot Mouth, and Koffin Kats
Firestone Live, Orlando FL • May 10, 2011
Carl F Gauze
I've dropped in on some strange scenes, but this night at The Firestone takes the cake for the broadest collection of tats and hats and potential riotous subcultures ever brought together in one Central Florida Venue. From the gal in the ten gallon hat and twenty gallon ass to the speeded-out scrawny guy moshing to a Gene Vincent clone and the flock of Bettie Page wannabees, there was a style and bit of sound for every disaffected music fan in town. Eventually I figured everyone out, but have no idea what the booking agent was thinking when he assembled these four radically different bands.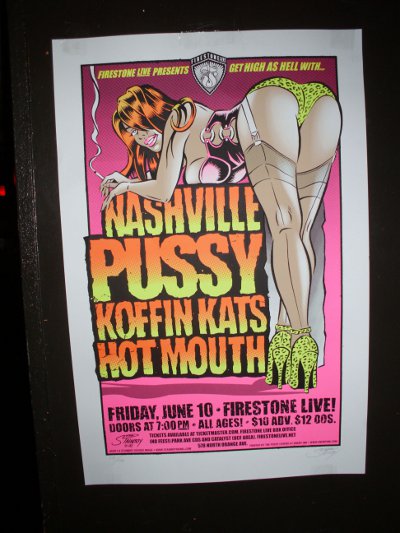 By 8 o'clock, a very short line had formed at the door; the more savvy fans waited until their favorite band went on to come in. Unannounced opener Six Time Loser was on stage, and they were playing nice if not tumbleweed shattering country and country rock. Lead singer Steve "The Kid" Burke seemed like a genuinely nice guy, and while this band didn't get the floor hopping, at least people stood quietly and appreciated their competent stylings. Another decade of work and "overnight sensation" is not completely out of the equation for this Central Florida band.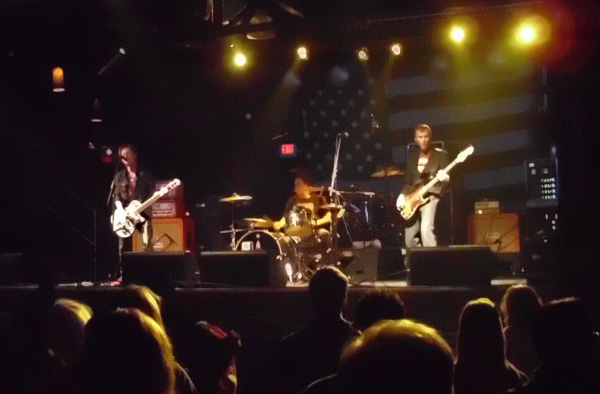 Next up was another local punk/power pop band led by Greg "Stainboy" Reinel. He did the provocative poster design for this show, and acted like a rather polite John Lydon on stage. With matching grey pearlescent guitar and drum kit and some spiffy red vinyl shoes, this group has a great look and sound. Hot Mouth did mostly original numbers ("I'll Stop at Nothing to Get to You," "Legend in My Mind") and a solid cover of Cheap Trick's "Look Out," but what really sold me was the beautifully back-lit spit spray Reinel sent over the audience as he tried to bait them into dancing.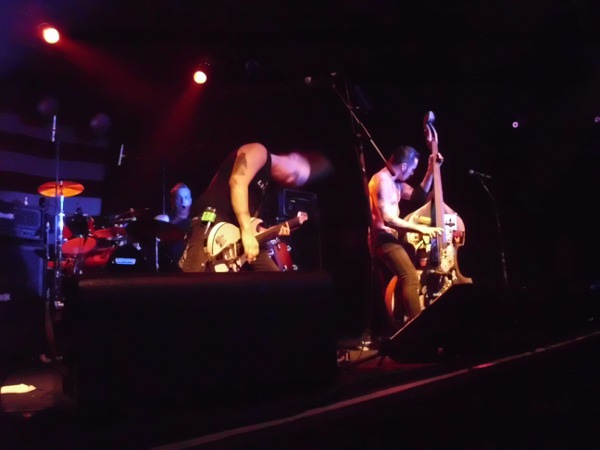 Tonight's third act explained the hardcore and metalhead contingent in the room. Koffin Kats take the unusual step of putting a standup bass into a punk show. This is one of the toughest, industrial strength basses ever made – Vic Victor plays it, throws it into the air, jumps off of it, and generally abuses it like an ex-girlfriend he doesn't like very much. Encouraging his antics is "EZ Ian" on guitar, and a drummer name "E Ball." With screaming vocals, a wall of noise sound, and sweat-inducing stage show, this band got a serious mosh going. While the Firestone officially prohibits slamming, the large and ominous looking bouncer watched on, occasionally restraining the more energetic guys in the pit. After taking a few songs of this abuse, I wandered out to the smoking plaza to remove my ear plugs. The Bettie Page girls were hanging out here, and I talked to a guy from Deland who was at the show because his boss had tickets. He wasn't comfortable with the Orlando scene, and he summed up his feeling thusly: "Hell, I got COWS." Like I say, there was a little of everything in the audience. Eventfully the moshers rolled out to wipe the sweat off of their Mohawks, and the headlining Nashville Pussy set up.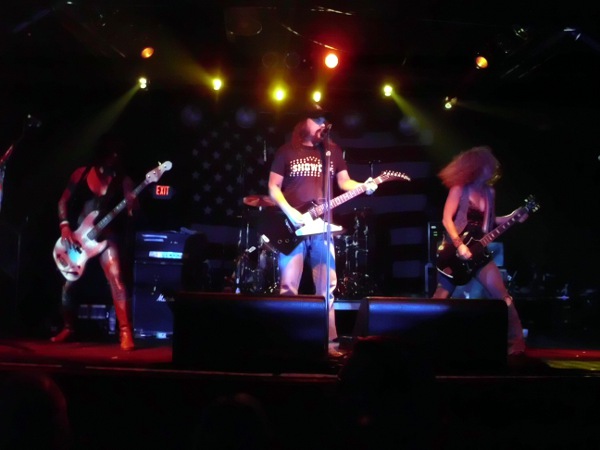 Nashville Pussy takes the Southern Rock concept and puts a unique twist on it. Lead singer Blaine Cartwright is short, stocky, and wears a hat pulled down over his eyes as if he were going to rob a liquor store or creep into a peep show without paying. While his voice is powerful and dirty in just the right way, his look emphasizes the real appeal of the show – lead guitarist Ruyter Suys. She's a good-looking blonde in a low-cut shirt, a damn fine guitarist, and more acrobatic than the mosh boys form the last show. She was in constant motion, and it always seemed that a wardrobe malfunction was right around the corner. Backing up this duo was the equally impressive bass player Karen Cuda, who loved showing off her instrument, and a guy named Jeremy Thompson lurking behind a large drum kit.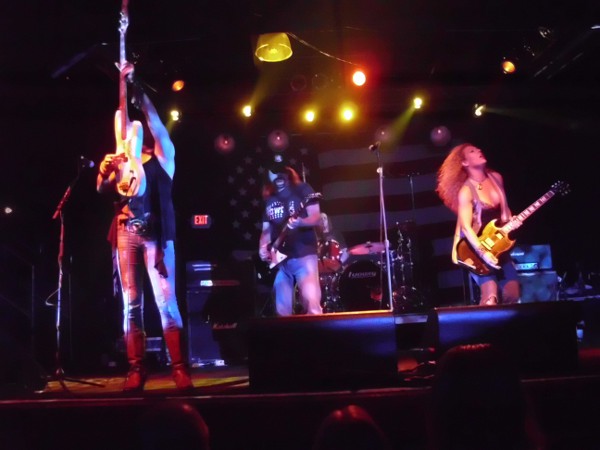 The songs were straightforward, and each was announced by Mr. Cartwright – "High as Hell," "Hate and Whiskey," and "Why Why Why Do You Have To Lie Lie Lie" were the titles I caught. The set was extensive and energetic, and strangely, most of the hardcore dudes slipped out before these guys took the stage. As the show wrapped up, Cartwright even counted down the songs left – "After three more, we're out of here!" he helpfully intoned. Sure enough, when the chords of "Going Down" wrapped up, the lights came up, and the crowd obediently slipped out into the fetid night. No encore, at least not for me. This was a long evening (three opening acts is a festival, in my mind), but a fun evening. It's good to see what the other fans are listening to and what the latest fashion trends are, and if you want to create your own, show up here and no one will notice.
Six Time Losers: http://www.myspace.com/6timelosers • Hot Mouth: [www.facebook.com/pages/Hot-Mouth](http://www.facebook.com/pages/Hot-Mouth/120913637953344) • Koffin Kats: http://www.koffinkatsrock.com • Nashville Pussy: http://www.nashvillepussy.com • Firestone: http://www.firestonelive.net ◼
---