The Best of The Dean Martin Variety Show
directed by Dean Martin
starring Dean Martin and guests
NBC Universal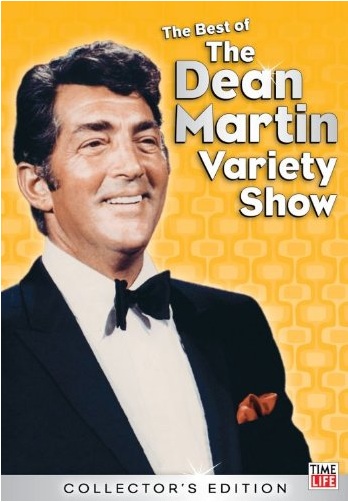 Sometimes it's nice to go back to when comedy was more than sex and stupidity. So when I received The Best of The Dean Martin Variety Show, I was stoked. This two-DVD set features everything that made the comedy of the '60s and early '70s so good. Granted, it's the best of seven episodes, but despite these being 40+ years old, they are still surprisingly timeless.
`bm This entire collection is seasoned with singing, dancing, stand-up comedy, and a drunk Dean Martin throughout it all. There are several fantastic bits, but the one that really sold this for me was a skit with Dean, Dom DeLuise, Nipsey Russell, and Jack Benny. DeLuise and Russell are barbers, with Russell cutting Benny's hair; he says to the notoriously penny-pinching Benny, "You know I'd really appreciate some silver instead of trying to find some brown coins in your brown hair." Benny dead-pans back, "Lincoln's on those coins. I thought that was your guy!" It's that kind of borderline humor that makes this timeless, nostalgic and still relevant.
There are some great guests like a singing and dancing George Burns, the beautiful and ultra-talented Dinah Shore, the big and booming voice of Orson Welles, the iconic Jimmy Stewart, and the even more iconic Bob Hope. Rodney Dangerfield does a quick stand-up bit as well about, what else, "No Respect!"
From beginning to end, a flushed and buzzed Dean Martin seems to be flying by the seat of his pants. (He was notorious for never rehearsing.) He's constantly smiling, almost always has a cigarette and/or a drink, and flubs more than his share of lines. But he does really well going with the flow of the show.
There are bonus interviews with Jonathan Winters, Phyllis Diller, and Florence Henderson, among others, which add a lot to context of the shows. The liner notes summarize each episode and add little tidbits like Dom DeLuise being Martin's most frequent guest and how Sammy Davis Jr., despite being one of Dean's best friends, only appeared on the show once. That episode is included here and includes a much younger Andy Griffith and Davis looking like Richard Pryor and singing like James Brown. He really was a brilliant entertainer.
The Best of The Dean Martin Variety Show is classic TV at its finest. This should be on TV Land, but since it's not, get this DVD, sit back with a martini, and reminisce about when television and comedy truly were brilliant.
Time Life: http://www.timelife.com
---