Cut Copy
with Washed Out, Midnight Magic
Firestone Live. Orlando, FL • October 1, 2011
Jen Cray
Somewhere in the space between '80s New Wave, '90s raves, and modern day electronic music lies Cut Copy: a band without a foothold in any one decade. Spin the wheel on this band and the only place they'll land is in the space of Awesome.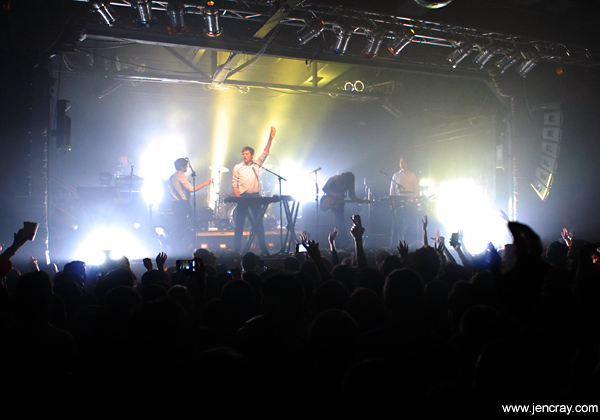 Firestone Live, home to many a late-night Rave during the chemically enhanced dance craze's heyday, filled up fast – even with the Hard Rock Cafe's FREE 40th Anniversary concerts competing for patrons just a few blocks away. Downing shots, cracking glow sticks, and whispering with your neighbor about why the hell there's a 7-foot-tall dude dressed as some kind of elvish wizard in the audience, even the downtime between bands had a party atmosphere.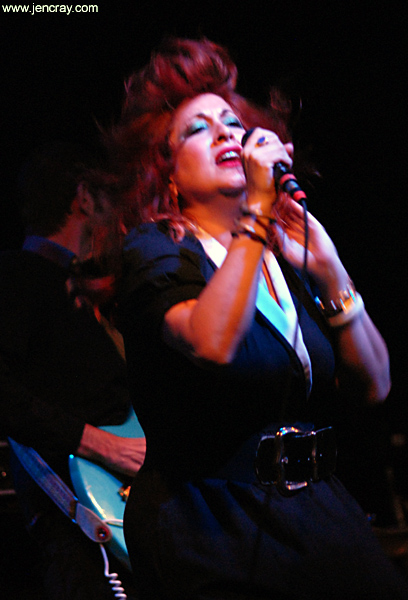 So keyed up was the crowd that even odd-man-out opener Mignight Magic got many folks dancing – even those who were taking jabs at front woman Tiffany Roth's cartoonish facial expressions, Working Girl belt, and tendency to grab her own breasts while belting out her vocals. Fusing an odd combination of disco, funk, and lounge, the NY outfit accomplished a body moving beat that – weirdly – worked, in an I'm so drunk, I just want to dance and don't care kind of way.
Not translating so well to the live experience was the chilled out, trancey vibe of Washed Out. The musical craftings of Ernest Greene color a room with the feeling of a candlelit rainstorm, but the stage presence of Greene and his band was virtually nonexistent. Arched over his synthesizer and iPad (curse the day when portable gadgets became onstage instruments!), Greene reproduced the songs off of his impressive debut Within and Without, with the assistance of two more synthesizers, live bass, and drums, but didn't do much more than that.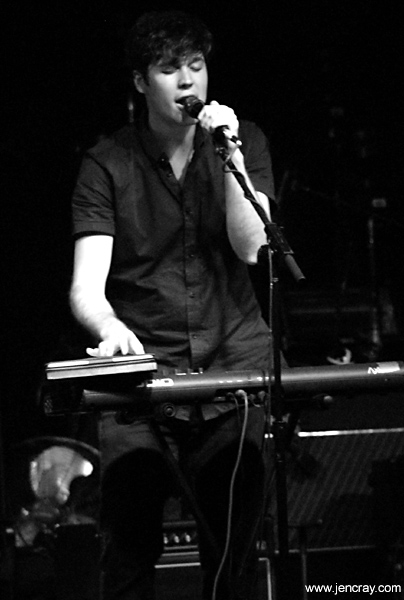 If all you're looking for in a live show is ambiance, then Washed Out will fulfill – "Eyes Be Closed" was transcendent in feel, there's no denying it – but I like a little more life to a live show. To be fair, though, the music he makes is rather low key and there's probably not much he can do beyond whipping up some grand light and fog show which he's not about to get the funding for while in a support slot. At least he had a full band onstage, so I tip my imaginary hat to Mr. Greene for that and cross my fingers for future performances that may find him a little more visually stimulating.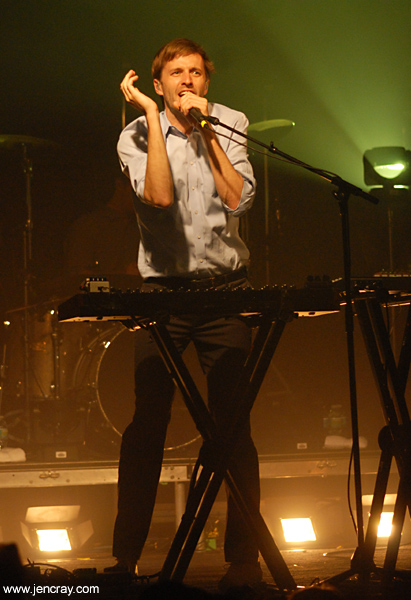 Cut Copy delivered on both counts: a carefree, dance, free-for-all vibe was blanketed over the raised arms and bouncing bodies right as the colorful lights began their dance behind the band during the opening number "Take Me Over," and the band backed up the mood lighting with a driving live performance that far exceeded my expectations. A dance band can be just as rockin' as a Rock 'n' Roll band! And, what's that?! They've got a real live guitarist onstage! Dance music for the 21st Century doesn't have to be all digital dabblings and gadgets galore.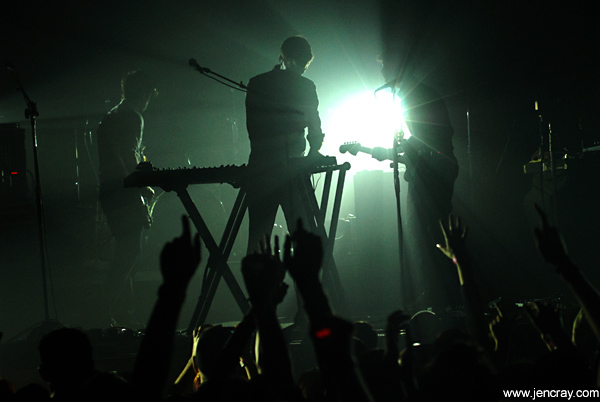 Boy-next-door frontman Dan Whitford managed a rare charisma that isn't often found in a keyboardist. Rather than hunching over his controls or hiding behind his stack, Whitford was animated and connected with the audience. He didn't say a whole lot beyond thanking everyone for choosing to spend the evening with them instead of Collective Soul and the wide array of acts the Hard Rock was pushing (hmmm… '90s one-hit wonders, or modern eletro/dance masters?! Decisions!). The Aussie also wasn't too shy to shake his tall frame to the rhythm of his own band's beats.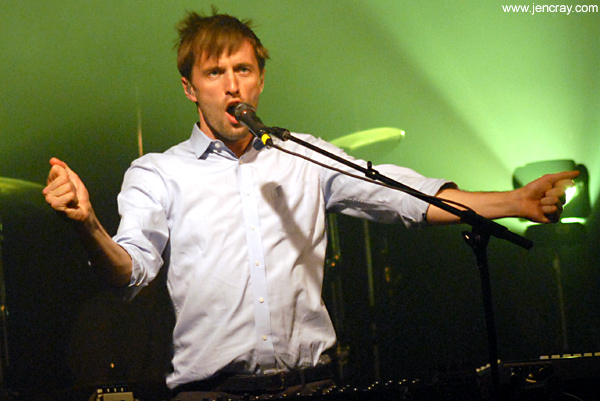 While losing himself inside of the carnival ride of colors and sounds, Whitford's famously roller coaster low-high-and-everywhere-in-between vocal range never faltered. Recreating the frolicking fun of their three-album (while sometimes shortening songs to better suit the flow), well-oiled setlist without losing the spontaneity that drives fans to buy tickets, brave the crowds, and accept overpriced drink charges, Cut Copy are worthy of a sold-out response. They also come packing a full band, instead of relying heavily on samples or backing tracks, so let's all take a moment to celebrate that!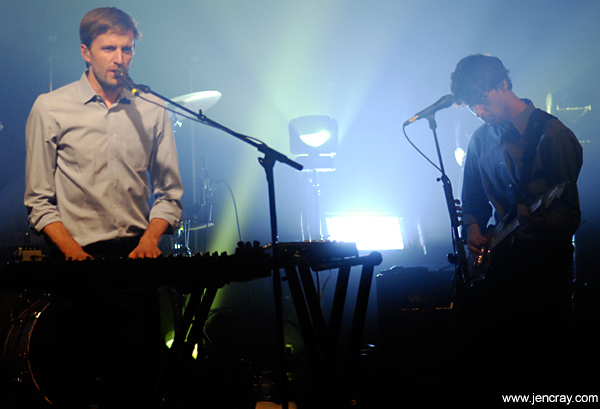 Songs off of the group's latest release Zonoscope ring with a maturity of songwriting and subtlety of emotion. The Asian-flavored "Blink and You'll Miss a Revolution," and "Need You Now" (perhaps their best song to date) radiated with a brilliance that surpasses common-place Dance music. These new bits were welcomed with big smiles and hot feet, but it was the tried and true club tracks "Lights & Music," "Saturdays," and "Hearts On Fire" that burned footprints into the dancefloor. When the encore shifted gears from the exalted "Need You Now" into the New Order-y dance party "Out There On The Ice," we could all have used a hosing down.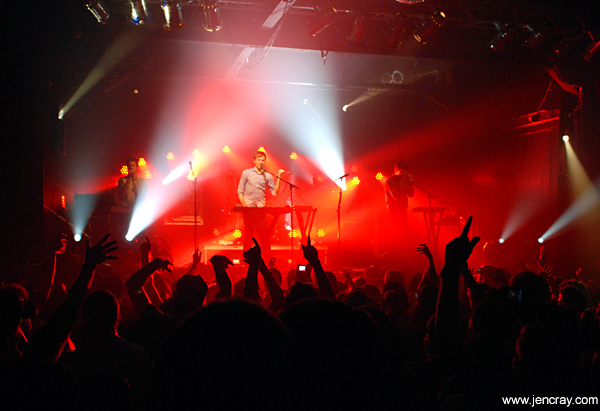 Great songwriting and maturity as musicians is all well and good, but sometimes all the crowd wants is a booty-shaker! Cut Copy gives us both, and we greedily lap it up!
Gallery of live shots from this show: Cut Copy • Washed Out.
Cut Copy: http://www.cutcopy.net • Washed Out: http://ernestgreene.bigcartel.com ◼
---