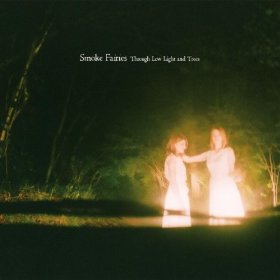 Smoke Fairies
Through Low Light And Trees
Year 7
I'm sick. Sick in body and sick in soul. I need to get away from the noise and the sharp edges and lay my body down in the graveyard and lose myself in the quiet. Between the tall grass and an autumn wind whistling through the tombstones, I'm about to drift off, but… I need music, I need songs, I need sound.
The two apparitions in the Smoke Fairies understand the need for healing of a psyche bruised and hollowed out by the 21st century. The British duo of Katherine Blamire and Jessica Davies looks back to the pastoral melancholy of Sandy Denny and early Richard and Linda Thompson, taking folk back from exhibitionist singer/songwriters to a more courtly, filigreed place, all gallows and autumn despair.
It beguiled Jack White enough to put out the stellar Gastown/River Song 7" on his Third Man label, and Through Low Light And Trees (also produced by White!) delivers on that early promise. This ain't some coffeehouse bullshit, this is a full-on seance between Karen Dalton, the Bronte Sisters, Nick Drake, and Sylvia Plath.
Smoke Fairies: http://www.smokefairies.com
---