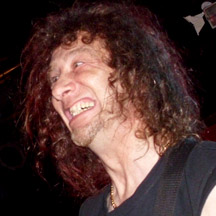 Anvil
with War of Thrones, Psyaxis
State Theatre, St Petersburg, FL • February 5th, 2012
Carl F Gauze
Watch the NFL Super Bowl, or drive over to St. Pete for an Anvil show? Not much of a decision on my part, so I gassed up the wife's car, packed some earplugs, and aimed the GPS at the Dali Museum. Thanks to satellite navigation technology, I pulled right up in front of the State Theater and found a beautiful parking slot. Yeah, it was late Sunday night and the hipsters had rolled up their goatees and fixed-gear bikes, but the small tats-and-leather crowd pulled itself together to cheer the hardest working metal band in Canada.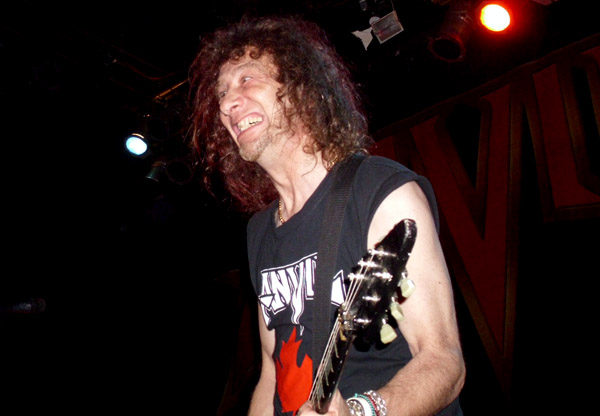 There were at least two opening acts but I only caught the tail end of War of Thrones. These guys are Tampa locals and they can rock out with the best. Led by Wade Black on vocals, the rip snorting guitar work of Rick Renstrom held the crowd against the powerful pull of football in the lobby. It took me a while to notice Renstrom's arms; he has some birth-related hand issues that don't stop him from shooting flames from his guitar. He's playing metal tonight, but I'll bet he could shame the top guitarists in any other genre out there. Mr. Black announces between songs "if you're a fan you need to use ALL CAPS when spelling out METAL." I would advise not getting in a flame war with him, and don't get him going on those soft boy Indie rockers.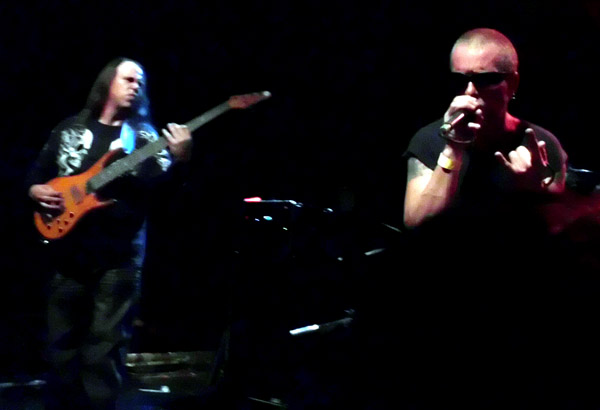 The State Theatre is one of those 1920s movie houses full of stonework and gewgaws on the restored outside and cavernous concrete inside. There's a bar, two suspicious toilets, and a merch room in the front where you can buy Anvil T-shirts without having to scream in sign language. The space is good for maybe 400 standing room spots, and about 100 of those were taken. I mentioned a football game; the scores were nearly even and between the War of Thrones set and Anvil the mostly male crowd retired to the lobby to watch the closing Hail Mary pass that didn't quite get out of the confessional. Anvil wisely waited for the football to end – I'm not sure how closely Canadians follow American-style football, but tonight it was a serious distraction.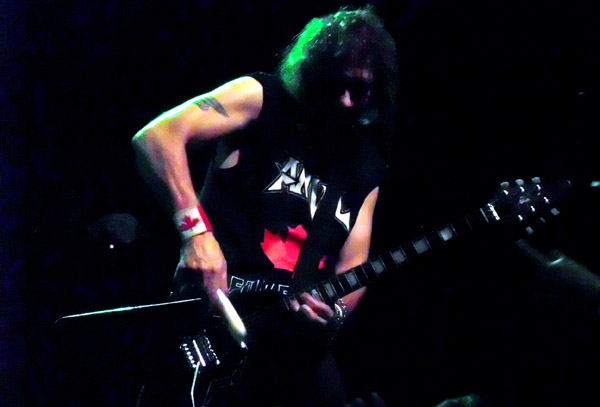 Anvil has a new bass player, Sal Italiano, who sports impossibly large black hair. Steve "Lips" Kudlow sings and plays lead, and the mysterious Robb Reiner hides behind a dark and ominous drum kit, pounding on it like it's possessed with demonic souls in need of eternal punishment. Lips plays a bit like Johnny Ramone, guitar hung low and his wrist bent into an uncomfortable looking curl. He's also the happiest rocker I've ever seen, he just oozes joy at being on stage with an appreciative audience. Like all good metal crowds, ours is full of black leather, weird Teutonic beards and shiny shorn heads. A few dragged-along girlfriends hang on their men, and even a few independent-minded women showed up as well. Lips is proud of his writing and I caught the title of every single song from opener "666" to the encore, "Jackhammer." "Jackhammer" even came with a story – take one ex-bassist and one skank groupie, add an F-sharp, and let your imagination run wild. Lips kept his playing downstage, inches from fans' hands and iPhones, and it felt like we had entered his private rock and roll universe.
Rolling through "Juggernaut of Justice," "Third Wing Assassins," "FuckenEh!," and the Deep Purple-influenced "Mothra," Anvil delivered a tight, focused set. Fans reacted strongly to "Thumb Hang" and "This Is 13" as Lips played most of his set on an old Flying V painted with what appears to be black house paint. The lights were boring, the sound acceptable, but the energy enormous. As we poured out on the street, Giants fans were jazzed, but Anvil fans ever so much more so. Rock on Lips! Rock on Canada!
Anvil: http://www.anvilmetal.com • The State Theatre: http://www.statetheatreconcerts.com • War of Thrones: [www.facebook.com/pages/War-of-Thrones](http://www.facebook.com/pages/War-of-Thrones/181528718568670?sk=app_2405167945) ◼
---