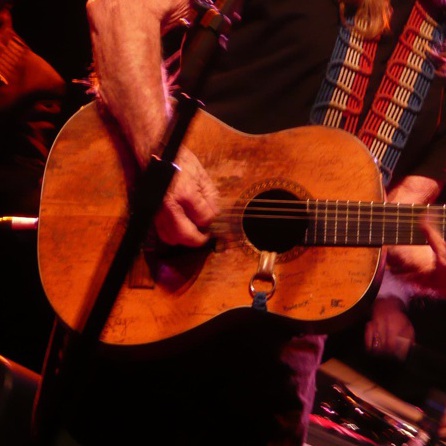 Willie Nelson
with Sonia Leigh
The Tabernacle, Atlanta GA • February 12, 2012
James Mann
Whatever I'm doing when I'm 78, I hope it's as much fun as Willie Nelson seems to be having these days. The Red Headed Stranger rolled into Atlanta for a concert that showed not only his talent and passion, but the wide audience he attracts. We walked in with a couple carrying a newborn, sat next to a few elementary school kids, and watched as people even older than Willie were rolled to the front of the stage in wheelchairs. It was an amazing sight.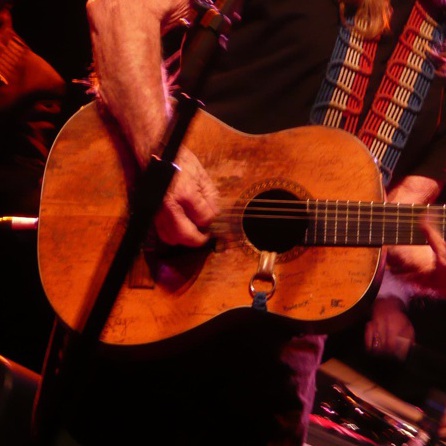 But not as amazing as Willie himself. His recent shows have seen "the Family" pared down. Long time guitarist Jody Payne retired from the road in September of 2011. But it was the sudden death of bassist Bee Spears in November that stunned his fans, and seeing Nelson without his two running buddies is a bit unsettling. His sister Bobbie still hammers out a mean piano, Mickey Raphael still looks 25 as he blows the harp, and "Me and Paul" namesake Paul English keeps the beat, although with only a snare drum. When you play as many shows as these guys do, you pare down the load anyway you can, I guess. But center stage is Willie, his battered Martin guitar Trigger his only prop. (Well, that and the variety of head wear he sports.)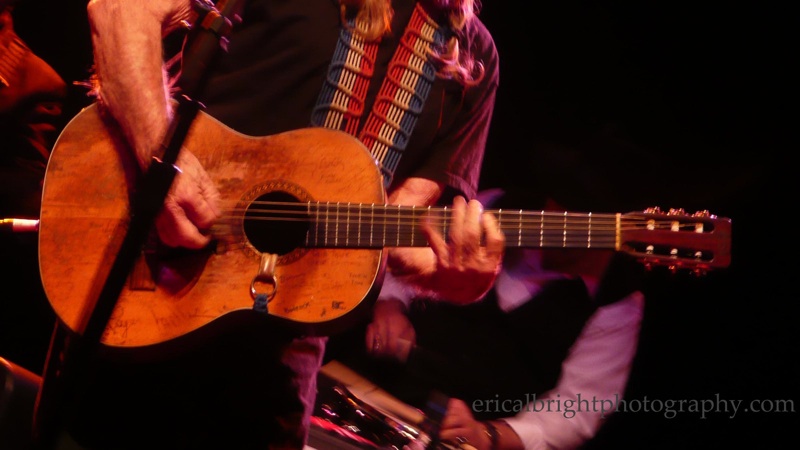 Opening as always with "Whiskey River/Still is Still Moving to Me" and following it up with "Crazy," he had the rapturous crowd in the palm of his hand, leading the packed house through the songs they already knew by heart. His mid-set romp through Billy Joe Shaver's "Georgia on a Fast Train," along with a solo rendition of "Georgia on My Mind," was a nod to his many fans in my fair state.
Nelson's catalog is so large – after all, he wrote many of the absolute classics of country music – that he could probably go weeks without repeating a song, but he knows what the crowd wants to hear. So you get "On the Road Again," "Blue Eyes Crying in the Rain," and his traditional set-closer of "Amazing Grace" and "I Saw the Light," and you don't mind a bit. With Payne gone, Willie handles all the guitar work, and in case you didn't pick up on it over the years, he's one hell of a picker. There's a reason his guitar has a hole worn through its top: he plays the hell out of it. Whether it's a spirited "Good Hearted Woman" or a delicate Django Reinhardt "Nuages," his nylon-stringed guitar drives the band. Playing a form of chord melody, he sounds like more than a single guitar, and it weaves itself into that voice, rough when it needs to be, crooning when required.
Sonia Leigh opened the show, obviously tickled to be doing it in her hometown. Playing a lot of her new album 1978 December, and joined by Coy Bowles from the Zac Brown Band for a few songs, her rowdy country-rock went well with the crowd and she was clearly loving it. But as good as she was, it was Willie's night. When he performed his newest song "Roll Me Up and Smoke Me When I Die" – which, considering his prodigious weed intake, would probably be a blast, literally – there wasn't any place the packed house at the Tabernacle would rather be. Bless you Willie Nelson, may you be on the road forever.
Willie Nelson: http://willienelson.com • Sonia Leigh: http://www.sonialeigh.com ◼
---