Tom Waits on Tom Waits
Edited by Paul Maher Jr.
Chicago Review Press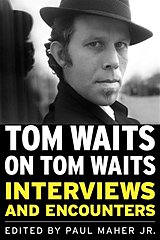 We are what we pretend to be, so we must be careful what we pretend to be. ~Kurt Vonnegut, Mother Night.
You are drawn to this quote when reading Tom Waits on Tom Waits, a 466-page tome collecting interviews and whatnot of one of America's finest examples of pure, unadulterated genius. Because Tom Waits is surely that. His relentless imagination, musical bravery, and love of language are unique among artists. There is truly no one else like him, and it seems to make interviewers and critics falter when presented with his rambling, Jack Kerouac-ian speech or trying to put down on a page what Waits does with music.
The book is chronological, from his early years as a hobo poet on Asylum Records to "Tom Waits 2.0," starting with 1983's Swordfishtrombones, where Waits threw away the bluesy, jazz styled, piano-based material for the riotous cacacophy of his later work. Of the 50 or so interviews featured here, at least 10% are entitled with some variation of "Tom Waits for no one," and it gets worse from there. Descriptions of his voice are either "whiskey tinged" or "sounds like broken glass," and there's generally a kitchen sink reference in regards to the music.
Waits is notoriously private, so his outlandish storytelling and his choice of language is just another mechanism to keep the world from his door, literally. Once you accept the fact that the real Tom Waits is not one you're going to get from reading an interview, then you read this book almost as a sort of novel. Along the way you learn of early days on the road opening for Frank Zappa, or visiting Graceland with his son, and gradually get the feeling that the only thing that motivates Tom Waits is change.
His early work was a mixture of Mose Allison and Ken Nordine, with a strong jazz influence, but such easy descriptions aren't forthcoming on his latter work. From such classics as Rain Dogs, Real Gone, or his newest work, Bad as Me, Waits is part bluesman, part minstrel barker, inventing a whole new language for the music that lives within him. You almost feel sorry for the hapless interviewer faced with whatever Tom pretends to be on any given day. This is not a book to be read straight through, but it is probably as close to the "real" Tom Waits as we're likely to find. Yes, Tom Waits is a pretender.
One of the best.
Chicago Review Press: http://www.chicagoreviewpress.com
---