Lemonheads
with Memphibians
Jack Rabbit's, Jacksonville, FL • February 25, 2012
Matthew Moyer
Your correspondent is not afraid to date himself by confessing that one of his early concertgoing experiences was a split Redd Kross/Lemonheads bill in Orlando, notable for the fact that at least half of the attendees alongide me squeezed up in the front passed out and had to be removed, presumably a symptom of being in such close proximity to Evan Dando. Fast forward (ahem) years and perhaps Dando's career hasn't gone exactly as planned (or perhaps it has for the punk/hardcore-weaned black sheep boy), but it's not all whatever-happened-to's, as Dando is back to lead Lemonheads mk.infinity through the unabashedly poppy classic It's a Shame About Ray in the confines of a packed and sweaty Jack Rabbit's… just like the first time around?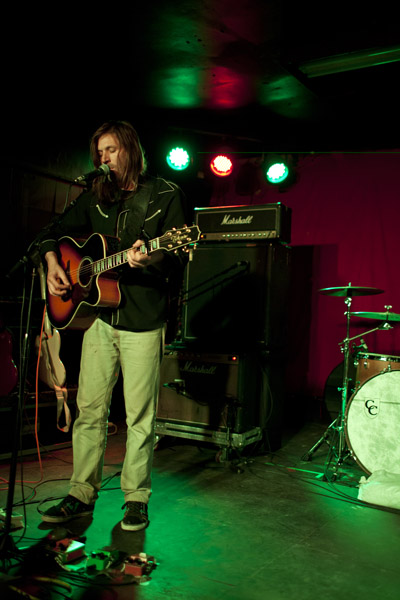 I'll tell you one thing, the audience tonight seems to be pretty much the same crowd that would've caught a Lemonheads set back in '92. Yikes! It's like a Milk Bar reunion in here! (This is called playing to the local readership.) I see ladies in sparkly tops – the international symbol for "don't go to many concerts" – and dudes doling out earplugs like TicTacs. C'mon man, for the Lemonheads? BUT ANYWAY, despite it being a very chilly winter's night, the club is sweaty and packed to the goddamn gills. It heartens me that Evan Dando, lately something of a Howard Hughes of the 120 Minutes set can still pack the house. See, I want Evan Dando to win. He doesn't seem to be a shitty person like Billy Corgan or a whore like Chris Cornell, and if his music doesn't quite have the gravitas of a Nirvana or Pixies, he's still made several undeniably great albums and never really went musically "wrong." And y'know what, to my mind, a whole shitload of bands right now owe their entire aesthetics to Evan Dando, one of the first champions of Gram Parsons during the early '90s, covering a number of his songs, and he maybe even kick-started the whole alt.country thing with his liberal use of slide and acoustic guitar, and heartfelt balladry sprinkled through both Ray and Come on Feel the Lemonheads.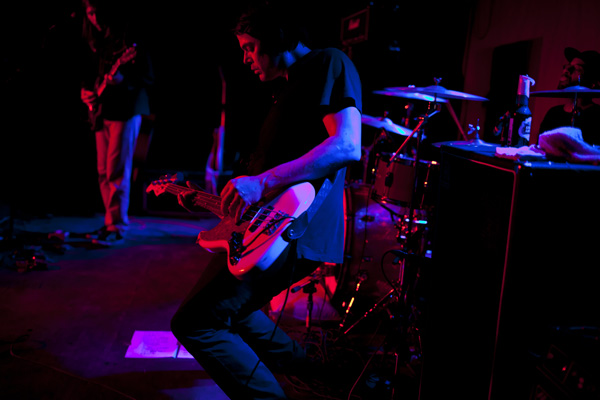 First up, though, are local outsider indie heroes (and Infinitesimal label kingpins) the Memphibians. They're recently back from a months-long cross-country tour where they broke in a new rhythm section and took their impressive new album How to Be Followed Alone to the masses. Back home now and working on new material, it's a much-more accomplished Memphibians that take the stage tonight, comfortable sharing with indie-pop godfathers. The set draws mostly from How to Be, with a new song thrown in for good measure. The two most notable things from their performance are that they're loud as hell, conjuring up a big, big sound, and the second is that Memphibians' music is deeply weird and damaged; any time they start to veer towards Arcade Fire-style anthems, they take a drastic left turn into climes unknown, the kind of place where Half Japanese and Pastels keep summer homes. Good stuff.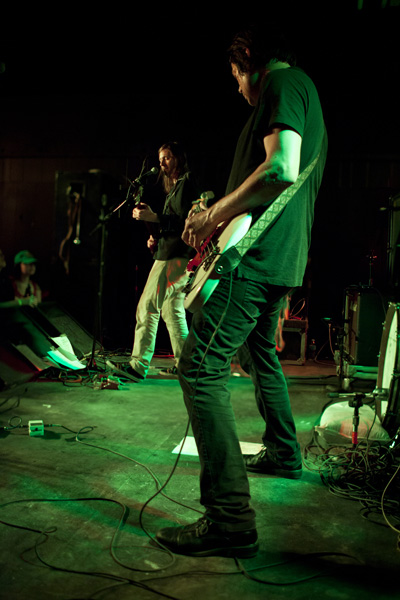 The Lemonheads casually lope onstage (no one does "casually lope" better than Evan Dando), and tonight the ad hoc lineup is a bassist with a sweet barrette in his hair, Chuck Treece, current drummer with the Bad Brains(!!), and Evan Dando, looking healthy and youthful (cuz there had been talk) with a curtain of long blond hair, some facial stubble, and a natty black cowboy shirt. Wasting no time, they dive right into the exuberant "Rock 'n' Stroll," and suddenly, instead of being surrounded by a bunch of fortysomethings, they all melt into hyperactive college rockers, and we are officially off to the races.
They run through Ray's songs in a flash – the album is roughly 30 minutes after all – and unlike as I'd been warned, they weren't phoning it in and Dando wasn't a drug-crazed mess. "Rudderless" and "Bit Part" were pure pop convections and "My Drug Buddy" and "It's a Shame About Ray" still possessed all of the ragged, awkward beauty of when I first heard them. And if his vocals go a little flat on "Ceiling Fan in My Spoon," he rallies back with a frenzied "Alison's Starting to Happen." As the last notes of "Frank Mills" fade, the band leaves and Dando straps on an acoustic guitar for a run-through of some solo acoustic numbers. After that, he asks for the band back and takes a mini-tour through the Lemonheads songbook, with "Hospital" the standout. The encore is an affecting take on "It's About Time," full of that kinda Sunday afternoon melancholy, "Divan," and their distinctive reading of the Misfits' "Skulls." A buncha people left before the encore, and, well, you snooze, you lose…
Lemonheads: http://www.thelemonheads.net ◼
---