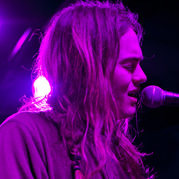 Liturgy
Freebird Live, Jacksonville, FL • February 9, 2012
Matthew Moyer
This isn't good. The lineup was puzzling to begin with… the whole premise, I mean. A Florida-only tour featuring Kills-lite Sleigh Bells, buzzbomb producer Diplo, and transcendental black metal overlords Liturgy begs disbelief. Especially in the South. This isn't good. Two girls in glittery crop tops slither past me in line, try to sweet talk the bouncer into letting them in, fail utterly and then bounce over to the tour bus idling nearby, where they immediately start pounding on the door and squealing, "Diploooooooo!" This isn't good. I'm hearing the white light/white heat roar of Liturgy burst to life from inside the cavernous Freebird Live and I'm stuck in line behind a bunch of clean-cut kids who look like the cast of How I Met Your Mother. A towering bro bends to the waist and asks me, "Which band is this? Is this Diplo?" This isn't good.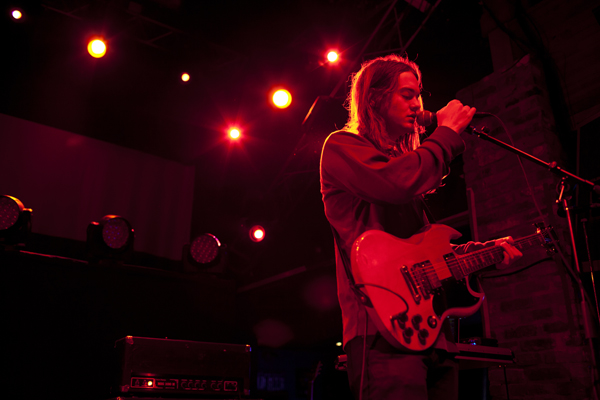 An eternity too long later, I'm rushing inside and soaking in the delirious strength through joy that is Liturgy 2.0. Frontman/guitarist Hunter Hunt-Hendricks no longer has the hailstorm rhythmic backing of longtime drummer Greg Fox, leaving himself and guitarist Bernard Gann tonight to reshape the triumphant roar of last year's Aesthethica into something altogether more wild and uncontrolled. Fox's punk-influenced blastbeats are long gone, replaced by rigid electronic beats, courtesy of a Macbook incongruously perched on a stand next to Hendricks, and their already unruly song structures are even further twisted up by a forbidding series of pedals and effects. This could very well be the new sound of U.S. Black Metal. A song ends. The most tentative of polite applause. The front rows frantically check their smartphones. The back rows look confused.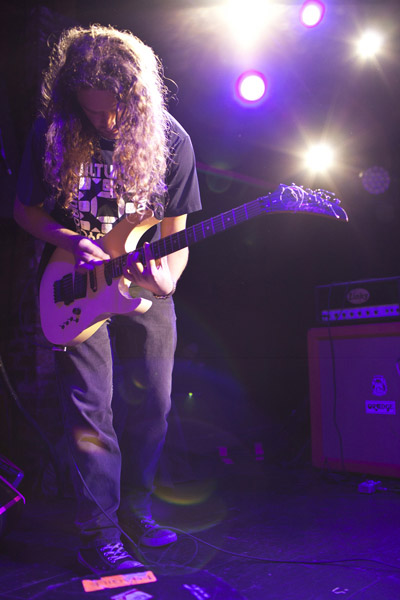 Hunt-Hendricks begins one of his vocal chants, but instead of the ecstatic energy poured into these vocal experiments in Aesthethica, the sound is mournful and disappointed. Eclectic bills like this may very well be a better idea on paper than real life, depending on the audience you're courting. And Liturgy's music demands an audience hungry to lose themselves in blinding sound. The music bursts back into life. Aesthethica may have refined and brightened black metal's dark corners, but tonight Liturgy sound as ferocious and unhinged as Immortal in their prime.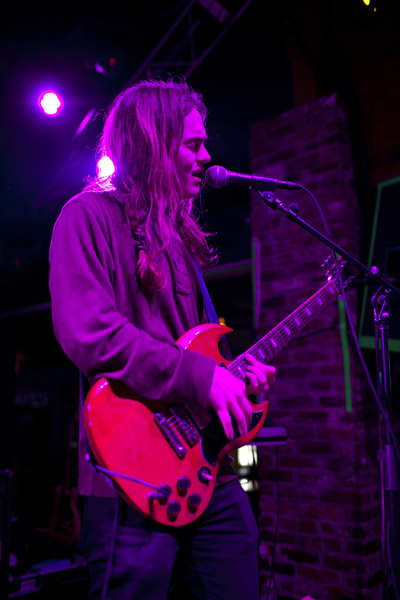 Hunt-Hendricks' vocals are a self-loathing shriek (in the spirit of Satyricon and Burzum), the tandem guitar assault with Gann is a wondrous mix of clinical precision – stackin' riffs like Jenga – and masochistic primitivism. For the briefest of seconds I'm reminded of Godflesh, in terms of harnessing technology to present a personal and intimate reshaping of heavy fucking metal to communicate truly heavy concepts and beliefs. As the music reaches a frenzied crescendo a burst of deep blue light sizzles the irises of everyone in attendance. And when we blink away the spots. The band is gone. Soon my fellow audience members will be relentlessly pandered to by Sleigh Bells, and they will have put this unpleasant business far behind them. Their loss.
Liturgy: http://liturgy.bandcamp.com ◼
---