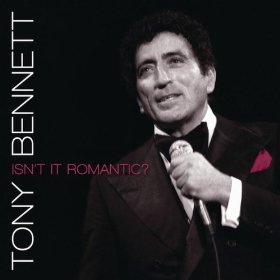 Tony Bennett
Isn't It Romantic?
Concord Records
Tony Bennett is no poser. Despite being known the world over as a crooner of standards, jazz, and show tunes, the eighty-five-year-old New York City native has lived the kind of sex, drugs, and rock & roll life that likely would be the envy of even the most decadent '80s hair band or hardcore Ozzfest headliner.
Simply put, Tony Bennett has sold in excess of fifty million records over the last six decades and has achieved true pop icon status. But his journey has not been an easy one. He is, if nothing else, a survivor. He survived the Great Depression, World War II, ever-changing pop trends, drug addiction, divorce, and financial disaster, as well as beating the (brief) "has been" factor. Achieving one of the greatest comebacks in music history, Bennett pulled out of the doldrums of the 1970s, regrouped in the 1980s, connected with a whole new audience in the 1990s and remains one of today's most recognized and beloved entertainers.
But with a discography that includes nearly one hundred album releases, Bennett has created a far greater body of work than his standard Greatest Hits collections and recent best-selling Duets releases might suggest.
In the mid '70s, Tony Bennett was without a major label recording contract. During that time he released such lesser-known albums as Life Is Beautiful, Sings the Rodgers & Hart Songbook, The Tony Bennett / Bill Evans Album and Together Again on his own Improv record label. Fortunately, Concord Records has rediscovered, remastered, and re-released many of Bennett's best tracks from these nearly-forgotten albums and included them in the newly-released retrospective collection, Isn't It Romantic?
Combining Bennett's smooth, classic style with gems penned by such legendary songwriters as Richard Rodgers, Cole Porter, Henry Mancini, Frankie Lane, and Fred Astaire, Isn't It Romantic? makes for a record that sounds honest, pure, and surprisingly fresh.
Pinning Bennett's solo vocal against a single piano track, "Make Someone Happy" and "My Foolish Heart" serve as two of the record's finest moments. Other highlights include the timeless classic, "As Time Goes By" as well as the extremely heartfelt title track. However, the true secret toy surprise found in this musical Cracker Jack box is Bennett's powerful vocal performance on Albert Hague and Arnold Horwitt's "Young and Foolish."
In short, Isn't It Romantic? is a real treat for fans of the genre and only further cements Bennett's impeccable reputation.
Tony Bennett: http://tonybennett.com
---