Mark Sultan
Cafe Eleven, St. Augustine • April 25, 2012
Matthew Moyer
Two preliminary observations: 1. Great art is sometimes messy, and 2. Mark Sultan seems kinda pissed off tonight. Now, with all respect and concern due to Mr. Sultan's mood, musically tonight's gonna be just that little bit much better. Now, a Mark Sultan show is always going to be stellar, just by comparison to everything else. The man's a titan of North American garage rock (like a Billy Childish for our side of the pond, praise be!) and a true believer in the power of keeping it simple and raw and heartfelt, whether as a member of Mind Controls, The Ding Dongs, Los Sexereenos, or as part of the powerhouse garage/soul duo King Khan & BBQ Show (Sultan was the BBQ half of the equation). And even though Khan and BBQ are taking some time off from one another, Khan's presence still somewhat lingers, as he played this very same venue just a couple of months ago.
There's a few less people in the crowd tonight – and that's a goddamn shame – because, in this writer's opinion, Sultan has the edge in terms of that unpredictable, unquantifiable something that makes great art, great music, y'know… great. In contrast to King Khan's punkoid big band, the Shrines, Mark Sultan's show is just his own damn self. See, he basically has rehabilitated the eternally ropey one-man band concept. Don't worry, he doesn't have a cymbal perched on his hat or a washboard hanging off his butt; his setup is simple (yet complex all at the same time, I can hardly even stamp my feet at all, much less in time, when I'm playing guitar), Sultan plays a different drum with each foot (he's seated) and then tears away at a guitar, sans pick for even more physicality to his attack. (Sidenote: Sultan sets himself far back from the crowd on the large, spare Cafe 11 stage. It's just him in a chair and then off to his side an oversized Orange amplifier. Even the positioning of everything is interesting, the stage looks like a wild art installation, if you get me.)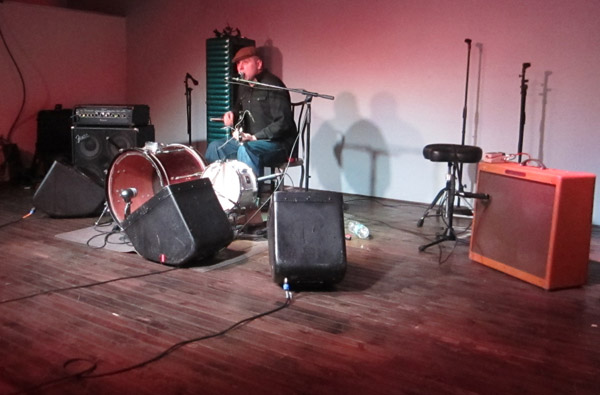 The word "attack" can be interpreted in a literal sense. Sultan's set tonight is a multi-tiered assault: on assumptions of showmanship, on our ears – it's punishingly loud – and on his own music. He tears and rends his own songs, fucking with tempo and structure, digging angrily until he finds the bleeding, pulpy heart of each song. Tonight's set is one long song or movement. He never pauses for what would be inevitable applause, even though I, hell, we, are lapping it up. You can only tell when a song ends when the song crumbles into furious atonal strumming, kinda like the static when you flip between songs on the radio. Then it's off to the races with the next doo-wop/torch/punk barnburner. At times he radically recasts material from Sultanic Verses and Whatever I Want, he dips and dives through his whole solo canon, raking it as assuredly as would a free jazz musician, revelling in the power of the NOW. His voice tonight sounds stronger than ever, it's as much Gories shriek as it is torchy anguish – like a wronged ghost, like a spurned lover (with even a dollop of death metal screaming thrown in the mix). He spits out, "See you later," after just over a half-hour of bird-on-a-wire freeform lovelorn scuzz. I'm done too. It's too much.
Mark Sultan: http://marksultan.com ◼
---