Tauk
Brooklyn Bowl, Brooklyn, NY • 5/5/12
May Terry
Just over the Williamsburg Bridge in a now gentrified and upscale area of Brooklyn, a relatively new and hip place called Brooklyn Bowl opened. It's a unique mash-up of a lounge, a small concert hall that fits about 200 people and a slick, dimly lit bowling alley. It was there, on Cinco de Mayo, that a healthy crowd gathered to see a showcase of three musical acts, where the young and vibrant rock/jazz fusion musicians Charlie Dolan, Alric "A.C." Carter, Isaac Teel, and Matt Jalbert, a.k.a. Tauk, performed as the opener.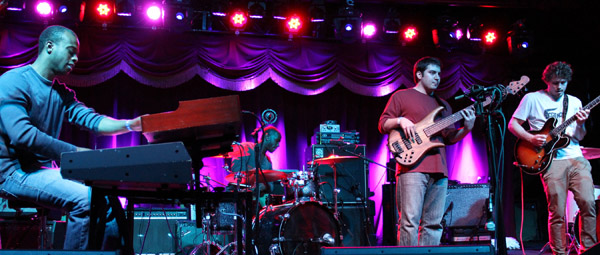 Tauk played a 35-minute set of five songs, three of which were "works in progress" since the release of their album Pull Factors back in late March. Rather than focusing on each song in their set, what's mostly worth noting is what I witnessed: a growing audience that became steadily more interested and engaged without ever having heard of Tauk. This crowd was drawn to the ballroom area rather than choosing the other entertaining social options that Brooklyn Bowl had to offer: a cozy lounge area, two bars, and 16 slick bowling lanes lined with Chesterfield sofas instead of those hard-plastic molded seats. A low dividing wall was the only barrier between Tauk's stage area and the clash of tenpins. In retrospect, I think it was because this band played its heart out, genuinely enjoying what it was playing, and not necessarily caring what the audience thought of it.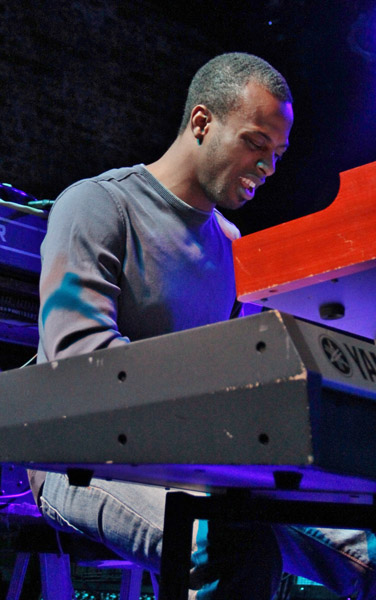 Billed as a rock fusion band, Tauk is traditionally not in that category. I actually found myself struggling a bit to put them in any musical camp. A first impression is that they're more jazz fusion. Alric's keyboard passages off that lovely Hammond hint of influences from notable modern jazz fusion greats like Chick Corea or Joe Zainwul. Matt's guitar riffs occasionally are a tip of the hat to Pat Metheny and John Scofield. But Charlie's bass, locked in groove and time with the guest drummer, solidifies a funky backbeat in several songs. And yet, from all of them, I could even hear subtle nods to '70s prog-rock bands like Styx or Yes.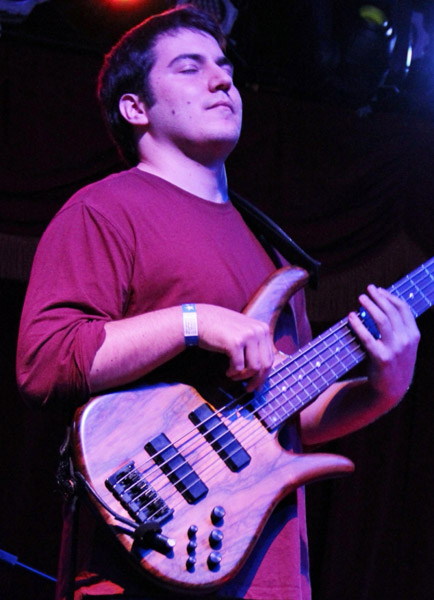 Nevertheless, to call them copycats of jazz and rock masters in a sea flooded with jazz fusion bands in the city is an injustice. There is a too-edgy rock sensibility behind Tauk's music to call them jazz fusion, but not so much that we can stick them in the prog rock category. In essence, Tauk defies the penchant listeners have for stereotyping a category. It's as if Tauk cooked a savory auditory gumbo filled with any music they found interesting, regardless of style, and asked us to just taste the meal instead of identifying all the ingredients. Being an incessant deconstructionist by nature, I should just put my brain on pause, pull out my Chunky soup spoon, and enjoy the gumbo.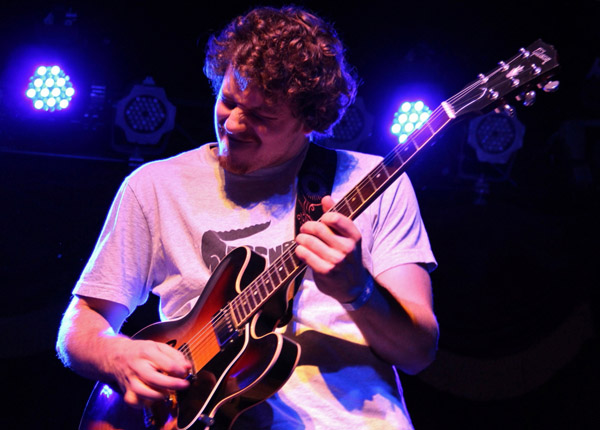 Performance-wise, Tauk clearly shines when the band just lets loose and explodes in an all-out jam. The distorted edge, mostly thanks to Matt Jalpert's breakout guitar solos, was refreshingly pervasive in all of their songs. Moreover, it was so appealing to the increasing crowd that by the last song, "Side Project" (off of Pull Factors), a number of cheers were heard after each solo. Clearly, when Tauk is in a groove, they're a centrifugal force that pulls you in to share in their experience and enjoy their sound. It's not what you may hear in their album, which occasionally feels restrained. As a result, their upcoming gigs at open air events like Bonnaroo certainly make them a band well worth checking out. Based on the hearty applause after the band's closing thanks and farewell, I gather that Tauk bowled a strike in their last frame at Brooklyn Bowl and gained a number of new fans along the way.
Tauk: http://www.taukband.com ◼
---