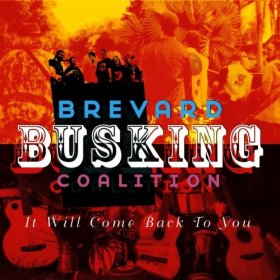 Brevard Busking Coalition
Don't Buy a Gravestone Before You're Dead
David Johansson
Is this darkest Africa? Is it India? The drums pound. Male voices rise in harmony, casting a dark incantation. A didgeridoo moans and is silent. Dbusker fingers his singing bowl, and His Cheap Moves warms up his Fanta bottle. BrYan slings his banjo, and Jared throws down his big bass drum. Tom wrangles his cowbell, and Anthony strokes his goatee.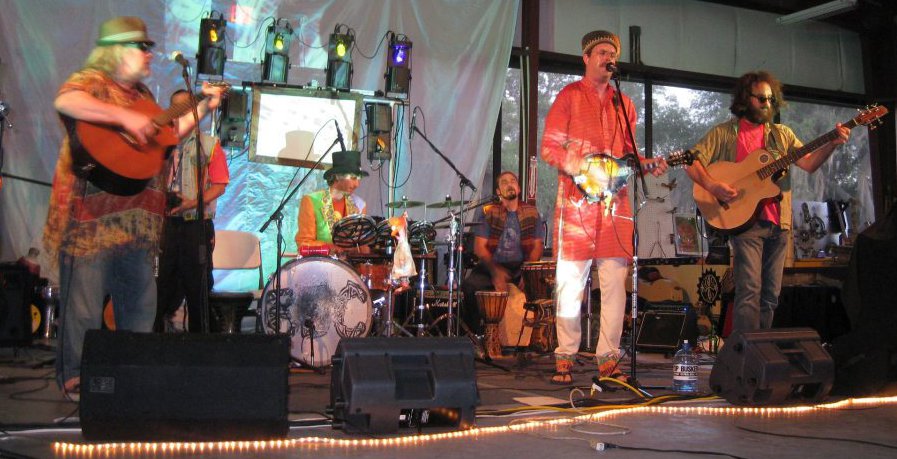 We're outdoors, at an art show, roasting at a festival in Florida sun, and the Buskers take the stage. This six-man acoustic band is world-beat, African, Caribbean, mad jazz, spoken-word… wonderful. Now a tall man wearing a silk orange robe comes center stage carrying a bass drum.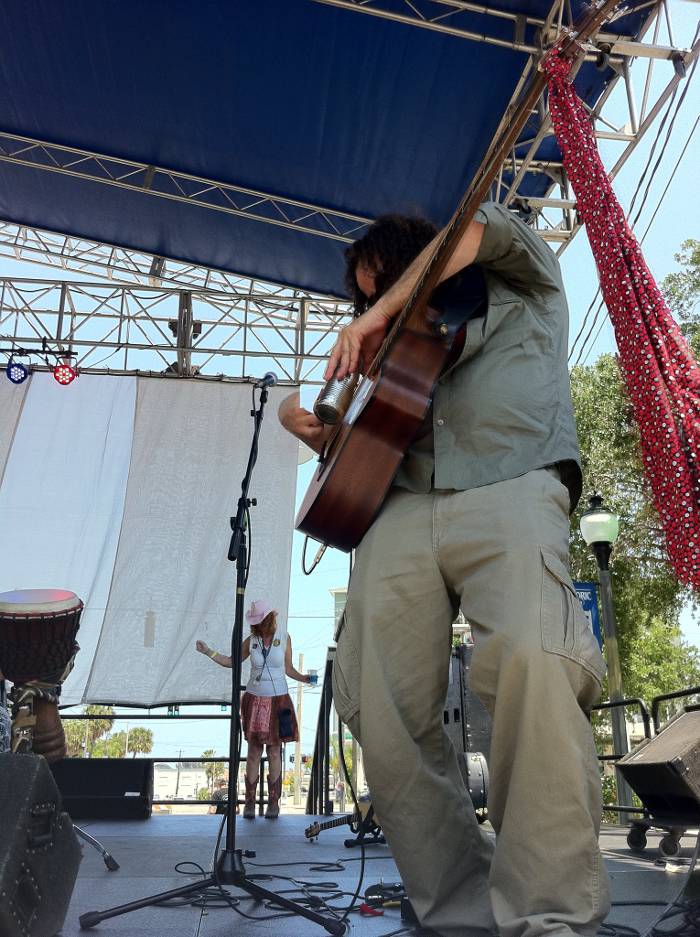 And who's this? From Heinous Bienfäng comes His Cheap Moves, a young Fidel Castro and a helluva nice guy, wearing green fatigues and that tall drink of water, that drummer in his Technicolor dreamcoat, why… that's Tom of Elephantgun, and that long-haired sage, that young wizard, that virtuoso of banjo and mouth piano, why, it's BrYan of Ghostbeat. And then there's dbusker, that rare tree in the forest, because he reminds one, of well… a rare tree in the forest. "Going, going, gone!" he sings, smiling through his apocalyptic mantra, while Anthony fondles his bongos and Jared blasts into a falsetto that bugs out his eyes and sends the crowd into spasms, and now His Cheap Moves, our young Fidel, runs his Fanta bottle down the length of his bass, and man… we know what this song is about! This is a Buskers show! Come on down and get Jesus! And the Buddha and Venus, too! These guys are an acoustic orgasm, a throwback to the '60s, a glimpse of the future, a ritual baptism in happy weirdness. What mad wild jokers! What holy goofs!
With their album It Will Come Back To You about to drop, I met up with the Buskers at shows, in rehearsal, and on my back porch here in Melbourne Beach, where I sat down with BrYan, Jared, and dbusker. Beyond the palms, the sun set over the Indian River in a riot of gold and crimson, while the waves crashed and boomed beyond the traffic on A1A.
• •
So how'd you guys get started?
BrYan: A void arose inside my mind, soon filled with piles of styles.
Any other memories of the band's beginning?
Jared: It began with an African story about a hippo, and villagers… and welcoming people.
Wow. It's hard to know what to say to that. What's your take, dbusker?
dbusker: We're not trying to be anyone else. Recording the album, we experimented with sound in the studio – open windows, closed windows. We found magical dust to give each song a special character, to put new breath into it.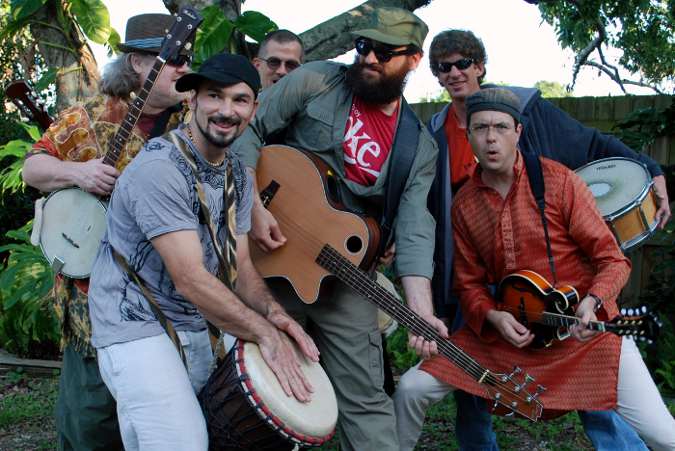 That sounds pretty trippy. So, do you guys do a lot of psychedelics before you write a song or go onstage?
BrYan: I wouldn't want to waste it. Playing on stage is better than any drug I've ever done. If I did a drug and played with the band, the high would be erased.
What about groupies? You guys make converts and new fans at every show. Are women throwing themselves at you?
BrYan: Still waiting.
dbusker: Been there, done that.
Jared: [laughs]
Jared, you and BrYan are the principal songwriters. How's that work?
BrYan: Well, for instance I don't tell His Cheap Moves how to play a bass part. I may have written the song, but it's a community composition… I have a Ph.D. in Beatles, you know.
Fair enough. What about that, dbusker? I mean, do they make you into a Ringo?
It's beyond my control, which I kind of like. Though BrYan is a slave driver. A technical slave driver. He'll spend 15 minutes on a piece of a syllable.
BrYan: [shrugs] "Just good enough" is not good enough for me.
And Jared?
dbusker: He's a different kind of a slave driver… He wants stuff out now! When it's going to take a year.
While you were recording It Will Come Back To You, what was your most memorable image?
Jared: Tom fake jerking off Tony. Pretending, I mean. [simulates a happy ending with his hand.]
Okay.
Jared: [laughs] Don't put that in there.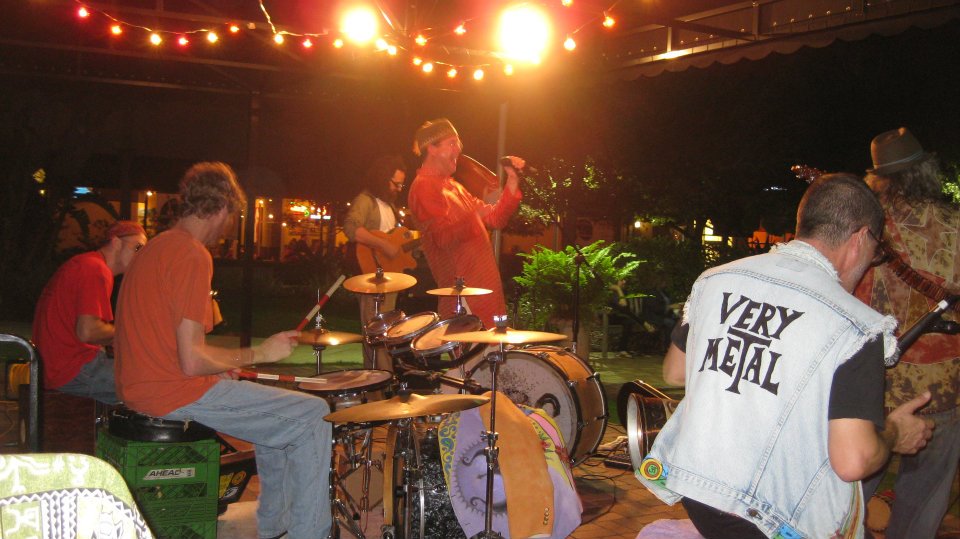 You guys speak your own language. What does "More Bourbon" mean?
Jared: Go faster!
• •
When I met the Buskers again, it was at rehearsal, at the recording studio where they were finishing It Will Come Back To You. Instruments were strewn everywhere like an international buffet of percussion: bongos, cajon, cymbal, didgeridoo, djembe, kit, mandolin, metals, frame drum, shakers, talking drum, cowbell, dumbek, goat skin djembe, guiro, klaves, ramwong, udu, vibraslap, and ukulele.
So how's the album going?
BrYan: You can't just record live-ness in a room. (NOTE: BrYan almost certainly shares a common ancestor with Jerry Garcia. The brains of the band, he is the DEEP THINKER.) And that's what we want to capture.
The band launches into a song, and Jared, looking like a mad professor, bellows like a caveman with a spear in his side, rising to a wine-glass shattering falsetto, then back to a sweeter tone where he sounds like a young Bowie. Meanwhile, Anthony lays down his clipped and careful beat, keeping time with the same exactness he uses on his facial hair, which is groomed impeccably.
• •
The next time I see the Buskers, they're doing a show at a pizza joint, and it's a credit to the band that it's standing room only; they're happy to compete with harried waiters, clueless tourists, and even a mad drunk woman who insists on hugging Jared and shrieking into his ear. The band charges into "Mycelium," one of their anthems, and the crowd swoons with pleasure.
Why pleasure? Because the Buskers understand dynamics, pacing, the push and pull of musical sex with the audience. They lull, then surprise, then ease off, then explode, with Jared blasting into a high end that'll raise the hair on the back of your neck. With their off-kilter rhythms, it's like riding in a donkey-cart along a ledge trail, and the thing is swinging you back and forth and giving you glimpses of the abyss, while the inscrutable driver turns and grins at you, full of confidence. So, too, the Buskers take you for a ride in their danger-cart, teetering on the edge, yet they never let you fall… and so you learn to trust, going deeper, into the experimental, into the deep, exploring the canyon floor, where His Cheap Moves woos you with his mad ukulele. It can be an eerie journey, full of shadows, but then the Buskers lead you out of the dark wonders of the earth and into the sun, into heat and light.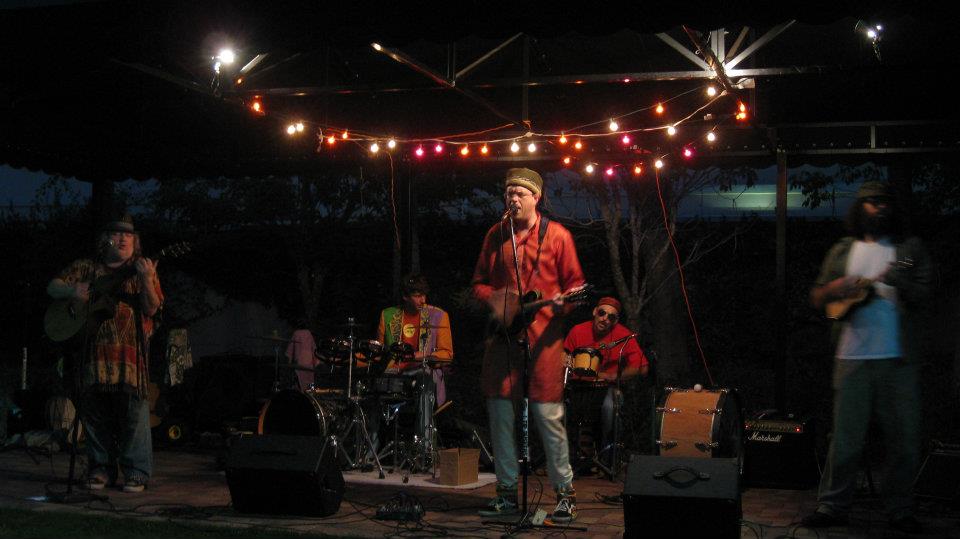 "Don't buy your gravestone before you're dead," Jared sings and the show goes on, a new world in creation, a shaman's circle and a happy place, where the air is thick with a sense that something significant is going to happen. And more. It's going to happen to you.
The Buskers are like Sgt. Pepper's Lonely Hearts Club Band, but weirder. And more upbeat. Because the Buskers don't wanna work, they just wanna bang on the drum all day.
And we'd love to take them home with us. We'd love to take them home.
But making great art is not enough. It must also be discovered. And here's hoping the Buskers are. Discovered, that is. It Will Come Back To You deserves it. And so do the Buskers.
Brevard Busking Coalition: http://brevardbusking.org ◼
David Johansson is author of Skin of Sunset_, a novel_.
Join the band for an It Will Come Back to You CD Release Party at Baroos, Indialantic, FL on May 12, 2012.
---