The Used
with Dead Sara
House of Blues, Orlando, FL • May 27, 2012
Jen Cray
Bert McCracken, the 30-year-old, ungroomed vocalist for The Used, wears the name tag "Butt" on his t-shirt, proclaims he wants to "fuck every single one of you," and simulates jerking off into the crowd during his time on the Orlando stage. If ever there was any doubt as to whether or not The Used have matured over their 11-year career, let these stand as evidence to the contrary.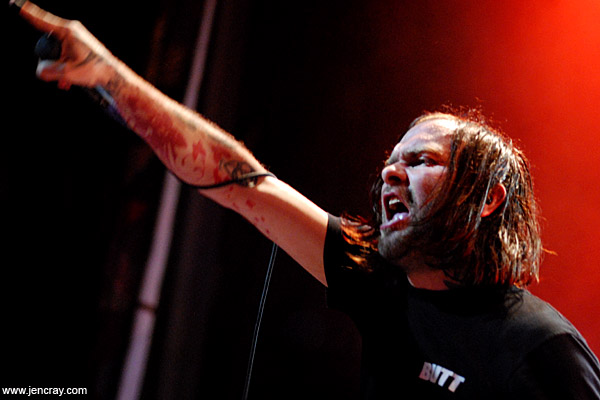 Luckily for them, it's not for a cultural or evolved music experience that fans of the band come, it's for the excuse to shed propriety and come completely unhinged in the throes of melodic NOISE. The Used may have promised the fans this exalted abandon, but it was Dead Sara that expressly delivered it.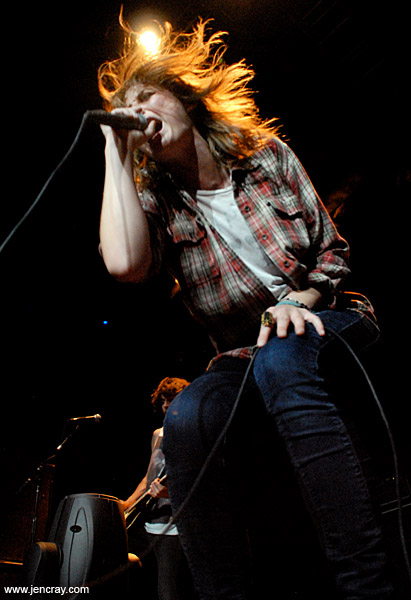 Bravely introducing themselves with a heartfelt ballad that showcased frontwoman Emily Armstrong's impressive vocal range, the co-ed group from L.A. suckerpunched virgin listeners with the scream-filled onslaught that soon followed. Armstrong can sing with Melissa Etheridge-like power and hit notes that fly through Mariah Carey territory, but she can also brandish some chest-ripping howls that, coupled with her head banging and body thrashing that shows no sign of concern for bodily harm, give her a cocky and confident presence onstage that is usually reserved for the boys.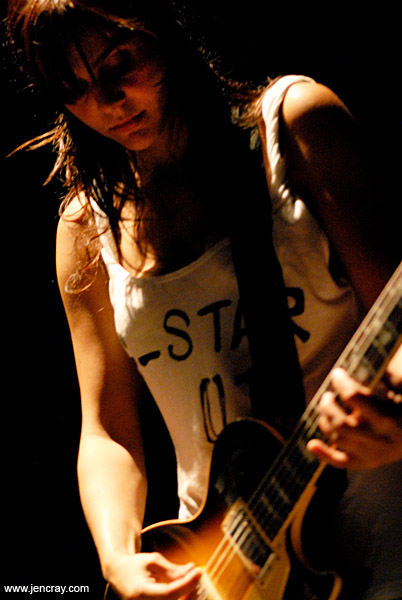 The slinky, sexy, potty-mouthed frontwoman is not your average chick singer, and that's a beautiful thing. Her hair covers her face for much of the set, and gets sweatier and more tangled as her cardio-heavy performance goes on, as she throws herself into the drum set, up against her sexy co-guitarist Siouxsie Medley, climbs a tall speaker stack and leaps off, and eventually ends up on the crowd barricade to sing the final notes of "Weatherman." All of this, and the band had not only just flown in hours before the show and hadn't slept in three days, but also Armstrong was sick!
To say that they won over the crowd would be a gross understatement. Let me paint you a picture: even the House of Blues' seen-it-all-before bartenders and kitchen staff were craning their necks to watch the set. When the venue staff drops what they're doing to watch your band onstage, you're doing something right!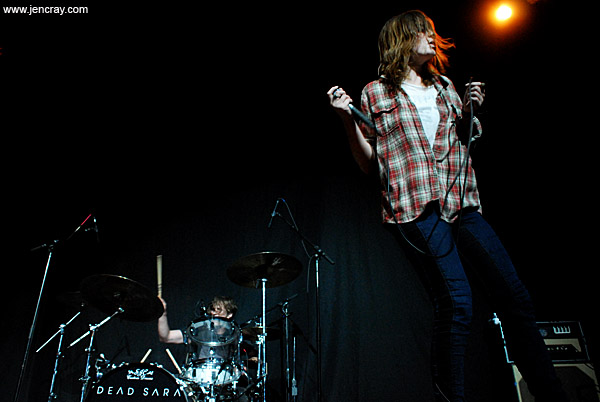 It was a hard act to follow, but the one thing that Dead Sara didn't have – a big budget for stage dressing – The Used utilized to an almost overwhelming degree. With enough lights to power a small village, the blinding buffet of fiery flames that spun out in every direction was practically the band's ghostly fifth member. The pretty lights, like the exaggerated screech of McCracken's vocals, put a dark mask on the fact that much of their music is pretty soft in both melody and lyric. Even The Carpenters' music can sound scruffy and angry if it's got a heavy beat behind it and is sung like it's got razor blades around its words.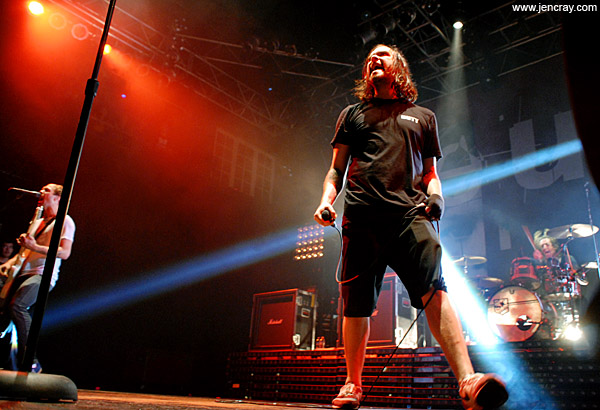 Soft rock base or not, the mosh pits developed, as you knew they would, whenever a song that's seen more than one season cropped up. "Take It Away," "The Best of Me," and the encore of "A Box Full of Sharp Objects" all initiated plenty of pent-up angst to surface, but it was a happy angst, not the sort of intensely personal angst that, say, Nirvana used to inspire, and so when the band prefaced "A Box Full of Sharp Objects" with the declaration of "This is the greatest song ever written" and then fell into the opening chords of "Smells Like Teen Spirit," it only made the song that followed sound lame in comparison.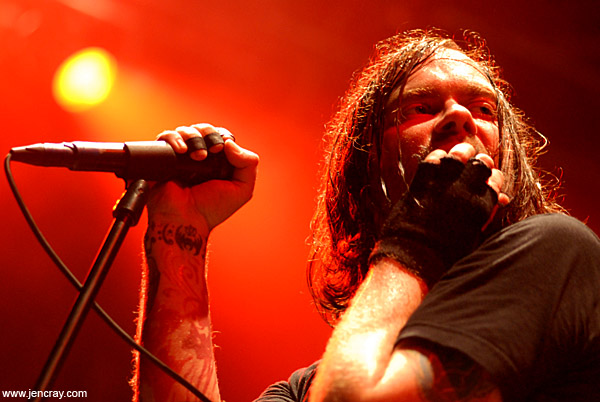 For all of the volume and tongue-in-cheek gnarliness of the music they make, the moments that felt the most genuine, and received the most heated applause, were the ones that revolved around the ballads. "The Taste of Ink," and "All that I've Got" had the potency of '80s power ballads, with tear stains streaming through mascara as 2,000 fans strained to raise their voices higher than their neighbors'. For "Blue and Yellow" the soft-hearted frontman pulled a fan up onto the stage, with whom he danced while singing (the fan was then invited to watch the remainder of the show from the side of the stage).
"I hope you remember tonight for the rest of your lives," McCracken told the room.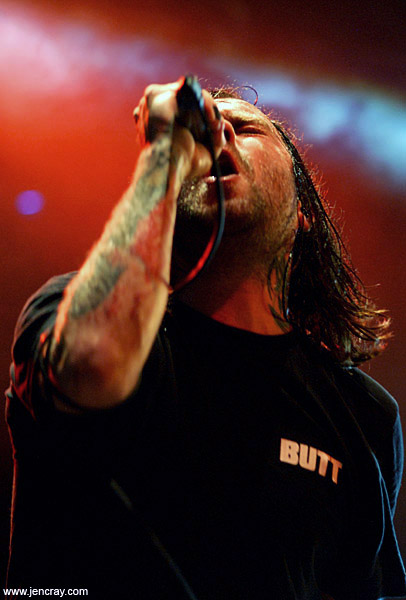 I don't know how many attendees will be thinking of this night on their deathbeds, but I know that I, personally, will be remembering a performance from this night for quite some time… but it was the one given by Dead Sara. The Used satisfy their fans, but they don't offer much to those not already accustomed to their flavor.
…though, I will admit, I've had one of their new songs ("Put Me Out" off of Vulnerable) on indefinite "repeat" in my head ever since seeing them open up the show with it. A virulent chorus of I'm like a cancer still you beg me to stay/ put me out like a cigarette loops through my brain, even days later.
Gallery of live shots from this show: The Used and Dead Sara.
The Used: http://theused.net • Dead Sara: http://www.deadsara.com ◼
---