Puscifer
with Carina Round
Hard Rock Live, Orlando, FL • June 13, 2012
Jen Cray
Vagina.
If you're not comfortable hearing 2,000 people scream out that word simulatneously, then a Puscifer show may not be for you.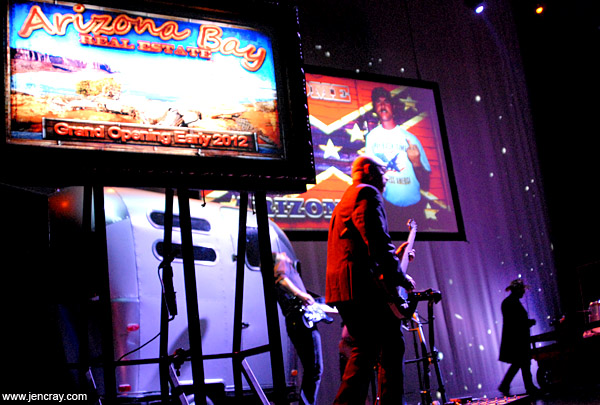 If you are a camera happy concert-goer, the band's über-militant camera policy may frustrate you ("No fucking flash cameras, asshead. They are rude, they are distracting!" frontman Maynard James Keenan – dressed in army fatigues as Major Douche – shouts at the crowd from a pre-show video). If you're easily offended by redneck sterotyping humor, then a Puscifer performance most definitely is something to steer your pickup truck away from.
For everyone else, welcome to an incredibly unique night of live music, comedy, spoken word, and performance art. And wine.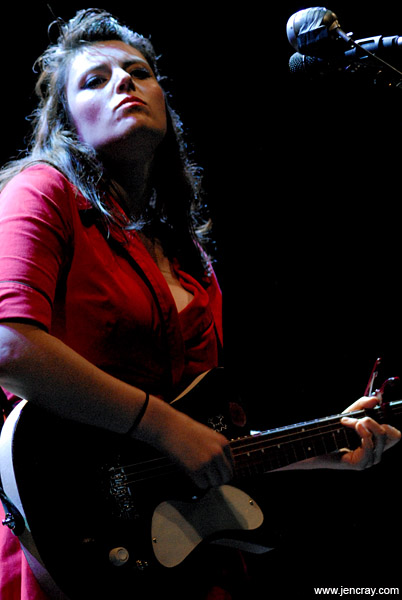 Like Wanda Jackson in her early days, Carina Round wields a guitar that's half as big as her, and wears a dress and hairstyle that begs for hot rods and honky tonks. With a subtle sneer on her flawless face, she belts out moody blues pop rock – like Patti Smith that's been steeped in Kate Bush and sweetened with Santigold. While not the obvious choice of music for an audience of mostly manly men wearing their Tool and A Perfect Circle t-shirts, her opening set went over about as well as a free round of drinks at the bar.
Spoiler alert! – she's also currently a member of the ever-changing Puscifer lineup, so she was soon welcomed back, taking up residence at the back of the stage next to Maynard.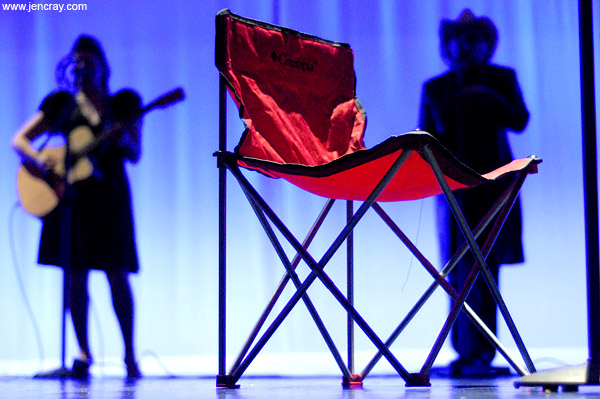 Before the Puscifer trailer park opened for business, though, a reality-show-style "documentary" was shown about the fictional characters Billy D and Hildy (played by Keenan and his wife, in God-awful wigs and outfits). A day in the life of a dysfunctional white trash couple who get robbed while they're away at the local Wal-Mart. It's weird, it's baffling, and it's entertaining… kind of like anything that Maynard does.
In keeping with the unconventional intro, Keenan – thankfully not wearing his Billy D wig and moustache – hauled a shiny silver trailer onto the stage from which he unpacked tables, chairs, a grill (with fake flames burning high), and other accoutrements. The naked Hard Rock Live Orlando stage was soon transformed into an Arizona trailer park. The final touch: bottles of wine from his own vineyard, from which he served his bandmates and himself throughout the night.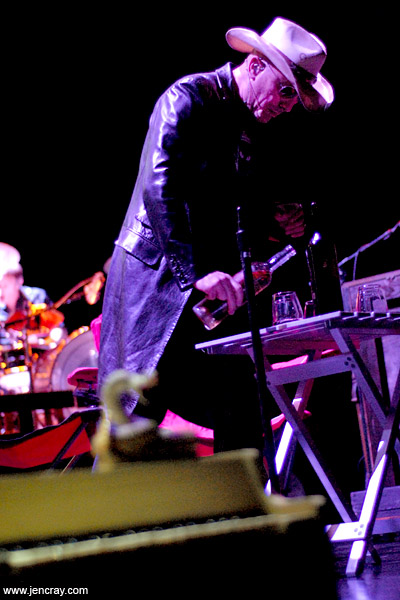 It was way behind all of this decoration that the cowboy-clad, creative mastermind staged his microphone beside Round. The notoriously spotlight-shy Keenan, always in silhouette, only gave us a clear glimpse of his shadowed face whenever he sauntered down stage to pour himself a tumbler of vino. Beyond that, it was atmosphere over aesthetics – and it worked.
When lights depict stars in the heavens above our heads, it really feels like we're outdoors in the desert. When the stage is drenched in blue and shadows crawl into unfamiliar shapes, the focal point is auditory and the focus just makes songs like the very A Perfect Circle-sounding "Potions" and the creepy-crawler industrial funk "Dozo" that much more eerily epic. In fact, everything sounds dreamily eerie. There's a surreal blanket of psychedelia laid across us all that makes every song swim. Maybe it's the desert set dressing, or maybe someone slipped something in my drink.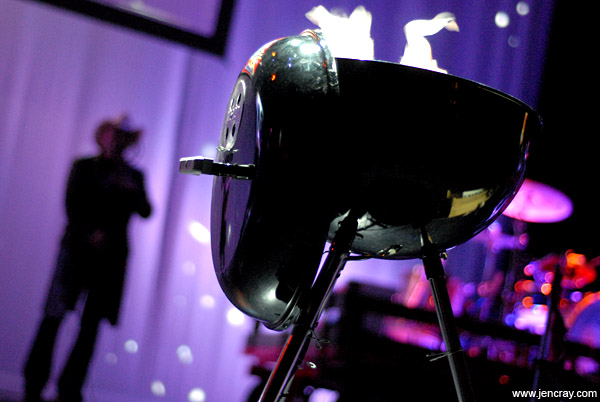 With only minor exursions into previous releases, the bulk of the night was dedicated to music off of 2011's Conditions of My Parole, and we got to hear that kooky bit of brain candy almost in its entirety. Puscifer has been Keenan's pet solo project on and off since 2003, producing two full-lengths, multiple EPs, singles, remix albums, short films, a clothing line, and collaborations with a myriad of musicians including Milla Jovocich and Lisa Germano. When he's not leading up the Puscifer project, he's selling out arenas as the frontman of Tool, or heading up A Perfect Circle, or he's at home making wine (he's the owner of Merkin Vineyards and Caduceus Cellars in Arizona).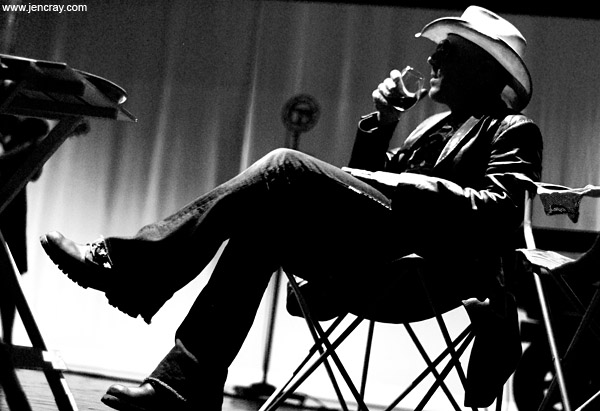 It's all about keeping busy and making art for MJK. As the overachiever declared during his opening Maynard Monologue, "Life is too short not to create something with every breath we draw."
Gallery of live shots from this show: Puscifer.
Puscifer: http://www.puscifer.com ◼
---