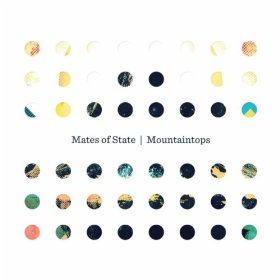 Mates of State
Mountaintops
Mates of State know how to make you move. Whether it's getting you out of your seat and dancing to "Fraud in the '80s" (and the perfect chorus, "You will surely find this most pleasing to yourself") or moving you to tears with the last-chance breakup track "My Only Offer," this husband/wife duo make their music bigger than the two of them. Mountaintops is no exception. From the dance-floor ready "Palomino" to the more ethereal "Mistakes," these two know how to live up to expectations.
"Total Serendipity" has an old-school feel that would make revivalists Fitz & the Tantrums proud, while "At Least I Have You" is a danceable anthem to only having (and needing) the one person you can't live without.
One thing that makes Mates of State so good is that you get the feeling, as a listener, that you are listening to a couple that is going through what every married couple does. They have ups and downs, fights, and reconciliations, and throughout it all there is a deep love and respect for each other. One of the best make-up songs (not just on this album but overall), "Mistakes," has a vocal back-and-forth that anybody who has been in a relationship can relate to. "Just remember that we all make mistakes/ You know one big slip makes it all go away/ I stepped over the line/ But whose side are you on/…/ I need you/ It's not normal/ If I refuse to be by myself."
With every album, Mates of State gets better, and Mountaintops is no exception. This is a duo that is growing into the premiere duo in music today. They are versatile, ultra-talented, and take on tough subjects with such effortlessness and gravity that it's hard to not root for them (while listening to some of the best music around). While they lean more toward electro-pop than the blues of The White Stripes, Mates of State are poised and ready to take over the husband/wife duo torch that Jack White and (ex-wife) Meg vacated. The world had better get ready to be blown away.
Mates of State: http://www.matesofstate.com
---