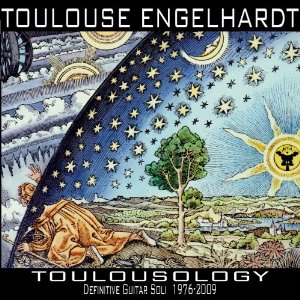 Toulouse Engelhardt
Toulousology
Lost Grove Arts
Finger-style guitar is never going to be the music of the masses – it doesn't have a good beat and you can't dance to it. Be that as it may, when SoCal guitarist Toulouse Engelhardt dons his Mosrite "Ventures" model guitar and rips into "Beavers in a Hot Tub," which is a quasi-surf version of the Leave it to Beaver theme, he might be the exception that proves the rule. Engelhardt was one of the "Takoma 7," the name given to such amazing guitarists as John Fahey and Leo Kottke who recorded for the seminal Takoma Records during the '70s.
And believe you me, he's every bit the equal of those luminaries, as Toulousology, a collection drawn from his albums dating back to 1975's Tollusions shows. Beginning with the chiming harmonics of his 12-string on "Fire in O'Doodlee's Popcorn Factory" and continuing through 17 cuts, this is a spell-binding collection of both sonic invention and wry humor. His "Toullusions of Anji," the Davey Graham folk standard that Paul Simon introduced years ago to American ears is a welcome restatement of the tune's driving bassline and intricate harmony. Equally dazzling is his 12-string version of Hendrix's "Third Stone from the Sun," which substitutes the original's electric experiments with an acoustic arrangement that at times harkens to Captain Beefheartian dynamics.
All in all, this is truly wonderful stuff, full of knuckle-busting guitar heroics balanced with grand melodies and a sense of whimsy. If you've been at a loss since Fahey or Michael Hedges died, give Toulouse Engelhardt a try. You'll be amazed at what you've been missing.
Toulouse Engelhardt: http://www.toulousemusic.com
---