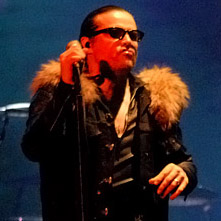 The Cult
with Against Me
House of Blues, Orlando, FL • June 16, 2012
Jen Cray
Ian Astbury, the spiritually attuned frontman for rock legends The Cult, has some ground rules for the security guards who line the stage at the House of Blues: Do not cross your arms. Reason? Because it creates negative mojo.
Well, the bouncers' limbs remained loose, and the air in the crowded-but-not-quite-sold-out venue was about as far from negative as mojo could get. I mean, when the audience spills over with rambunctious, supportive applause for an opening band whose lead singer just came out as a transexual, the positive vibes are absolutely boiling over the kettle!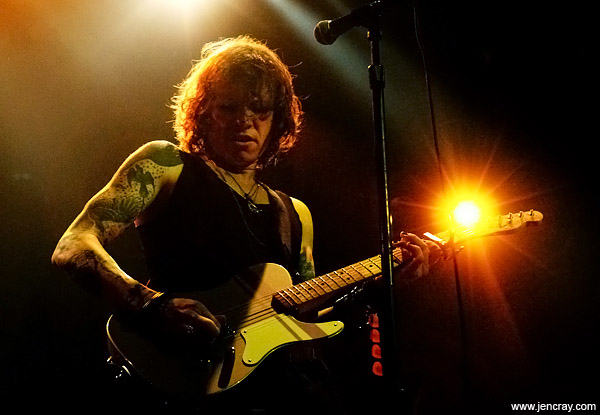 A transexual frontwoman, just over a month into the hormone treatments, who rocks dangly earrings, eyeliner, long hair, and a loose mesh tank top while belting out the same gravelly roars that Against Me fans have moshed to for well over a decade – could anything be more punk? Try slipping in lyrics pulled from the deepest, darkest diaries of the newly-freed Laura Jane Grace (formerly known as Tom Gabel), lyrics that chronicle 30 years of hiding and suppressing feelings that weren't meant to go away.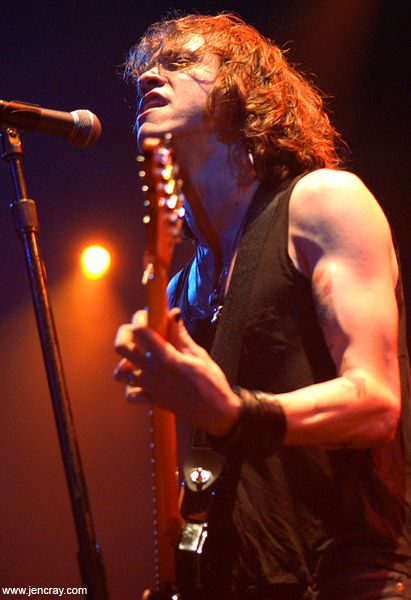 "Trans Soul Rebel" and "Transgender Dysphoria Blues" – new songs – were fraught with passion, but it was "The Ocean" that created one of the most spectacular moments of live music I've ever seen. The 2007 song, whose prophetic lyrics all but cried out about what she was going through (If I could've chosen/ I would've been born a woman/ My mother once told me/ She would've named me Laura), was not only performed with a newfound sense of joy and grace, but the crowd of fans practically out-sung Laura in their enthusiastic quest to express support. To say it was a heartwarming moment to be part of is an understatement.
I could wax poetic all day about how badass this newly realized stage in Against Me's career is, but instead I'll just add those last few notes: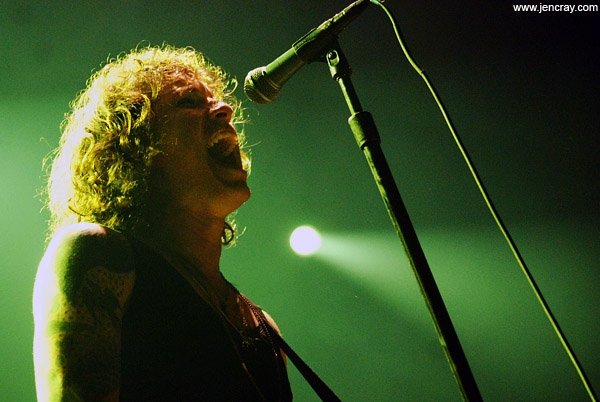 Yes, Laura's voice can still tear up the old favorites like "Pints of Guinness Make Me Stronger," and "Thrash Unreal," but she's also beginning to experiment with a cleaner singing voice on some of the newer songs.
The band seems happier then ever to be onstage together, and new drummer Jay Weinberg ( son of E-Street Band's Max) is an up and down whirlwind behind the drumkit and a complete joy to watch.
I've seen Against Me play more than ten times in the last six years, and this performance was the best I've seen yet; new song "Black Me Out" is destined to be one of their most anthemic songs ever!

Forty-five minutes of refueling followed as fans stormed the smoke porches for a quick ciggie and clogged the bars for one more beer before the headliner's arrival. Once the stars aligned and the proper vibes were felt backstage, the British band made their dramatic entrance onto a foggy stage, in front of a large screen that glowed with the cover of their latest album, Choice of Weapon, and dove right into "Lil' Devil." Astbury's weapon of choice? The tambourine. He shook and smacked that bad boy like a baby with his favorite rattle – if that baby was an intimidating rockstar who looks and moves like the lovechild of Glenn Danzig and Jim Morrison. I guess that tour he did as the enigmatic frontman for The Doors of the 21st Century in 2002 ( stepping into the terrifying role as Morrison's replacement) stuck.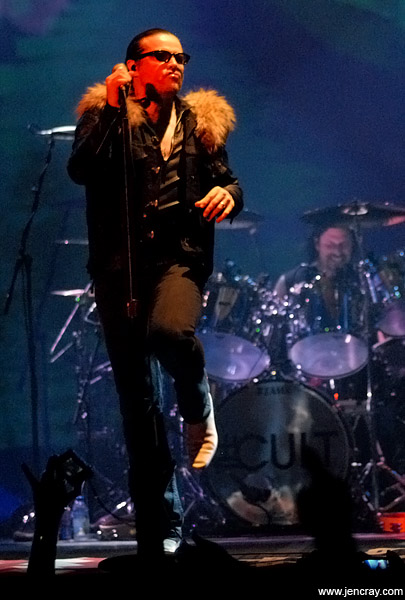 As screen images of urban landscapes and Native American imagery raced behind them, the group toggled between the impressively vibrant new material ("Honey From a Knife," "Lucifer") and the '80s rock radio mainstays that many fans probably lost their virginities to in the backseats of beat-up Trans Ams. "Wild Flower" swung its hips and sounded more like Billy Idol than I ever noticed, "She Sells Sanctuary" gave guitarist Billy Duffy plenty of time to show off his gorgeous Gretsch White Falcon on those well-oiled riffs, but it was "Fire Woman" that rattled the walls.
The overplayed, big rock number is the kind of song that we've heard so many times that it becomes background noise (at least for me) except when it's performed live by the dudes who wrote it back in 1989. The background snaps into focus and I'm hit with a moment of Oh! That's why people love that song! I GET it!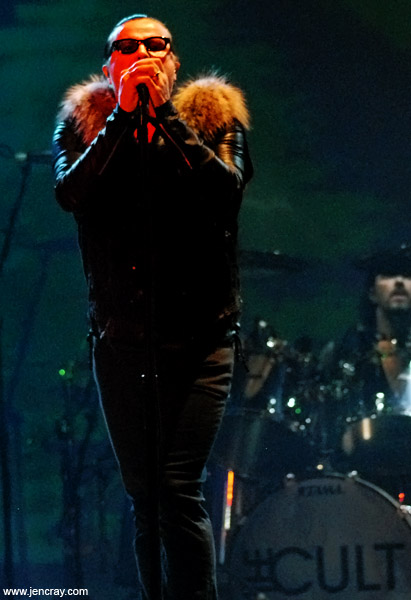 A particularly poignant performance of the haunting ballad about Native American genocide, "Embers," was preceded by a dedication that Astbury heartfully made, but which got lost in the acoustics of the room. From where I was standing all I could make out of it was the sentiment and Astbury's urgency. I guess the lyrics will have to spell out his meaning for those of us who missed his speech.
The world that you spit upon/ Has forgotten your name/ you're so beautiful/ cinder ash becomes a spark/ Watch your embers turn to flame.
A mystical spirit surrounds the room, while The Cult rides us through almost 30 years of music. They tie a knot on the night with a sweaty encore that culminates with "Love Removal Machine."
Gallery of live shots from this show: The Cult and Against Me.
The Cult: http://www.thecult.us • Against Me: http://www.againstme.net ◼
---