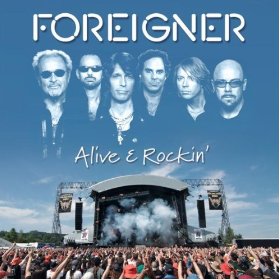 Foreigner
Alive & Rockin'
Eagle Records
And the winner of 2012's Silliest Record Release is… Alive & Rockin' by Foreigner.
Oh sure, this high-energy collection contains well-recorded live versions of nine of the band's mightiest fist-pumping epics ("Double Vision," "Cold As Ice," "Feels Like the First Time," "Urgent," etc.) but one glaring fact remains: it ain't Foreigner.
Now, I realize that founder and head honcho Mick Jones owns the rights to all things Foreigner, but c'mon, he's the only cat playing on the record who had anything originally to do with creating or recording any of this classic music.
The record's informative liner notes would lead one to believe that Foreigner is the greatest band ever and has sold more records and impacted more lives than (almost) any other rock act in history. Hmm, truly impressive accolades indeed. But one member from the original 1977 six-piece lineup in 2012 (even if it is Mick Jones) does not a legendary band make. However, the aforementioned liner notes gloss over this little factoid as if the group's thirty-plus personnel changes over the years have been nothing more than inconsequential growing pains. Even Jones himself has missed some recent concert dates due to health issues, leaving NO original jukebox heroes or dirty white boys onstage to rock for hot-blooded (paying) fans.
Although the release date on the back of the CD case is 2012, info included elsewhere in the package indicates that the music was actually recorded live in 2007. Since then, even some of these replacement guys have moved on. And given that Foreigner already has flooded the market with seemingly more than enough Greatest Hits, Live, and acoustic re-make compilations, the need for Alive & Rockin' becomes an even greater mystery.
In sum, the songs truly are timeless rock classics, and this particular lineup featuring Jason Bonham (yes, that Bonham) on drums and Dokken alumni Jeff Pilson on bass is a rock solid outfit. But despite the iconic band logo on the cover, it ain't Foreigner.
Foreigner: http://www.foreigneronline.com
---