Maps and Atlases
with The Big Sleep and Sister Crayon
The Plaza "Live" Theatre / Orlando, FL • May 27, 2012
Christopher Long
The Orlando summer concert season kicked off with a bang on Memorial Day weekend as the pride of Chicago, Maps and Atlases, rolled into the fabulous Plaza "Live" Theater while on their current U.S. tour, along with a couple of incredible and diverse special guests.
Completely clad in black, So-Cal's Sister Crayon did not allow the torrential early evening downpour to dampen their opening set, and with fewer than fifty people in attendance, frontchick Terra Lopez immediately connected with Orlando fans. Offering what could best be described as hookless, syncopated, electronic poetry, the four-piece combo treated early bird enthusiasts to random guitar noise and other unidentifiable electronic effects, mixed with a cappella bits and rock-solid drum work. Lopez proved to be a passionate and engaging, yet soft-spoken storyteller throughout the group's twenty-minute set, personally thanking members of the audience from the stage – off mic – at the conclusion of their performance.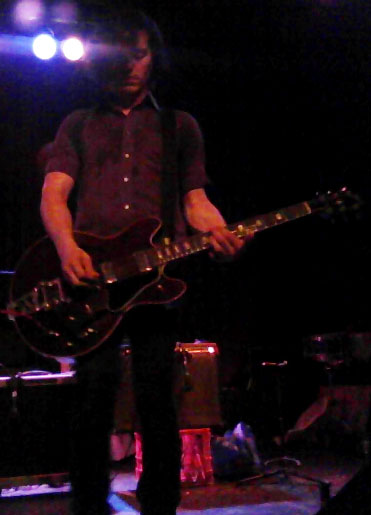 Demonstrating once again that the mightiest/coolest band doesn't always play last, The Big Sleep hit the stage at 9 pm. The Brooklyn-based noise mongers immediately began slaying the now one-hundred-plus victims with their sheer sonic bombast. To say that guitarist Danny Barria's stage volume is loud is like describing The Hangover II as merely "unpleasant." In fact, from my front-row vantage point, with blood shooting from my ears and my head wracked with indescribable pain, The Big Sleep's set was one non-stop, indistinguishable wall of beautiful mush. And I can merely only guess that they played "Valentine" and "Ace," the two YouTube-featured tracks from their latest record, Nature Experiment. It hurt too much to stay where I was, but I couldn't move. I was too drawn in – captivated by their amazing musical precision and dynamic presence. As for bassist/vocalist Sonya Balchandani, she was rock solid and her demure onstage demeanor provided the "yin" to Danny's confident cock-rock "yang."
Opening with the fan favorite, "Pigeon" from their 2010 debut Perch Patchwork record, indie/folk/alterna rockers Maps and Atlases took the stage at 10 pm, much to the delight of the two-hundred-plus now in attendance. Frontman Dave Davison led his crew, which also features guitarist Erin Elders, bassist Shiraz Dada, and drummer Chris Hainey, through a set's worth of the band's most-loved eclectic ditties. As one would expect, the ever-proficient quartet played masterfully, the mix was impeccable, and the lighting was tasteful and effective. In short, Maps and Atlases looked, sounded, and performed just like an up-and-coming international powerhouse rock band should.
In sum, one question remains. When is The Big Sleep coming back to O-Town!?
Maps and Atlases: http://mapsandatlases.org • The Big Sleep: http://thebigsleep.net • Sister Crayon: http://www.sistercrayon.com • The Plaza "Live" Theatre: http://www.plazaliveorlando.com ◼
---