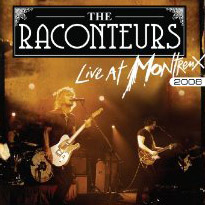 The Raconteurs Live at Montreux
Eagle Vision
For their very first DVD release, The Raconteurs chose a rather lackluster concert to record that doesn't quite exemplify how extraordinary their live performances usually are. Recorded at the 2008 Montreux Jazz Festival in Switzerland, the 90-minute set happened in-between the release of their second album (Consolers of the Lonely) and a three-year hiatus that was interrupted, briefly, in 2011 for a small handful of gigs.
The breathless set drops in on both the band's second album and their superior debut, Broken Boy Soldiers, while also managing to slip in a couple of arcane blues covers. Musically the band (Brendan Benson, Jack Lawrence, Patrick Keeler, and of course, Jack White) are as tight as a pulled muscle, but there's a lacking of spontaneity. They hit all of the cues, but White's erratic solos are completely off the wall (too much so, at times) and Benson seems like he wants to fade into the shadows.
There are sparks of greatness, like when the colossal crowd pounces in time to the band's breakthrough, and biggest, hit "Steady as She Goes." "Blue Veins," a usual show-stopper, touches upon the sort of transcendence I've seen it deliver, but falls a bit short. Luckily the closer, "Carolina Drama," wraps the night up on a high note… Well, maybe it's not right to say that a song about domestic abuse and murder spurs a "high," but let's just say that the performance of that masterpiece of a song is more in keeping with The Raconteurs that I know, and have seen, and have loved.
It's nice to own one of their concerts, preserved in high-quality high-definition thanks to Eagle Rock Entertainment, in my video library – even if it is a second-tier performance.
The Raconteurs Live at Montreux: eagle-rock.com
---