Best Coast
with Those Darlins
The Social, Orlando, Florida • July 9, 2012
words: Jessica Whittington • photos: Jen Cray
I already knew the show would sell out, so I bought two tickets back in March, one for me and one for my friend, who got stuck outside the last Best Coast show we tried to go to last year (which actually turned into a battle of the Bethanys in a way). My friend Bethany, this time, got denied a wristband because of an expired ID and was forced to walk around with huge ugly Xs on her hands and demanded our friend Cameron sneak her double whiskey shots throughout the night.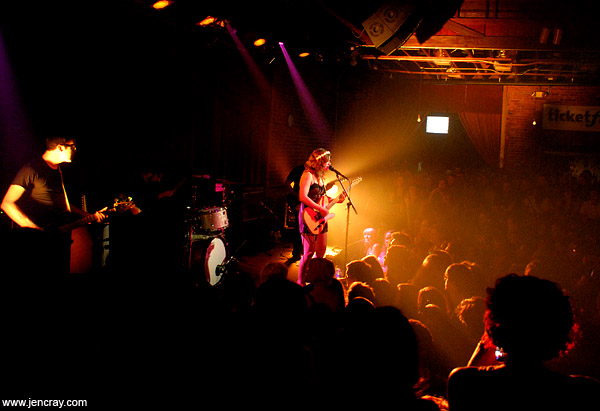 The line in front of the venue was down the street, so after inhaling a few cigarettes and taking a few more sips of a homemade whiskey and ginger ale we brought with us, we got in and were blown away at how many people were really there. The Social was completely packed, and come to find out, this was the first show on the tour that had sold out. You had to turn sideways to squeeze through people to get to the bar or bathrooms.
Those Darlins (their song "Red Light Love" is on a Kia commercial, if you're not familiar with them) opened up the show, and they put on a pretty good performance – super sexy babes with blaring guitars is never a bad thing . A little too much alt-country for my liking, but they had a few good garagey songs that caught my attention. Their outfits were pretty awesome, though, and one of the two lead singers, Linwood, had on this badass sequined one-piece getup that was the coolest thing ever. They had tons of energy, but most of the crowd just wasn't that into them, which was disappointing.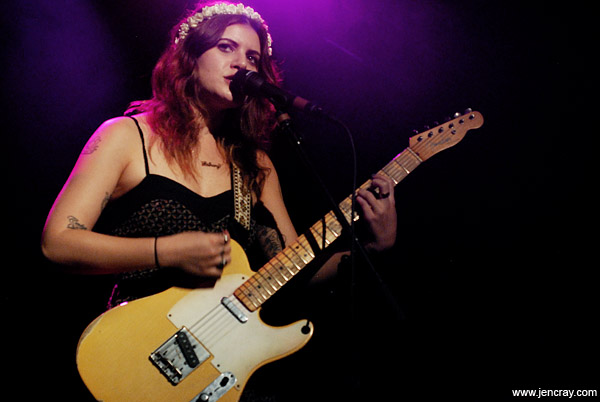 Best Coast's new album The Only Place only came out in May, but the hype behind them has been going for a few years now and the crowd at The Social was evidence of that. It was a really odd group, from young bubblegum girls to old guys, and let me clarify that by old, I do mean late 50s.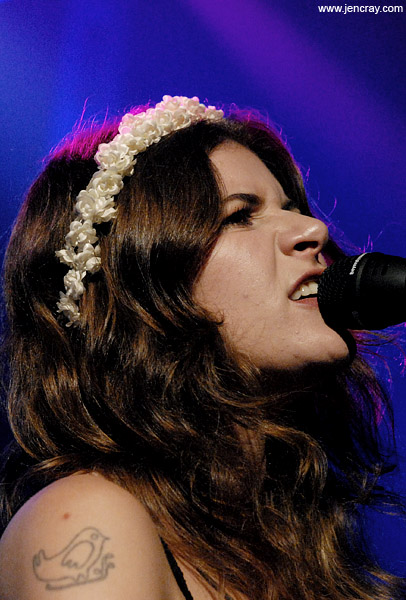 Bethany Cosentino looked like the Virgin Mary with a guitar when the stage lights shone on her. In a flower garland headband and flowing dress, it really was perfect. I haven't seen them with the new lineup and as much as I loved their old drummer, this band played super tight and on point. A mixture of old and new songs had pretty much everyone in the venue bobbing their heads or swaying their bodies to the music. The new single named after the album, "The Only Place," got tons of applause and shouts, but when they announced they were going to do a cover of Fleetwood Mac's song "Storm" my heart fell on the floor.
Bethany's voice has matured like a fine wine, and she sounded phenomenal. They played the hits, "Crazy For You," "Boyfriend," and "Our Deal," but they played mostly new ones which have an underlying sadness to them that just made me want to call my ex up and tell him to give us one more chance… Which I guess is all you can ask for from music nowadays: songs that make you want to wear your heart on your sleeve, take a leap, and maybe make a huge mistake.
Best Coast: http://www.bestcoast.us
---