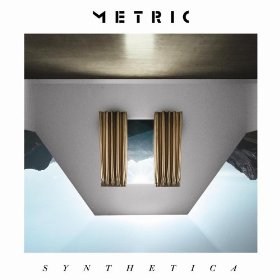 Metric
Synthetica
MMI/Mom + Pop
"I'm just as fucked up as they say," says vocalist/ keyboardist Emily Haines on the opening track of Synthetica. "Artificial Nocturne" begins with a melodramatic, synth-slathered buildup, setting the tension and the tone for all that's to come on the rest of the album. When I think Metric, I think catchy, repetitious video-game guitar riffs and sensuous, haunted vocals. I also think moody. Moody instrumentation, moody band image, moody everything. But Metric is moody in a good way, like shower sex or French art films. And moody shouldn't be confused with angsty or depressive. In fact, Metric's moodiness tends to channel a mostly positive and empowering energy.
Their fifth album, Synthetica seems an apt moniker for its synth pop/ electronica/ dance rock sound. Haines showcases her sharp and playful lyricism on songs like "Lost Kitten" and the epical "Speed the Collapse": "Drifting in from distant shores/The wind presents a change of course/ A second reckoning of sorts/ We were wasted waiting for/ A comedown of revolving doors." The lyrics read like something sandwiched between The Odyssey and Longfellow's "footprints on the sands of time."
Fans of "older" Metric might voice concerns that this album leans more on the pop-oriented, electronic side of things, losing some of their rock edge and departing from the not-so-long-ago Fantasies of 2009. While that's probably true, I think the songs "Synthetica" and "Youth Without Youth" do a nice job of incorporating some of that raw, overdriven roughage into an otherwise smoothie of an album. Synthetica closes in true moody fashion: "The Wanderlust" features a duet with legendary (and equally moody) Lou Reed, and "Nothing But Time" fades out the eleven-track offering both predictably and appropriately.
Chalk this one up as four out of five stars.
Metric: http://ilovemetric.com
---