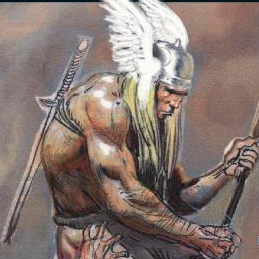 Modern Masters Volume 27: Ron Garney
by Jorge Khoury and Eric Nolen-Weathington
TwoMorrows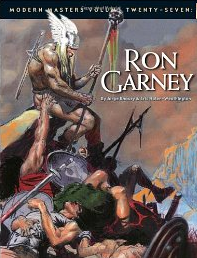 Way up at the tippy top of today's cartoon illustrators, you'll find Ron Garney. He's inked all the biggies, from Batman to the Hunk, Green Lantern to Spidey, and even Captain America. While all professional inkers are more obsessive than might be healthy for us mere mortals, Garney is the triple threat – ink, layout, and story all meld effortlessly (at least to us page turners) as he builds story and character with the craft of a playwright.
Stylistically, Garner comes across as a master of nearly everything graphic. The cover of this book shows a Frank Frazetta-style Viking, and inside we see everything from the crisp minimalist lines of 1950s B&W pulps, to elegant halftones, to the complex inter-leaved panels of modern and postmodern graphic novels. The gallery section goes even farther; nearly formal dragons are mixed with charcoal pencil nudes and mayhem-inducing monsters.
His career has woven in and out of the comic world. He read avidly as a child, yet he had to re-familiarize himself with the genre when he went pro. I love this guy's attitude. He's never been looked down on for what he does, either by the public or himself, and he had a strict rule for dating: she needed to at least feel what he did was cool, even if she didn't read his product. I've read more than a few of these Modern Masters books, and while the artists' life stories are so similar, my joy is connecting with their joy in creating art for the masses. I admit I haven't picked up a Marvel or DC in over a decade, but it's good to see this classic art form is still reaching out to children and adults, and enhancing their fantasy lives.
TwoMorrows: http://www.twomorrows.com
---