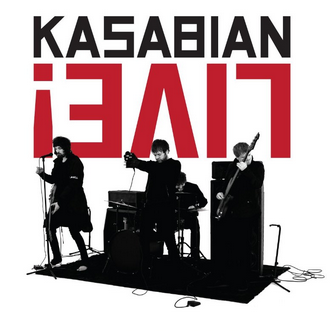 Live at the O2 London
starring Kasabian
Sony / Eagle Rock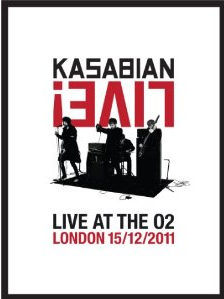 Imagine a band that looks and plays like Spinal Tap, but when it tours, everything goes right. The stage overwhelms, the sound rolls like the Thunder of the Gods, and everyone's hotel room is correctly appointed with beer and groupies. That's what I want to believe after watching this very impressive concert video, and while Kasabian's members aren't exactly charmers, you want to like them and hope they might even hang out with you.
I admit I had never heard of Kasabian before I scored this disc, but I became an immediate fan. Kasabian is one of those guitar-driven North-of-England groups with powerful, U2-like vocals, a lead guitarist who wears feathers, and a light show you won't soon forget. Leading the charge is vocalist Tom Meighan; he's the cool guy in the shades and the calibrated three-day growth of beard. I keep hearing Bono when he sings; he's a good looking, dynamic performer, and everything you want in a rock star. Behind him we find a very traditional lead/ rhythm/ bass set of strings, keys, and drum kit, and occasionally a set of female cellists. But it's guitar that makes the sound stick – this is raw, primal rock and roll at its best. The set list leans toward their latest release and they open with the moody and powerful "Days Are Forgotten." By "Velociraptor," there's digital blood on the stage and the lyrics waver between dark Dino-Eats-Man rough and tumble and a They Might Be Giants science lecture. Over all this rock and mayhem, a trendy cool digital projector mixes MTV projection and digital samples of the band member's hair styles. By the time "Clubfoot" boots up, they crowd is in frenzy and you'll wish you had paid the scalper's price for the experience.
The DVD sports the typical extra features. The "Making Of" doc is better than most, the band members have a clear idea of what they want to do, and watching the O2 stage set up is worthwhile for the technically minded. Sound options include the usual Dolby options and DTS, and you can turn on subtitles, a feature I always appreciate when dealing with Northern bands. I'm glad to have found this band, and I recommend it to anyone looking for a professional, powerful cell phone flashing concert experience.
Kasabian: http://www.eaglerockent.com • http://www.kasabian.co.uk/gb/home
---